Udupi: Fr Evans Maxim Suares dies in tragic accident at Port Blair
mangaloretoday News network
Port Blair, Feb 1: Fr Evans Maxim F Suares, a Catholic priest hailing from Barkur, Udupi died in an accident on the morning of Tuesday, January 31 in Port Blair, Andaman.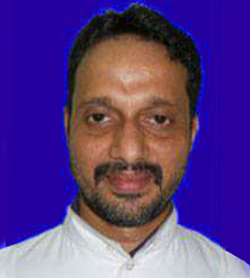 As per reports, Fr Evans Maxim F Suares left from Dairy Farm to Phoenix Bay Jetty to drop some youths from Little Andaman.
Sources said that at the main gate of Prerna Dweep, Fr Evans came out of the car to open the gate but reportedly forgot to pull the hand brake. The car subsequently rolled down speedily hitting the Fr Evans hard.
Courtesy: Meena Serrao Barboza

Write Comment
|

E-Mail
|
Facebook
|

Twitter
|

Print