U. Srinivas Mallya special cover and my stamp released
Mangalore Today News Network
Mangaluru, Jan 27, 2018: A special postal cover in memory of late Ullal Srinivas Mallya considered as the architect of undivided Dakshina Kannada has been released. It was released under the auspices of Department of Posts, Mangaluru division in the National Institute of Technology -Karnataka (NITK) post office at Surathkal recently.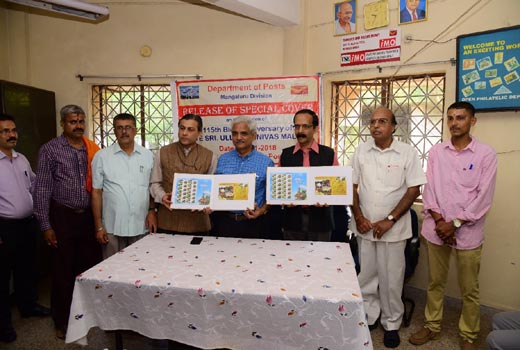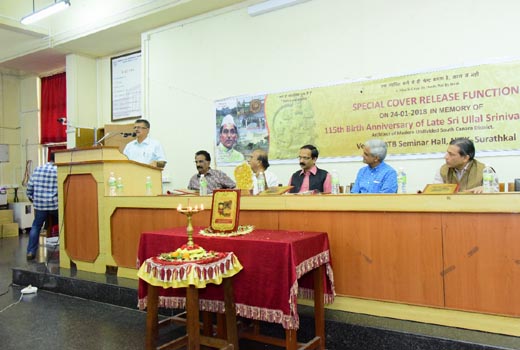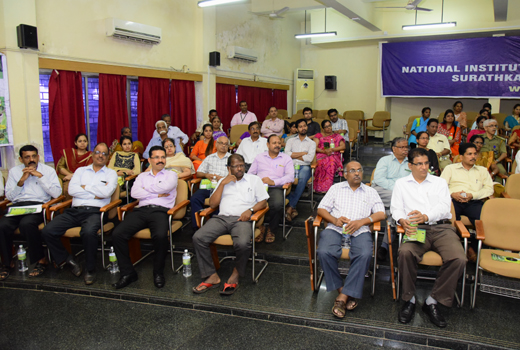 The cover was released on the occasion of 115th birth anniversary of late Mr. Mallya, a release said.

Mr. Mallya born on November 21, 1902 in Mangaluru and died in New Delhi on December 19, 1965. He was a Member of Parliament for 18 years from 1946 to 1965. He was instrumental in Dakshina Kannada getting several development projects. Some of them included New Mangalore Port, Mangaluru airport, Mangaluru station of the All India Radio and the erstwhile Karnataka Regional Engineering College (now NITK).
U.S. Mallya- Architect of Modern Dakshina Kannada District

Ullal Srinivas Mallya or Sheenappa Mallya in Dakshina Kannada is the architect of Modern Canara District or master planner and a true politician. In his 18 years tenure as member of Parliament, from 1946-1965 he did not speak a single word. But he was instrumental in getting several nation building projects in Mangalore.

He was born in a conservative, traditional and cultural Gowda Saraswath Brahmin (GSB) family in Mangalore (the family was known as Ullal Mallyas) on 21th of November 1902 to Sri Ullal Manjunath Mallya and Smt. Saraswathi alias Rukma Bai. His elder brother was Late Dr. U. Padmanabha Mallya, another Congress leader for a long time. Young Mallya completed his primary education at St Aloysius Primary School and at Canara High School ,then continued his intermediate studies at Government College, Mangalore.

Mallya was more interested in taking part in freedom struggle rather than attending classes. Reaching out to Mahatma Gandhi's call, Mallya joined the freedom fight at the age of 18.Mallya gave up a comfortable and carefree life, and instead of joining his family's business in Bunder, Mangalore, he opted to undergo the strenuous life of a Satyagrahi, evade arrest, go underground or fill jail rooms.

Mallya joined Congress party and became its member. His intelligence, Integrity, principled outlook and his tendency to keep at a task till its completion saw him rising swiftly in the party hierarchy.Starting from being the secretary of the District Congress Committee to a member of the All India Congress Committee (AICC) saw a substantial rise in his political career.Hewas chosen by Pt.Jawaharlal Nehru to be the General secretary of All India Congress Committee in 1951 when he was the Congress President, along with Lal Bahadur Shastri.

He was elected as Member of Parliament from the Udupi Lok Sabha constituency for three terms from the very first Indian Elections held in 1952, and in the subsequent two held in 1957, and 1962.

He is the reason for many successful projects to have taken shape in his day
They are:
•New Mangalore Port (Panambur)
•Mangalore –Hassan –Bangalore Railway Line
•NH-17 (Mumbai-Kochi)
•NH-48 (Mangalore-Bangalore) Road
•Karnataka Regional Engineering College, (presently NITK), Surathkal
•Mangalore Air Port (Bajpe)
•All India Radio Station (Mangalore)
•Mangalore Hindi Prachara Samithi
•Mangalore Town Hall
•Mangalore All India Radio
•Director of Canara Bank for 30 years from 1935
•Mangalore CPC Transport Company as Advicer Director
•Mangalore Govt. Wenlock Hospital
•Bridge construction for mainly Kuluru, Netravathi, Gangolli, Sharavathi rivers.
•Founder member for building schools,Colleges in entire DK District.
•All India Handi Craft Board at Mangalore
•Employement to young youths through Indian Corporate Union.

Interestingly, the british press had nicknamed him:" 20th Century Fox, for his elusive escapades during the freedom struggle

U. S. Mallya died in New Delhi on December 19, 1965.


Write Comment
|

E-Mail
|
Facebook
|

Twitter
|

Print