Tulu poems translated into English for the first time
Mangalore Today News Network
Mangaluru, Mar 5, 2017:In a boost to the Tulu language, 114 of its poems have now been translated into English, for the first time. An anthology titled 'Ladle in a Golden Bowl' was released here on Saturday.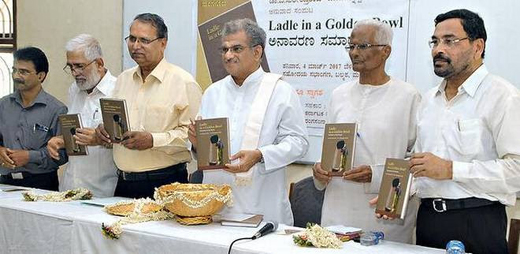 Translated by B. Surendra Rao, retired professor of History, Mangalore University, and K. Chinnappa Gowda, professor of Kannada at the same university and former Vice-Chancellor of Karnataka Folklore University, the book has poems by different writers.

The oldest one belonged to the 16th century saint-poet Vaidraja which is in celebration of the ten incarnations of Vishnu and the youngest belonged to the present youthful, interrogating generation.

"Our choice of poets is dictated by our preferences and not by any compulsion to represent as many as we could or under criteria dictated by others," the authors said.

According to them they left out classical poetry in Tulu and the rich tradition of folk epics or paddanas (sung narratives) or even many kabitas which have their own authentic folk flavour.

"We chose to circumscribe our ambition to largely modern poets."

The authors said that there may be more than 250 poets in Tulu and nearly 200 published anthologies of Tulu poems.

"The number is quite impressive considering the narrow geographical space that Tulu represents and a relatively short and chequered history of its literary tradition," they said.

The authors said: "...While the poets of the older generation were inclined to proclaim their nationalism and love of culture through familiar symbols and idioms, the new generation is as passionate about pointing out to the areas of let-down and betrayals there…"

D. Veerendra Heggade, Dharmadhikari, Dharmasthala who released the book, said that it had brought honour to Tulu.

He said that more Tulu works should be translated to English to reach a wider audience.

It would only enhance the "qualification" of Tulu for getting included in the Eighth Schedule of the Constitution.

Speaking on the book, B.A. Vivek Rai, a scholar said: "It is for the first time that a representative anthology of 114 Tulu poems translated into English has been prepared."

Earlier, a major Tulu epic, Siri , was translated into English as a collaboration between Mangalore University and a Finnish University.

Write Comment
|

E-Mail
|
Facebook
|

Twitter
|

Print