Tulu academy picks 6 greats for book and honorary awards
Mangalore Today News Network
Mangaluru, August 28, 2016: Announcing the awards on Aug 27, Saturday,Tulu Academy president M Janaki Brahmavar said that DrIndira Hegde has been chosen for Tulu literature, Koti Parava for Tulu folklore and Betha Kunha for Tulu Yakshagana, have been chosen by the Karnataka Tulu Sahitya Academy for its annual honorary award.

The award comprises Rs 50,000, a certificate and a memento. Till last year, the award amount was Rs 10,000. However, the Department of Kannada and Culture has allowed the Academy to hike the award amount from this financial year. It would be presented to them at a function in October. The date of the function is yet to be decided, the president said.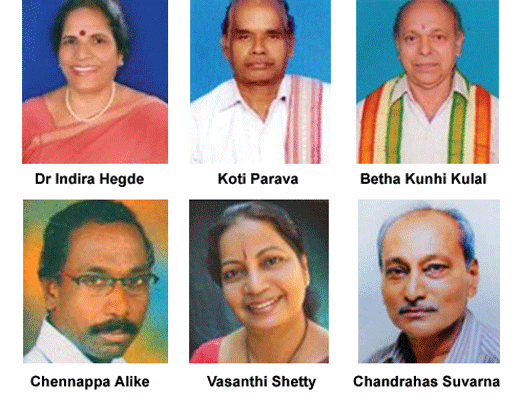 In addition, Vasanthi Shetty Brahmavar's 'Guthudillada jaald' (Tulu story), Chennappa Alike's 'Boolya' (Tulu poems) and Shimanthooru Chandrahas Suvarna's 'Gaala' (Tulu play category) have been chosen for Academy's Book award. The award carries cash prize of Rs 25,000 and citation.

The awardees: Dr Indira Hegde hails from Elathooru in Mangaluru taluk and is known for poems, novels and short stories. She had written a research book 'Bantaru: Ondu Samajosamskrithika Adhyayana.' Her other works are 'Moolathanada Nagabrahma Mathu Parivara Daivagala Pad-dana', 'Tulunadina Gramadalitha Mathu Ajalu', 'Tuluvere Atil Aragani' and 'Siribari Loka Tulunadu'.

Koti Parava hails from Madavu in Puttur taluk and is continuing the tradition of daivaradhane. As a 'Daiva Narthaka,' he has been carrying out the tradition of 'Ullakulu Muditha Nema.' He is known for playing the roles of 'Ullakulu Daiva,' 'Annappa-Panjurli,' 'Rakteshwari,' 'Rudra Chamundi,' 'Duggalaya,' 'Kodamanithaya,' 'Jumadi,' 'Satyadevathe' and others.

Yakshagana artiste Betha Kunhi Kulal learnt Yakshagana from Vittal Shastri and later was an artiste in Sri Dharmasthala mela. He has served in Mulki, Saukooru, Kollur, Adi Subrahmanya Yakshagana melas. He is known for playing the characters of 'Devendra,' 'Arjuna,' 'Hiranyaksha,' 'Indrajith,' 'Chennaiah' and others.

Vasanthi Shetty Brahmavar has been writing poems, stories in Tulu. Some of her works are 'Udalda Siri,' 'Lele Laisa.' Through her works, she writes on the lifestyle and tradition in Tulu Nadu.

Shimanthooru Chandrahas Suvarna is known for his theatre-related work. 'Gala', the play with a social concern as theme, is an award-winning work of Suvarna.

P Chennappa Alike's 'Boolya', a collection of poems, is his first published work. There are 39 poems in the collection of works.

'Tulu should find a place in 8th Schedule' : A delegation of experts under the guidance of Dharmasthala Dharmadhikari D Veerendra Heggade and Tulu Sahitya Academy President Janaki Brahmavar will meet Home Minister Rajnath Singh, on August 31, to submit a detailed proposal seeking to include Tulu in the Eighth Schedule of the Constitution.

Registrar Chandrahas Rai and Academy President Janaki Brahmavar said that the detailed proposal has included details of Tulu Wikipedia (which has over 1000 articles), Tulu in school curriculum. The delegation will have former presidents of Academy Vaman Nandavara, Umanath Kotian and others.

Write Comment
|

E-Mail
|
Facebook
|

Twitter
|

Print