Tulu Statehood is the only way says 'Okkoota
Mangalore Today News Network
Mangaluru, Apr 12, 2017: Addressing media on apr 11, Tuesday, Tulunadu Okkoota said that there appeared to be no alternative to a Tulu Statehood comprising Udupi and Dakshina Kannada districts to promote Tulu language, culture and protect the fragile and eco-sensitive environment in these two districts.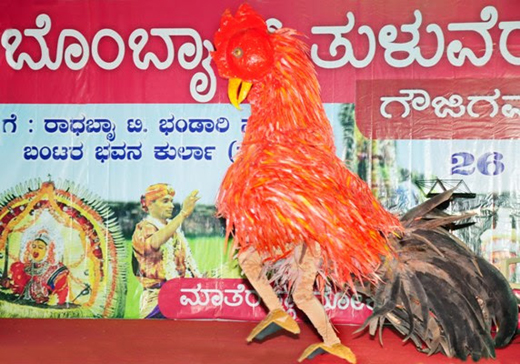 Aikalabava Chittaranjandas Shetty, president of the district unit of the Okkoota, said that all the pleas made by the people of Tulunadu on these issues to the State government had fallen on deaf ears. Despite decades of struggle, Tulu language had still not been included in the 8th Schedule of the Constitution.

This despite the fact that Tulu was one of the five Dravidian languages, the others being Tamil, Telugu, Malayalam and Kannada. The Tulu-speaking people did not have a State of their own. Many small States have areas smaller than these two districts.

Though agriculture was the chief occupation in Tulunadu, instead of promoting irrigation projects, the government was busy setting up mega industries which had a detrimental effect on the environment of the region. The State government's sand policy too was having a negative impact on these two coastal districts. Development activities had got affected due to lack of sand.

The Tulunadu region had rich folklore and traditions such as "Nagaradhane", "Bhootaradhane" and also, "Kambala". But some forces were bent on obstructing these folklore and traditions, which could not be tolerated.

The lack of sympathy of the State government to the people of these two districts was best illustrated by the imposition of the Nethravati River Diversion project. The government had little understanding of the fact that the Nethravti was the lifeline of Dakshina Kannada.

"The Yettinahole project coupled with mega industries being promoted by the government will turn Tulunadu into a barren land," he said. The Mangaluru airport should be renamed after Rani Abbakka, the fearless queen who fought against the Portuguese in 16th Century, while the Mangaluru Railway Station should be named after legendary heroes of Tulunadu, Koti and Chennayya.

The government should promote the learning of Tulu in schools in Udupi and Dakshina Kannada districts with Tulu script. Tourism should be promoted in both the districts. If the government did not fulfil these demands, the Okkoota would be left with no alternative but to intensify its demand for a Tulunadu State.

Write Comment
|

E-Mail
|
Facebook
|

Twitter
|

Print