Train re-establishes connectivity between the coast and NK
Mangalore Today News Network
Mangaluru, Nov 13, 2019: The arrival of the Vijayapura-Mangaluru Junction Tatkal Special Express (Train No 07327) in the city on Tuesday afternoon on its maiden journey ushered in a new era of connectivity between North Karnataka and Coastal Karnataka that had been a long-pending demand from people of both the regions.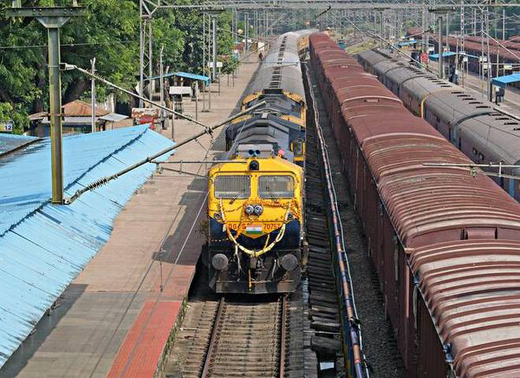 The State's coast had lost train connectivity with the cancellation of Mangalore-Miraj Mahalakshmi Express via Hubballi when the gauge conversion was taken up about three decades ago. Repeated demands for its reintroduction did not materialise despite there being a policy for reintroduction of such cancelled trains after gauge conversion. However, the introduction of this Tatkal Express via Hubballi, operational till February second week, that may be regularised, has come as a surprise to many.

Thousands of people from North Karnataka have migrated to the coastal districts for livelihood. To them, the new train offering an affordable journey (Rs. 214 in General and Rs. 530 in Second Class Sleeper) could be a godsend. The coastal areas being the hub of education and healthcare also attract thousands of students and patients from the northern districts. They too will benefit by the new train service. Besides connecting the coast with the North, the train also connects the Hassan region with the North. Though the shortest route between Mangaluru and Dharwad/Vijayapura is via Madgaon (733 km as against 783 km via Arsikere), South Western Railway has introduced this train via Arsikere so as to benefit Central Karnataka too, it is said.

The train would be operational till February 10, 2020 ex-Vijayapura and till February 11 ex-Mangaluru Junction, while in all likelihood it will be regularised after South Western Railway gets the nod from the Railway Board.

The train leaves Vijayapura at 6 p.m.; Gadag at 10.30 p.m.; Hubballi at 11.45 p.m.; Davangere at 2.35 a.m. and Hassan at 6.15 a.m. to reach Mangaluru Junction at 12.40 p.m. In the return direction, the train leaves Mangaluru Junction at 4.30 p.m.; Hassan at 10.02 p.m.; Davangere at 1.20 a.m.; Hubballi at 5.15 a.m. and Gadag at 6.55 a.m. to reach Vijayapura at 11.45 a.m.

It halts at Basavanabagewadi, Alamatti, Bagalkot, Badami, Guledgudda, Hole Alur, Gadag, Hubballi, Haveri, Byadgi, Ranebennur, Harihar, Davangere, Kadur, Arsikere, Hassan, Sakleshpur, Subrahmanya Road, Kabaka Puttur and Bantwal.
Courtesy:The Hindu

Write Comment
|

E-Mail
|
Facebook
|

Twitter
|

Print