Traffic nightmare: 22000 vehicles registered in Putur, sullia alone in 2 years
Mangalore Today News Network
Mangaluru, July 28, 2019: The high volume vehicles registered in the twin districts of DK and Udupi is increasing by the year ad serious cause of alarm. In a span of 2 years, the transport department has registered more than 22,000 vehicles belonging to Puttur and Sullia taluk. In other words close to more than 900 vehicles have been registered every month.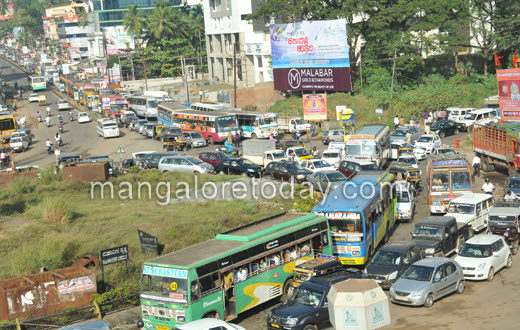 Registrations High: From 2017 to 2019, close to 1,25,712 vehicles including two-wheeler and LMV from Puttur and Sullia taluks have been registered at Puttur Regional Transport Office. In the two years, 18,628 two-wheeler and 4,123 cars have been added into the two taluks. This means that altogether 22,751 new vehicles have been added in both the divisions.

In 2017, 44,884 vehicles were registered in Puttur which rose to 50,268 in 2018 and until July 2019, the number was at a health 56,076. If the stats of LMVs are to be considered, it was 11,334 in 2017, 12,500 in 2018 rising up to 13,840 in 2019. In Sullia, the 37,534 two-wheeler rose to 42,072 in 2018 reaching 44,970 in 219. The LMVs were 9,199 in 2017, 10,136 in 2018 rising to 10,826 in 2019.

Overcrowding in city : In the last two years, the amount of vehicle purchase has increased by 85%, informs a survey. In comparison to 2009-10, the number of vehicle users is at a medium level.

But in 2018-19, more than 87% of the houses have at least one vehicle. This statistic validates that the vehicle density in Mangaluru, Bengaluru is spreading out into rural areas as well. In this backdrop, there is a fear that the air pollution and traffic jams being faced by the people in the metros may begin to haunt taluk centers too. The traffic control is rapidly being nullified and immediate action is over due.

Write Comment
|

E-Mail
|
Facebook
|

Twitter
|

Print