Traffic Signals finally installed at Busy Nanthoor Junction
Mangalore Today News Network
Mangaluru: September 21, 2015: The National Highways Authority of India (NHAI) has finally decided to intervene and get rid of problems at Nanthoor Circle.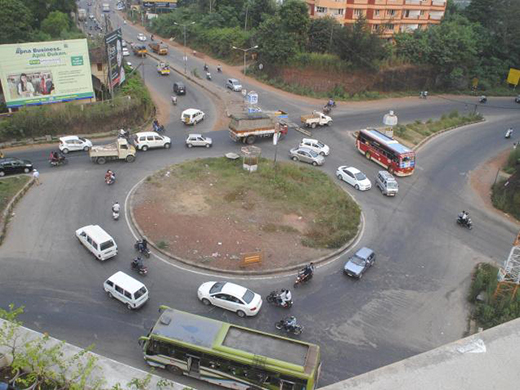 This intersection point, where two national highways meet, has been creating unending gridlocks every day. In some cases, this zone has also witnessed fatal accidents. In an effort to east the gridlock, a traffic signal unit has been installed for the first time in the national highway. Through this initiative, NHAI hopes to reduce traffic congestion and accidents.

NHAI project director Vijay Kumar said that he has sought special permission from the head quarters to install traffic controllers at the junction where the two highways converge.

"This is not in the NHAI rule book. However, it falls within the city limits. I took this initiative, as the district administration has been concerned about traffic congestion and accidents," he said. The traffic signal unit has been installed, but it is defunct withoutectricity to function. "I will approach the deputy commissioner to request for power to get the signals operational," he said, adding that the unit and the installation cost about Rs 10 lakh. The traffic lights will be synchronized after getting inputs from the traffic police. However, traffic police is of the opinion that signals will not help much, as far as gridlocks are concerned. "We need some other solution like a flyover or underpass," an official said.

Vijay Kumar pointed out that based on the police inputs, he made some junction improvements. The situation, however, was still not under control. He said that traffic signal lights are a temporary solution till the authorities give their nod to the flyover.

In February, three persons were killed and three more sustained grievous injuries when a tipper rolled over a car and a two-wheeler at Nanthoor Circle after the driver lost control of his vehicle. The incident took place when the tipper, the car and the two-wheeler were moving along the same direction - from Karnataka Polytechnic towards Nanthoor Circle. The reckless driver failed to avoid the crane, which was moving in front of him and slowed down.

After ramming the rear of the crane, the driver moved the vehicle hit an electric pole. After the impact, the tipper rolled over the car and the two-wheeler, which were waiting for traffic to pass from Pumpwell towards Udupi. The impact was such that the car was a mangled mess and the victims were extricated by public with great difficulty.

Installing signal lights or speed breakers on a national highway is not common. Barring a few instances, it has not been done anywhere. Traffic signals had been installed at Korappuzha and Moorad bridges on the Kozhikode-Kannur NHT, to control the movement of heavy vehicles and light vehicles separately.

Write Comment
|

E-Mail
|
Facebook
|

Twitter
|

Print