Tortured like an animal: Karkala woman returns after 14-month ordeal in Saudi
Mangalore Today News Network
Mangaluru, Sep 25, 2017 : A woman who was forced into slavery in Saudi Arabia has been rescued and brought back to coastal town of Udupi after an ordeal of over 14 months. Jacintha Mendonca who was cheated and duped by a Mumbai-based recruiting agency which had promised her a well paying job in Qatar, has been put to terrible ordeal and became a victim of trafficking came back to her hometown with the help of an NGO and some NRIs.
42-year-old Jacintha Mendonca, was flown to Saudi Arabia without her knowledge and made to work in a household at Yanbu, where she had been a slave for the last 14 months.

Talking to the media at Udupi from a hospital Jacintha Mendonca narrated her 14 months ordeal and said "it was a hell and I am back to my freedom."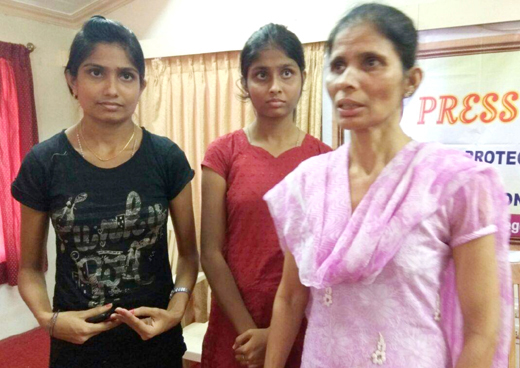 Jacinta with her daughters

It was after the death of her husband last year that Ms. Mendonca, looking for a job, came upon an advertisement for a home nurse for an Indian family in Qatar. She contacted the Mumbai-based recruitment agency, headed by Shabaz Khan, who assured her that she would be paid Rs 25,000 a month.

The agent promised he would arrange for her passport and the visa through his representative in Mangaluru. Ms. Mendonca made her journey to Mumbai and was then taken to Dubai via Goa and Delhi on June 10, 2016, along with two other women.


She said "I had a hellish experience in Yanbu...I was made to work day in and day out at three mansions belonging to the employer's mother, his three wives and their children...I was tortured like an animal," she alleged, adding the children called her 'gaddama' (slave). Jacintha further alleged that she was confined to the house and not allowed to venture outside.

According to Jacintha she tried to escape in November last year, but was caught by the police who sent her back to the employer."The escape bid brought more hardship I was badly beaten up and my head banged against the wall. I was not even given water even after pleading with them" she added.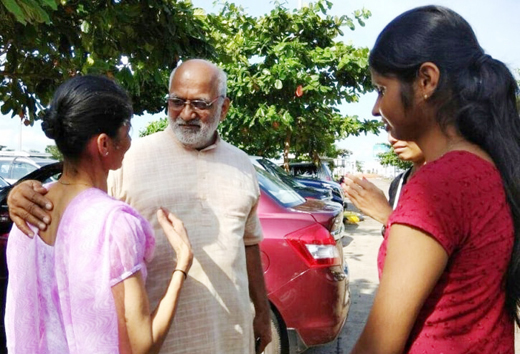 Jacinta with Ravindranath Shanbhag


In December 2016, Ms. Mendonca managed to contact her children in Mudrangady with the help of a driver. Her children were advised by the local church to contact the Human Rights Protection Foundation (HRPF). Ravindranath Shanbhag, president of HRPF, said the children had no details, except some phone numbers. In time the HRPF found out that Ms. Mendonca had gone to Saudi on a visiting visa of 90 days.

The visa was arranged by a Delhi-based travel agency, blacklisted by the Ministry of External Affairs. "This led us to suspect that it could be a case of human trafficking," said Dr. Shanbhag. The HRPF then contacted the Ministry of External Affairs, the Indian embassy, and the NRI Forum in Riyadh. There was every possibility of Ms. Mendonca's arrest and imprisonment because of the duration of the visa.

But the NRI Forum was able to gather details of the case and negotiated with Ms. Mendonca's employer to reduce the amount demanded by him. The forum also arranged a work permit for her from the Labour Department, and this facilitated her return home, Dr. Shanbhag said.

Jacintha is finally back home now, thanks to the efforts of Human Rights Protection Foundation of Udupi, who contacted the head of the NRI Forum Rodrigues in Saudi Arabia in April this year.

After all the effort Jacintha has reunited with her family in Mundrangady village in Karkala taluk of Udupi district, on September 22. Jacintha now wants the authorities to take action against those who cheated her and vows that she would never go back to the Gulf again.

Jacinta with Human Rights Protection Foundation team


Udupi Human Rights Foundation made frantic efforts through NRI Forum in Saudi Arabia in getting back Jacintha to her native place. According to Ravindra Shanbagh of Udupi Human Rights Foundation they could locate the employer in Saudi Arabia only after a series of attempts. He said she was brought back to India after the efforts of the NRI Forum in Saudi Arabia which used all legal measures to send her back to India.

Write Comment
|

E-Mail
|
Facebook
|

Twitter
|

Print