Thiruvananthapuram – Mangaluru Express derailed in Karukutty near Aluva. No casualities reported.
mangaloretoday
Mangaluru, Aug 28, 2016: 12 coaches of Train No.16347 Thiruvananthapuram - Mangaluru express which left Thiruvananthapuram at 20.40 hrs on 27/8/2016, derailed near Karukutty station(after passing Aluva) at 02.55 hours on 28/8/2016. No injuries or casualties reported. Both the tracks have been affected.

All train services are likely to be delayed until the rescue operations are completed.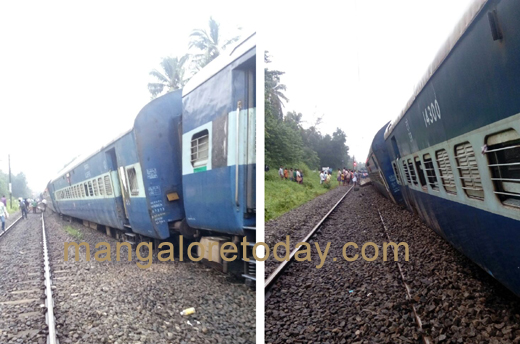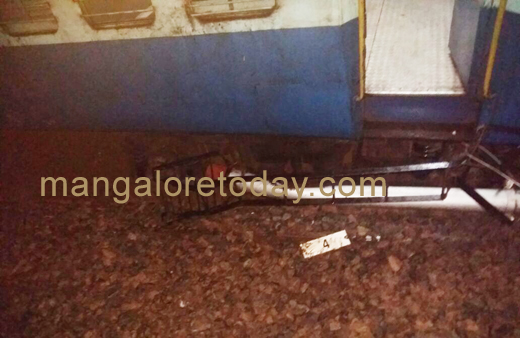 Tickets will be refunded. Buses have been arranged to transport passengers from Karukutty to Chalakudy from where they will be taken to their destination by special trains.

Train No.16302 Thiruvananthapuram -Shoranur Venad Express and Train No.12076 Thiruvananthapuram-Kannur Janshatabdi Express leaving Thiruvananthapuram on 28/8/2016, will service only up to Ernakulam Jn.The track on which trains run from Chalakudy to Thrissur is likely to be engaged for 10 hours while that to Ernakulam is likely to be engaged for 5 hours.

Helpline Numbers: 9746769960, 9746761072, 0471-2320012.

The following train services will be affected.

CANCELLATION OF TRAIN SERVICES

1. Train No.56352 Ernakulam-Shoranur Passenger on 28/8/16
2. Train No.56361 Shoranur-Ernakulam Passenger on 28/8/16
3. Train No.56379 Ernakulam-Alapuzha Passenger on 28/8/16
4. Train No.56384 Alapuzha-Ernakulam Passenger on 28/8/16
5. Train No.56376 Ernakulam-Guruvayoor Passenger on 28/8/16
6. Train No.56603 Thrissur-Kozhikode Passenger on 28/8/16
7. Train No.56370 Ernakulam-Guruvayoor Passenger on 28/8/16
8. Train No.56371 Guruvayoor- Ernakulam Passenger on 28/8/16
9. Train No.56365 Punalur-Guruvayoor Passenger on 28/8/16
10. Train No.56366 Guruvayoor- Punalur Passenger on 28/8/16
11. Train No.56373 Guruvayoor- Thrissur Passenger on 28/8/16
12. Train No.56374 Thrissur- Guruvayoor Passenger on 28/8/16
13. Train No.56375 Guruvayoor- Ernakulam Passenger on 28/8/16
14. Train No.56043 Guruvayoor- Thrissur Passenger on 28/8/16
15. Train No.56044 Thrissur- Guruvayoor Passenger on 28/8/16
16. Train No.16305 Ernakulam-Kannur Inter City Express on 28/8/16
17. Train No.16308 Kannur-Alapuzha Inter City Express on 29/8/16
18. Train No.16307 Alapuzha- Kannur Inter City Express on 29/8/16
19. Train No.16306 Kannur-Ernakulam Inter City Express on 30/8/16
20. Train No.16341 Guruvayoor-Thiruvananthapuram Express on 28/8/16
21. Train No.16342 Thiruvananthapuram- Guruvayoor Express on 28/8/16


SHORT TERMINATION OF TRAIN SERVICES

1. Train No.16343 / 16349 Thiruvananthapuram-Palakkad Town / Nilambur Amritha/Rajyarani Link express will terminate its service at Ernakulam Town on 28/8/16
2. Train No.16127 Chennai Egmore-Guruvayoor Express will terminate its service at Ernakulam Jn on 28/8/16
3. Train No.16606 Nagercoil-Mangaluru Eranad Express will terminate its service at Ernakulam Jn on 28/8/16
4. Train No.12076 Thiruvananthapuram-Kozhikode Janshatabdi Express will terminate its service at Ernakulam Jn on 28/8/16
5. Train No.16302 Thiruvananthapuram-Shoranur Venad Express will terminate its service at Ernakulam Jn on 28/8/16
6. Train No.16650 Nagercoil-Mangaluru Parasuram Express will terminate its service at Ernakulam Town on 28/8/16

PARTIAL CANCELLATION

1. The service of Train No.16343 / 16349 Thiruvananthapuram-Palakkad Town / Nilambur Amritha/Rajyarani Link express will be partially cancelled between Ernakulam Town and Palakkad Jn(Pollachi Jn)/Nilambur Road on 28/8/16
2. The service of Train No.16605 Mangaluru-Nagercoil Eranad express will be partially cancelled between Ernakulam Jn and Mangaluru Central on 28/8/16
3. The service of Train No.12075 Kozhikode-Thiruvananthapuram Janshatabdi express will be partially cancelled between Kozhikode and Ernakulam Jn on 28/8/16
4. The service of Train No.16301 Shoranur-Thiruvananthapuram Venad express will be partially cancelled between Shoranur and Ernakulam Jn on 28/8/16
5. The service of Train No.16649 Mangaluru- Nagercoil Parasuram Express will be partially cancelled between Mangaluru Central and Ernakulam Town on 28/8/16

DIVERSION OF TRAIN SERVICES

1. Train No.12512 Thiruvananthapuram-Gorakhpur Rapthisagar Tri-weekly express will be diverted via Tirunelveli on 28/8/16
2. Train No.17229 Thiruvananthapuram-Hyderabad Sabari express will be diverted via Tirunelveli on 28/8/16
3. Train No.16382 Kanyakumari-Mumbai CST express will be diverted via Tirunelveli on 28/8/16
4. Train No.16525 Kanyakumari-Bengaluru express will be diverted via Tirunelveli on 28/8/16
5. Train No.13352 Alapuzha-Dhanbad Tatanagar express will be diverted via Tirunelveli on 28/8/16

RESCHEDULING OF TRAIN SERVICES

1. Train No.16346 Thiruvananthapuram-Lokmanya Tilak Netravathi Express will leave Thiruvananthapuram Central on delayed timings on 28/8/16
2. Train No.12625 Thiruvananthapuram-New Delhi Kerala Express will leave Thiruvananthapuram Central on delayed timings on 28/8/16
3. Train No.12515 Thiruvananthapuram-Guwahati Express will leave Thiruvananthapuram Central on delayed timings on 28/8/16
4. Train No.12202 Kochuveli-Lokmanya Tilak Garibrath bi-weekly Express will leave Thiruvananthapuram Central on delayed timings on 28/8/16
5. Train No.19261 Kochuveli-Porbandar Express will leave Thiruvananthapuram Central on delayed timings on 28/8/16



Write Comment
|

E-Mail
|
Facebook
|

Twitter
|

Print