The nurse who gave her life to care for Nipah victims
Mangalore Today News Network
Kozhikode, May 22, 2018: Lini Puthussery's sons Rithul, 5, and Sidharth, 2, are yet to understand that their mother will never be coming back.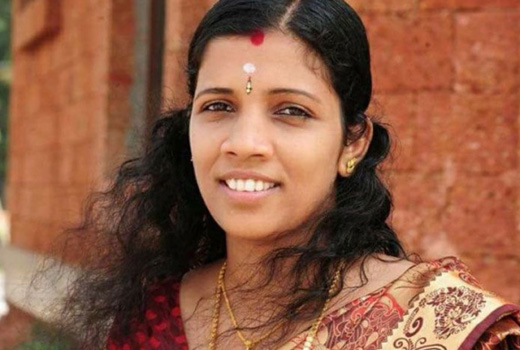 They haven't seen her for the past few days, yet continue to believe that she is at work at the Perambra Taluk Hospital. The boys are used to Lini working late nights, so her family hasn't had difficulty into making the kids believe that she will be back soon. Even then, Sidharth continues to cry once in a while asking after his mother.

Lini contracted the deadly Nipah Virus while tending to two brothers who were the first victims of the fever outbreak in Kozhikode. She breathed her last on Sunday night, without even getting a chance to see her loved ones. Her husband Sajeesh, who works as an accountant in Bahrain, had flown down two days ago, yet never got a chance to see her alive. Her family could not even hold a proper funeral, as her body was cremated in haste to prevent the virus coming in contact with others.

Lini and her two sisters had lost their father several years ago. Until her marriage, her family was dependent on her income. After completing her nursing course from the Pawan School of Nursing in Bangalore, she had struggled to repay her loans. Failing to find regular work, she had finally found employment as a daily-wage nurse at the Perambra Taluk Hospital, under a National Rural Health Mission scheme. She had been working at the hospital for the past one year. Her colleagues at the hospital say she was extremely dedicated to her work.

Lini's death has prompted calls for better protection for nurses working in government hospitals in Kerala. Her death comes at a time when there is a heated battle on in the courts over fixing minimum wages and better working conditions for nursing staff. Lini's story shows the immense sacrifices some of these nurses make every day to treat the ill and the infirm.
Symptoms of Nipah virus:

Other common symptoms of Nipah virus include acute respiratory syndrome, asymptomatic infection and fatal encephalitis. Nipah virus primarily causes encephalitic syndrome and has a high mortality rate. The virus causes multiple MRI abnormalities, including small asymmetric focal lesions in subcortical region. It also leads to deep white matter without surrounding edema.

Preventive measures:

Incubation period of nipah virus is about 5 to 14 days. It is after this period of time that the symptoms become more visible. In some cases, symptoms of Nipah virus include stomach pain, choking, vomiting and blurred vision. A patient might possibly get into coma a few days after the symptoms begin. There are also high chances of contracting encephalitis which affects the brain.

To avoid being infected by the virus, avoid drinking toddy brewed in open containers near palm trees. Staying away from an infected person is important. You must maintain a distance from the patient and sanitise and wash your hands properly. Clean your clothes, utensils and bathroom items like mugs and buckets separately. Ensure that they are all maintained hygienically.

While carrying the dead body of anyone who dies of Nipah infection, it is important to cover your face properly. Relatives or friends of the deceased person must try and avoid hugging or kissing the dead person. Take utmost care while bathing the dead body.

Currently, there are no vaccines available for Nipah virus. People infected with Nipah virus need intensive care. According to the World Heatlh Organization, Nipah virus can be prevented by avoiding exposure to sick pigs and bats in areas where the infection is endemic. The infection can be prevented by not consuming fruits which have fallen off from trees and not drinking sap of raw date palms.

Courtesy: Yahoo.com

Write Comment
|

E-Mail
|
Facebook
|

Twitter
|

Print