Telangana Chief Minister invites Sringeri Swamy for Ayutha Chandika Yaaga at Medak
www.mangaloretoday.com
Mangaluru,Dec 17, 2015: Telangana Chief Minister K Chandrasekhar Rao and his Wife on December 16 Wednesday invited Sringeri Peetadhipathi Bharathi Theertha Swamy for Ayutha Chandika Yagam at his farm house from December 23 to 27 on a grand scale.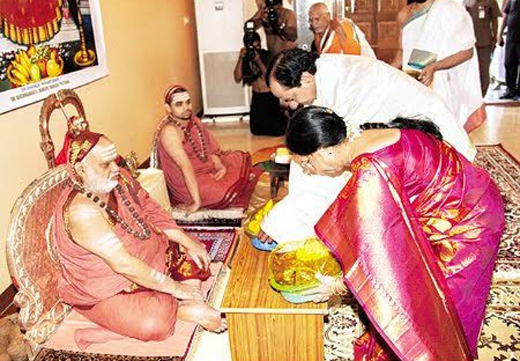 KCR went to Sringeri via Mangalore. He came in a special flight from Hyderabad and took a helicopter from Mangalore to reach Sringeri.

Sringeri Mutt officials accorded a ritual Purna Kumbha welcome to KCR and his wife. KCR and his wife performed special poojas for Sharada Matha. They even visited the temples of Aadishankaracharya, Shakti Ganapathi and Thorana Ganapathi temples.

KCR personally invited Sankaracharya Jagadguru Sri Bharathi Tirtha and junior pontiff Sri Vidhusekhara Bharathi to the Ayutha Chandi Yagam at his farm house in Medak district. The TRS Supremo explained the arrangements done for Yagam and told it is being done for the well-being of the people.

Bharathi Theertha Swamy appreciated KCR saying no chief minister in the country has organized such a Yagam in the past and it will remain as a historic moment. Swamiji conveyed best wishes to KCR and the people of Telangana. He also explained the history of Sringeri Peeta and services being offered on behalf of it to the Chief Minister.

KCR explained about the arrangements for the Ayutha Chandi Yagam, which would be held for four days from December 23. The Acharyas of the Ayutha Chandi Yagam too accompanied KCR to the Sringeri Mutt.


Write Comment
|

E-Mail
|
Facebook
|

Twitter
|

Print