Symposium on Disaster and Risk Reduction 2015 - July 15
Mangalore Today News Network
Mangaluru, July 16, 2015: The city was host to a vital programme to bring awareness on mitigation of disaster risk. A 'National Symposium on Disaster Risk Reduction 2015' was held July 15, at School of Social Work Roshni Nilaya which was jointly organized by Center for Health and Development(R) Mangaluru.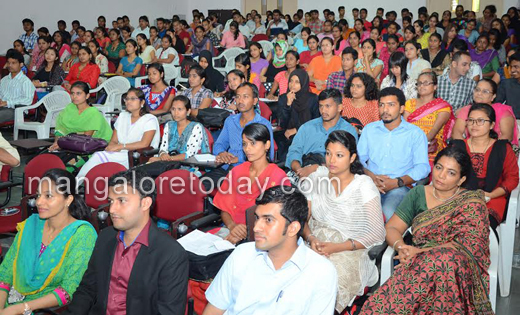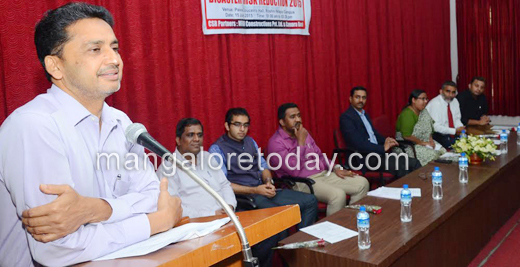 Chief Guest was DK DC Adoor B Ibrahim, IAS, addressing the audience, the DC stressed on accountability and responsible authorities accountable for man-made disasters due to negligence and corruption everywhere. He also highlighted the need to prepare citizens and others to work towards disaster mitigation. Recalling Bhopal Gas tragedy and other disasters, DC said that often disasters are go without logical conclusions. "Kapada, roti, makan" are the priorities alleviation of poverty is the main focus other issues are neglected. Indian disasters do not occur spontaneously.....they happen due to weak systems and application of mind and regulations. Activeness of civil society is vital or else the officials will retain regulations/laws only on the books as seen and not in action which will worsen the disasters. Today, examine the Rajamundary stampede and also the construction site mishap here...both are result of bad practices of ignoring safety by those in high ranks.

Guest of Honor, Dr Sharanppa, IPS, Superintendent of Police, DK District, emphasized the role of police and law and order situations during any disaster. He also urged the responsible to be more alert anticipate and preempt situations and raise voice where there is any wrong doing. Corners are cut by money and influence for projects and safety is the casualty. Often many of the high rise and commercial structures are without proper fire fighting norms and safety in the back seat. Preparedness and prevention is the key by following laws. . Compensating after a disaster is not adequate more care and budgets on preparedness and prevention are important.

Guest of honor, Dr Abhay Nirgude, Professor and Head, Dept of Community Medicine, Yenepoya University touched on how Community Medicine plays a very crucial and delicate role to tackle and address disasters. Health of the players plays a vital role is causing disasters like accidents. 90% accidents take place in developing third world countries and there must be better application of rules and regulations for optimum safety there.

Dr Edmond Fernandes, Medico-social activist and CEO, Center for Health and Development, welcomed the gathering and mentioned that disasters should be opportunity to create more innovative solutions to address rapidly depleting natural reserves, issues of environment health and climate change and create new jobs in this sector and train minds to focus on creating sustainable solutions for tomorrow's generations and a better future.

Speakers for the day were Dr Saurabh Dalal, Consultant- Disaster Healthcare section, National Institute of Disaster Management, Ministry of Home Affairs, New Delhi, Dr Shivaprasad Rai, Ex Commandant, Home Guards, Dr Ashok, Assistant Commissioner, Mangaluru and Dr Ramachandra Kamath, Professor, Dept of Public Health, Manipal University.

Dr Saurabh Dalal in his keynote address, said that disaster care response is taking early steps in the country but a big leap is yet to be taken for providing mass medical and psycho social care; Corporates, Ministries and Inter-country organizations should invest in Disaster Risk Reduction at all levels. A wider awareness of safety norms and moral adherence is the immediate need.

Dr Sophia Fernandes, Principal, School of Social Work, said it was very important to build a culture prevention in disaster occurrence and insure proper handling when any disaster happens.

Dr Rameela Shekhar, Dean, PG Dept, School of Social work and other faculty members, NGO representatives, students of public health and social work were present. The participating students were very keen and scope to widen the effort is the first visible result.

Write Comment
|

E-Mail
|
Facebook
|

Twitter
|

Print