Mangaluru, Feb 28, 2019: The decision of the authorities to collect toll from local vehicles too at the Suratkal toll gate from March 1 onwards without heeding to the several protests held seeking closure of the toll booth, has prompted the locals to protest by not paying toll.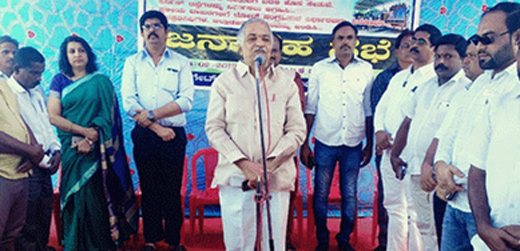 This was decided at the Anti-Tollgate Action Committee meeting held in the presence of leaders of various parties and organisations near the Suratkal toll gate on February 28, Thursday.
Addressing the meeting, Convenor of the Committee Muneer Katipalla said the public is being looted by having toll gates at Suratkal as well as Hejamady despite the rules stating that there should not be more than one toll booth in a radius of 40 kms.
He also deplored the failure of the authorities to close down the Suratkal toll booth as assured earlier.
On March 1 vehicles which will stand in front of the toll gate will proceed without paying toll, he said and warned that the authorities themselves would be held responsible for any consequence.
Former MLA Vijay Kumar Shetty, former minister Abhayachandra Jain, Youth Congress President Mithun Rai, advocate Dinesh Hegde Ulepady and others were present.