Summit on Senior Citizens Act 2007, 'empowered committee' on the cards
Mangalore Today News Network
Mangaluru, Aug 26, 2016: Speaking at a workshop organised to create awareness on the Maintenance and Welfare of Parents and Senior Citizens Act, 2007 at the deputy commissioner's office here on Aug 24, Tuesday. Human Rights activist Dr Ravindranath Shanbhag touched on several cases of elderly persons being not only neglected but also thrown out of their homes by their children, kith and kin. A long standing demand and need came into focus with this meet held.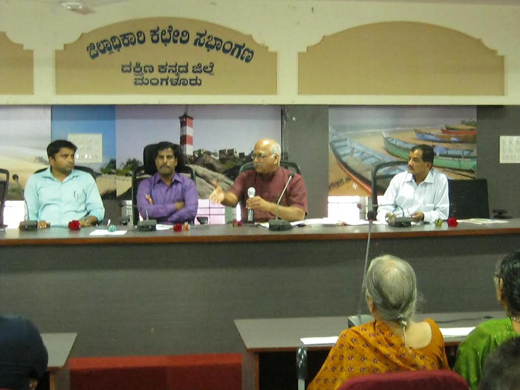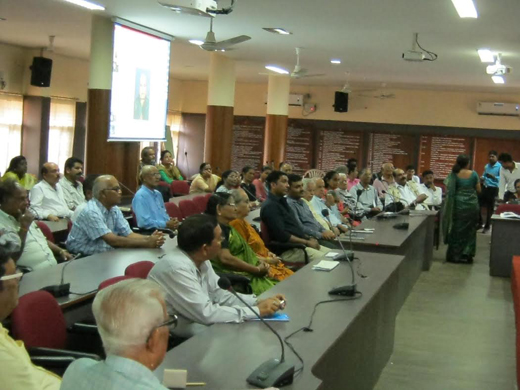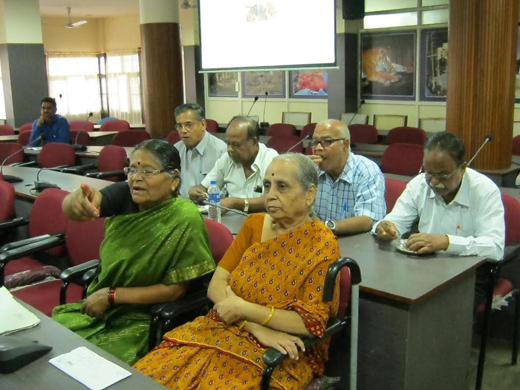 The aged and sick are grossly cheated for valuable property; they even refuse to pay small sums for parents' medicines, Dr Shanbhag cited several incidents using video footage of elderly persons narrating their tales from the death bed and hospitals.

Stating that he too learnt about the intricacies of the Act only after extending a helping hand to a senior citizen, Savitriamma (86) from Udupi, he regretted that even the top officials and assistant commissioners; the key persons to provide justice to senior citizens as per laws are unaware of the Act and unable to enforce them.

Dr. Shanbhag explained the need and methodology the assistant commissioners ma adopt to justly help senior citizens in distress. "It is a must, from returning property illegally occupied by kin or others after forcibly taking the signatures of elderly to changing the khatas in their names, everything can be done in a day or two, and it all depends on the assistant commissioners, who have been given due powers,".

Stating that he received 290 calls related to cases soon after he solved one case in Udupi, Dr Shanbhag also complimented a few ACs, including Anand (Tumakuru) and Yogeshwar (Udupi), who took bold steps to help the elderly in distress and thereby provide justice to the suffering.

Dr. Shanbhag pointed out many cases of senior citizens waiting for justice even after the court ruled in their favour. Referring to Girijamma, a resident of Adyar on the outskirts of Mangaluru, present at the meet, he said that Girijamma had earned more than Rs 2 lakh over the years just by selling bangles. "A truck driver, who befriended her and promised to look after her, however, took all her savings and later dumped her. Although Girijamma filed a case and won it, the driver refused to return the money," Dr Shanbhag said and appealed to the Additional Deputy Commissioner and Puttur AC Dr Rajendra to help solve the case.

Padmanabha Ullal, one of the participants, suggested that senior citizens' associations could extend a helping hand in such situations. Nanda Pais, a social worker, said that although there are a number of women in distress in and around Mangaluru and Mulki, it is not very easy to provide them rehabilitation as many homes for the aged hardly open their doors for women in distress and without a handsome amount as fee.

When a few participants suggested that a committee, comprising women and child welfare officials, police, revenue officials and senior citizens, may be formed to look into such issues, Additional Deputy Commissioner Kumar said that he would take steps in this regard. Some even proposed that not only a dedicated department for Senior Citizens will be right and just, but even a Ministry will be helpful.

Spearheading the effort, Women & Child Welfare Deputy Director Sundar Poojary was on the dais. A large number of elderly and aged along with leaders of NGOs and so on were present and enthusiastic to see justice.

Salient details from the meet:



Dr. Ravindra Shanbhag, a qualified medical doctor and lawyer, based in Udupi has more than 37 years association with social action and human rights. In addition to his work,taking up matters of aged helpless sick people who have been rendered destitute by their own children/kith and kin, he has placed several cases before even the SC. Forced by circumstances he has been compelled to take up the gross neglect and ill treatment of the aged he has taken action under the 'Rights of elders act 2007/2008' and other related legislation. These acts he has prepared into a book for officials, litigants and public, it is officially a government publication released a year ago by the CM, but as yet no copies are available anywhere, he has just the proof copy.


As per the act the ADC,Additional DC, is the empowered authority with judicial powers to resolve the problems of the aged and suffering in accordance with the acts. In the course of taking up 290 cases in Karnataka, Goa, Hyderabad, Dr Shanbhag has interacted with 40 ACs from time to time over the years. He presented power point slides on the cases he spoke about and narrated the pathetic and shocking treatment meted out to helpless aged women and men. He has used the act of 2007/8 to take ACs, police, registrars, bankers and others to the abodes of the sick, maimed and dying elders to pass needed judicial orders and get justice. Dr Shanbhag said "Kashta pattu e kelasa madlilla; Madi kashta pattidhane", (I did not do this due to difficulty; I did and faced difficulties). He made it very clear that no adequate machinery or procedure is yet in place for the vital needs of the very aged unable to stand up, even though laws exist on statute books.



He presented many pathetic cases with essential details which were shocking. He detailed how in at least 7 cases in his experience, the aged who had lodged complaints died 'mysteriously' in a few days, were they killed? The law has not been serious enough to arrest these who are Scot free and enjoying the ill gotten wealth of the aged. In a majority of the cases the judgement/relief has not been enforced for one reason or the other and the aged suffer cruelly. No advocates in these cases and this causes technical lacunae and minor law flaws are faulted by higher courts and lawyers use legal technicalities to strike down justice.


He demanded that proper process be laid down and officials and even a dedicated department be put in place to assist aged people. Also. the participants present demanded that a dedicated and empowered committee be set up

with representatives from DC, police, health, citizens organisations and so on to take up and resolve cases of suffering aged whether in families or institutions at district and taluka level without any delay. The officials present consented to look into this necessity and do the needed as soon as possible.


As a preliminary information, Dr. Prabha Adhikari a well known personality attached to KMC Attavar and an activist of Senior Citizens welfare in the city for long, briefed those present on the formation of 'PAGE', a consolidated body of several well established institutions for the aged well fare and the programmes chalked out for September 2016.

Write Comment
|

E-Mail
|
Facebook
|

Twitter
|

Print