Study on Yettinahole based on science fact - a claim
Mangalore Today News Network
Mangaluru, Oct 17, 2015: Indian Institute of Science Centre for Ecological Sciences Energy and Wetland Research Group (CES) Head Dr T V Ramachandra said that the study on Yettinahole project was completely based on scientific research data collected for years and not the one prepared in isolation.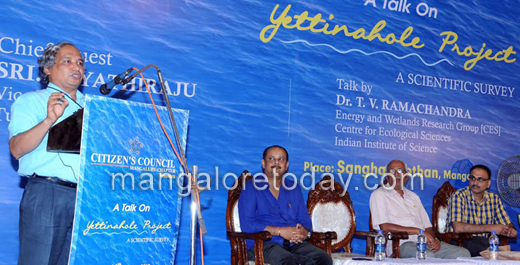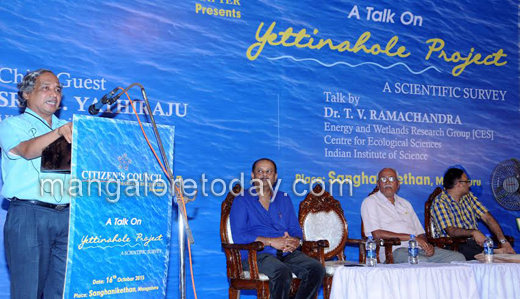 Dr T V Ramachandra who has presented more than 250 research papers and has authored 14 books said, during his 20 years of service around 70 per cent of his time was spent in the Western Ghats as he believes that scientists have social responsibilities. Wanting to serve the country and as an expert and not as a slave, he got permission from the Centre to conduct research from past two decades. Now, questions of integrity have come up.

Out of 700 articles, most of his articles are related to water sources.
They say that I don't belong to Yettinahole region. Yes, I am not a politician to think of his own constituency for five years. If they want to know my research work, they can visit my website and read. If they question my integrity, it is like insulting 30 students who are with me. I always believe that India has good solar and student power which would lead us to become a world power. My students are my VIPs.

Govt should work on rain water harvesting and avoid Yettinahole
Mangaluru : Addressing a gathering at an interaction programme organized by the Citizen's Council Oct 16, Indian Institute of Science Centre for Ecological Sciences Energy and Wetland Research Group (CES) Head Dr T V Ramachandra said that the State government should concentrate on rain water harvesting in Kolar and Chikkaballapur districts which have the capacity of around 52 TMC and 62 TMC of rain water production respectively, instead of Yettinahole project.

He said that both the districts receive around 500 to 900 mm rainfall per year which is not bad. Research in Kolar between 2000 and 2003 conducted indicates that the green patch was destroyed in the district, people have lost the ground water. The government should take up technical approach and start the de-silting works.


The senior scientist also expressed concern over the authenticity environment assessment work, which is very necessary in any environment related project. If the government and officials neglect scientific reports and harm nature it would affect source of water and food. The evergreen forest of the Uttara Kannada district has dipped from 67 per cent to 37 per cent in a few decades. Now, Yettinahole has 45 per cent of evergreen forest. But, unscientific projects would cause irreparable damage to the Western Ghat. Tumkur Science Centre vice president C Yathiraju said, the Karnataka Neeravari Nigama Limited is in a hurry to implement Yettinahole for political gain without proper study or forest clearance.

Govt are misleading the National Green Tribunal by commencing the work. The Forest Department has completely failed to implement Forest Protection Act. There is no proper water management in the country and it causes issues like Krishna, Mahadayi, Cauvery etc. There should be a National water policy for state bodies to solve the confusion. Efforts should be done to preserve traditional water bodies like lakes. Discussions should be held for the reason behind the draught situation in a few North Karnataka districts than finding out temporary solutions, he said.

Citizen's Council president Sunil Acharya, Member of Parliament Nalin Kumar Kateel were present.


Write Comment
|

E-Mail
|
Facebook
|

Twitter
|

Print