Statues of recent Saints who lived here arrive at Rosario Cathedral
Mangalore Today News Network
Mangaluru, Dec 27, 2015: On December 27, 2015 Sunday, the first statue of St. Mariam Baourdy, who lived for 2 years at St. Ann's convent (between State Bank terminus and Rosario Cathedral) from 1870 to 1872 was taken from her historical abode to be venerated and installed at the Rosario cathedral. A large number of devotees gathered early in the morning at St.Ann's convent. The Vicar General of Mangaluru Rev Denis Moras Prabhu blessed the image and a colourful procession led by a band wended its way solemnly to the Rosario Cathedral, on a path that this saint would have often taken to the church more than 145 years ago. This was followed by a solemn mass with Revs., J B Crasta, Rocky, Vincent and Paul. The other image was of St. Joseph Vaz who too was instrumental in the growth of the Rosario Cathedral and lived in the area was placed for honour, both statues will be given a prominent niche very soon.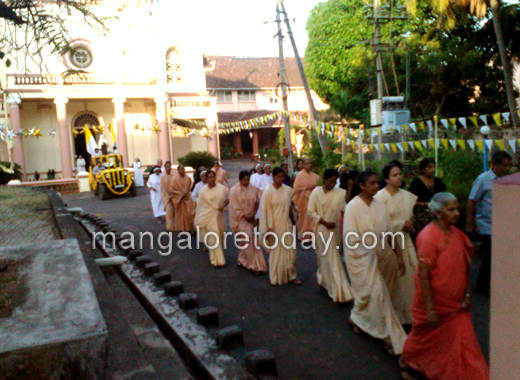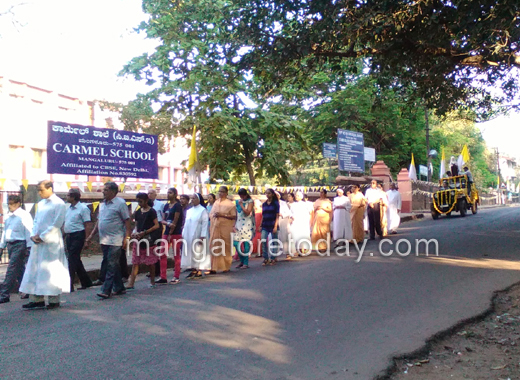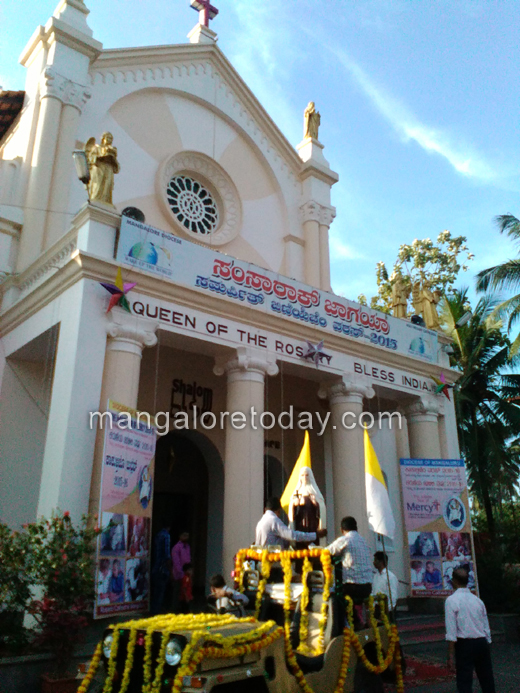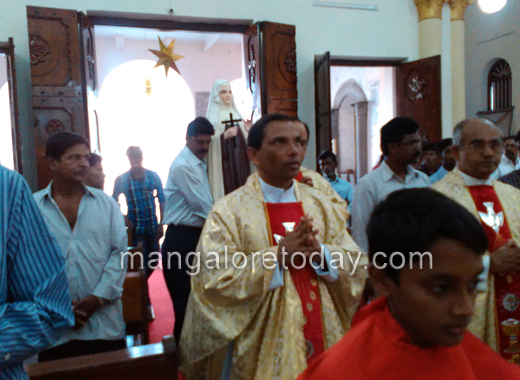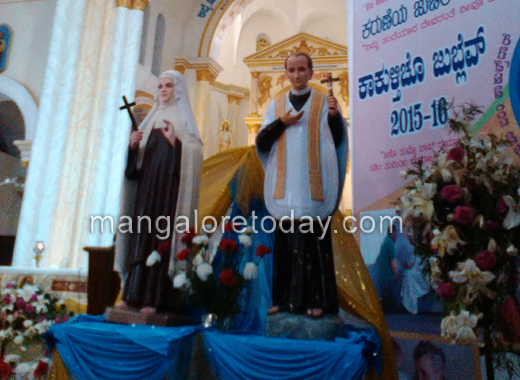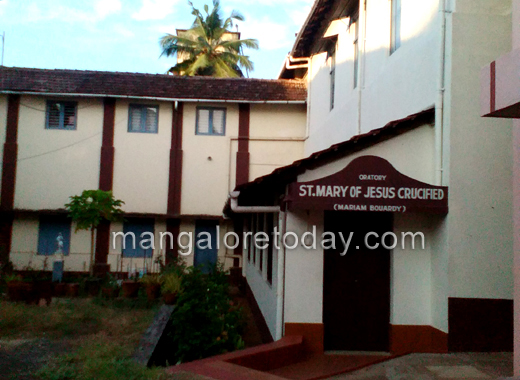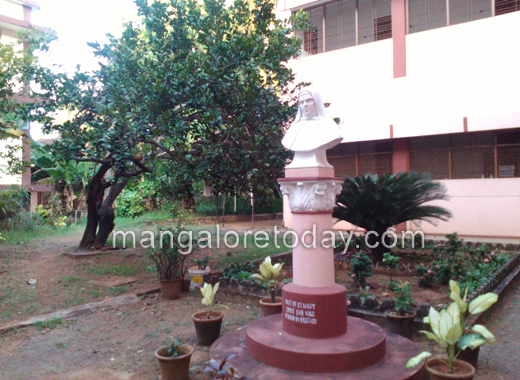 The History:
This Saint of the Catholic Church - St MARIAM BAOURDY, of Lebanese origin was born on January 5,1846 in upper Galilee. It is said she was born after several years of marriage and after her parents made a pilgrimage to the birth place of Christ -BETHLEHEM. She was orphaned even before she was three and was adopted by relatives. Her piousness compelled the prioress of the convent to admit her as a novice nun and she was sent to Pau in France as part of the initiation in May 1867. The following year the then Bishop of Mangalore - Marie Ephrem OCD of France (Who died in 1873, and is buried in Rosario Cathedral Mangalore), on his visit there expressed his desire to have a group of nuns come over and start work on the West Coast of India. Obtaining permission from Vatican the head of the Carmelites mustered a pioneer group for the task. Strangely the fervent novice MARIAM BAOURDY was the youngest chosen for this mission. Destiny thus directed her to India.

On November 19,1870 the courageous group (of which Mother Veronica the founder of the Apostolic Carmel here) after a grueling journey of near 100 days landed at Mangalore port, via Madras, Vellore and Calicut. The rough voyage took the lives of four of the group which was not too unusual in those times. Commencing their mission of prayer penance and work to call down God's blessing on this region they took up temporary shelter with the newly started "Carmelite" or "Apostolic Carmel" convent still flourishing not far from old port or 'Bundar' in Mangalore city a hub of education. The room where the holy nun lived and prayed and the old chapel where on November 21, 1871 she took her first vows and the tree where she experience ecstasy are treated as sacred and preserved even today here.

Mariam took the name of "Sr Mary of Jesus Crucified" and was often referred to as the 'Little Arab' among her community. Comparing her life with that of St (Sr) Alphonsa of Kerala; many similarities can be drawn. In keeping with her vows, she was called upon to return to France and left Mangalore on September 23,1972. After a few years of exemplary holy life in Pau,France; she was sent to her mother land where she laboured hard to establish a large convent in Bethlehem, the place of Christs birth. She died at the young age of 33 on August 26,1879. The important convent she founded in Bethlehem, reflects her greatness today. She was declared "Blessed" , a the final step before sainthood, on November 13,1983 at the Vatican. St.Mariam was canonised on May 17. 2015, by Pope Francis in Rome. Mariam Baouardy was instrumental in setting up the Mangalore Carmel based in Kankanady for over 140 years. The Carmel of Mangalore is the first Cloistered Carmel in India, now the prominent land mark Sacred Heart Monastery in Kankanady.

The present :
Time changes traditions and perspectives. For a time now not only the devout of the Mangalore belt, but particularly the young student groups appear to have reason to seek the intercession of Bl Mariam Baourdy. Since, 1882 the Cloistered Carmel Convent and Sacred Heart Chapel at the Kankanady Circle has been a veritable land mark with Fr.Muller's Medical Center opposite. The majestic 'power house' of prayer and meditation has become a solace to the region. A grotto like shrine, with a few spartan belongings used by St.Mariam, was opened here on August 28,2002. People come here with devotion for a prayerful visit throughout the day. Presently, Eucharist and Novena is conducted every Wednesday at 5.30 pm here, for the devotees.

It is a credit to Mangalore that holiness of this caliber whatever the roots or creed, inspires people for uplift spiritually and humanly. Even in these modern times, the prayerful contemplative nuns are shut out from the world voluntarily to Glorify God. In recent times, on June 16,2008 to be exact one from the local Mangalorean community has been declared 'Servant of God' the first step towards being declared a saint by the Church. The saintly person is Msgr.Raymond F C Mascarenhas (1875-1960)a priest of the Diocese of Mangalore and founder of the Bethany Sisters (at Bendur) in Mangalore.

The meaningful hymn that is sung here in honour of this St Mariam Baourdy, translated from Konkani reads:

"Sister Mary of Jesus Crucified - your name is beloved,
Who once among us in Mangaluru lived - Becoming for us a treasure"

Write Comment
|

E-Mail
|
Facebook
|

Twitter
|

Print