Sridevi's death hits Mangalurean director's ambitious documentary
Mangalore Today News Network
Mangaluru, Feb 26, 2018: One of the biggest city fans of Sridevi, was in high spirits when Bollywood's superstar agreed for him to make a documentary on her. Mangaluru Director Sundeep Malani is now a man deeply grieved. Work in this connection was supposed to roll soon. What is the fate of the project is now anybody's guess; with Sridevi no more. rldwide .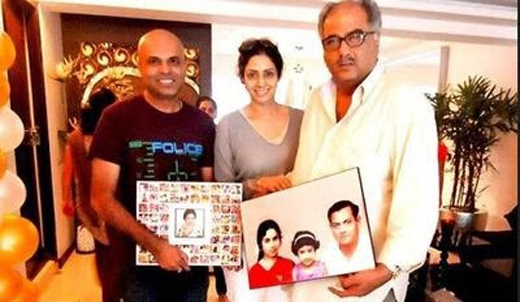 Malani was also one of the persons who made Sridevi's special occasions such as her 50th birthday and her 50 years in Bollywood even more special to her.

When Sridevi turned 50, she had everything under the sky. However, the only thing she missed was a childhood memory with her parents. The beauty with beguiling eyes shed tears of joy when Malani gifted her a laminated photo her childhood with her parents on either side.

"She did not have any childhood pictures with her parents. She had tears in her eyes when she saw the photo," said Malani who was on his way for the funeral.

When Sridevi completed 50 years in the film industry, Malani brought out a musical documentary Roop Ki Rani Sridevi. Senthoora Poove Sridevi in Tamil and Athiloka Sundari Sridi in Telugu are the other documentaries that Malani has brought out on the late superstar.

He has also been running an exclusive Sridevi film festival on Facebook – a page titled Sridevi he created when the social media channel began finding its grip in the country – since February 2017 giving out details and insights into all her 300 movies.

Malani's love for Sridevi began at a tender age when his father, a movie distributor, introduced her Tamil movie Kalyanaraman to Mangalore in 1979. "The film back then ran for two weeks at Ramakanthi Theatre. That was the first time I saw her on the big screen. I was 7-years-old back then. I became an instant fan. That fandom only grew with passage of time," he recalled.

This is not all. Malani has also directed a full-fledged movie as a tribute to Sridevi. Janleva 555, released in 2012, stars Kalpana Pandit in the lead role. Malani got Kalpana dressed in the costumes similar to what Sridevi wore in 'Nagin' and 'Chandni' among others. Boney Kapoor then invited Malani over to his house where the latter watched the movie with his dream diva.


"All my life I had been sitting in the theatre and watching her movie on the big screen and then there was this day where I along with my wife and son sat next to Sridevi and watched my film at her house. I will cherish those moments for the rest of my life," he said.


Malani said he had texted Boney Kapoor on Feb 24, Saturday evening and that the family was expecting Sridevi back in Mumbai from Dubai in a couple of days. "I communicated with Boney Kapoor last evening. He told me that they were expecting Sridevi to return after the wedding celebrations in two days," Malani said.

The director from Mangaluru, who is yet to come to terms with the fact that the queen of his dreams is no more, said he has lost more than an inspiration and that he doesn't want to accept that Sridevi is no more.

Write Comment
|

E-Mail
|
Facebook
|

Twitter
|

Print