Sri Krishna Vesha Competitions - September 5
Mangalore Today News Network
Mangaluru, Sep 2,2015 ; Briefing media Sept 1, Tuesday, Foundation president Pradeep Kumar Kalkura said, Kalkura Foundation will organise 'Sri Krishna Vesha Spardhe' on the premises of Kadri Sri Manjunatha Temple on September 5.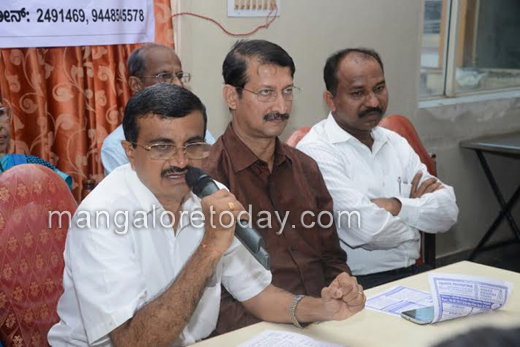 Fancy dress competition, in which participants wear the costumes of Lord Krishna, is open to children as well as adults. The event will be held in 25 categories. 'Sri Krishna Varna Vaibhava,' an art competition is the new addition to the list of competitions. The competitions will be held at nine venues keeping in view the participants' convenience. What began with eight children, has now crossed 2,500 competitors. There is no age limit. The competition will commence at 10 am.

There will be several categories namely, 'Kanda Krishna' (for tiny tots below one year and mother can lead the child to the stage); 'Muddukrishna' (for toddlers under two years and mothers are allowed to come on the stage along with the participants); Thuntakrishna (for the toddlers of two years to three years); 'Balakrishna' (for kids from Anganwadi and LKG), 'Kishor Krishna ' (for children from UKG and I std); 'Sri Krishna' (for II, III and IV standard children); Geetha Krishna (for students upto VII std, here one has to create Geethopadesha situation with constumes).

'Yakshakrishna' (for children upto X std, participants have to wear only Yakshagana (Badaguthittu, Thenku thittu. 'Pagadi Kedage' and 'Mandale' are allowed); 'Radhakrishna' (children upto VII std(pair); 'Yashodha Krishna' (woman as Yashodha and any child as Krishna can participate with action (no age limit for woman and child (Krishna upto 12 years); Shankanada (For children upto VII std); 'Shankhaudgosha (for above seventh std and open to all); 'Devaki Krishna' (mother (previous participants of the competition) as Devaki and her child as Krishna can take part); Vasudeva Krishna (Any men with traditional costume as Vasudea and kid as Krishna can act.

However, plastic baskets are not allowed. Even woman can also enact as Vasudeva in men's costume); 'Nanda Gokula' (episde presentation of Lord Krishna's life by a group i.e entire family members with minimum five members); Balakrishna quiz competition (for children upto VII standard); 'Sri Krishna quiz contest (above VII std) and 'Krishna photography' in front of a stage in the temple premises.

The Sri Krishna Varna Vaibhava will be held in six categories viz 'putani' (crayons /colour pencil and line art will be provided; 'shishu' (I to IV), 'Baala vibhaga' (fifth to seventh standard, any drawing of Srikrishna); 'Kishora vibhaga' (for eighth to tend std, water colour, any drawing related to Sri Krishna), 'Taruna vibhaga' (PU and degree, water colour, any drawing related to Sri Krishna) and open category.


Kalkura said that about 150 daily pooja or traditional pooja items will be given to children participating in the quiz competition as prizes. All participants will be honoured with an idol of Udupi Kadagolu Krishna, made of panchaloha besides books on Sri Krishna, a certificate, a photo of Lord Kadri Sri Manjunatha and a copy of Shrimad Bhagavath Geetha will be given for all the participants. He said that with an intention to develop religious and cultural awareness and to encourage the hidden talents among the little children, the competitions are held.

For registration contact: Kalkura Advertisers, Sri Krishna Complex, M G Road, Kodialbail on 2492239, 9448125949 or e-mail at kalkuraadvt@rediffmail.com.

Write Comment
|

E-Mail
|
Facebook
|

Twitter
|

Print