Spitting in Mangaluru - Posters for awareness needed
Mangalore Today News Network
Mangaluru, Nov 13, 2014: While justified hype is building up for a "Swatcha Bharath" the incidence of spittting in DK and Mangaluru city is hateful. In this area when betel and tobacco are chewed by all cross sections, spitting is a rampant and ignored practice.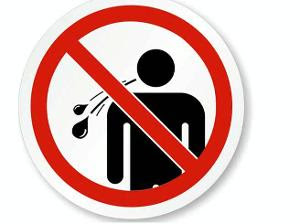 This is a very dangerous habit and one that can transmit illness phenomenally. One can observe free for all spitting in crowded places in the city and freely from buses (cars and two wheelers too).

Children in partucular don't feel a sense of uncleanliness in spitting on play grounds, roads and many other places. The effect it can have on the general well being is completely forgotten and ignored. It is time that several forms of awareness are introduced as soon as possible by Govt., NGOs, Organisations. Public need to gently point out to people spitting about the ill effects it causes. Local media too needs to highlight this. MCC must have a sustained programme. Note the action initiated in the capital on spitting.

IN NEW DELHI:

To stop people from spitting in public places, the New Delhi Municipal Council (NDMC) has come up with a new idea. The civic agency has decided to put up posters and stickers linking spitting to health problems, especially those related to tobacco consumption. The initiative that will spread message like 'Spitting spreads diseases' will be first implemented in Connaught Place.

Officials say NDMC has been struggling to keep the area clean despite spending crores of rupees on its redevelopment. Apart from managing the waste, the biggest problem was of removing the betel stains on the walls of inner and outer circles. TOI had reported about the problem inA August.

"It is difficult to stop people from spitting. This is why we thought of doing something different by clubbing health issues with the problem of spitting. We want to tell people that there could be a health issue with them if they frequently spit. The idea is to tell people that their own health is under risk," said the acting chairperson of NDMC.

Stickers with messages like "Don't spit as hundreds die of tuberculosis because spitting spreads the disease", "This is your own property", "Rs 100 fine for spitting" etc will soon be visible.

It is well past the time that our great city with a great culture becomes sensitised to this dirty habit.

Write Comment
|

E-Mail
|
Facebook
|

Twitter
|

Print