Societal responsibility essential for safeguarding women's rights: Prof. Nivedita Menon
Mangalore Today News Network
Mangalore, 28 February, 2018 "We can see from recent instances that the State takes no responsibility for ensuring women's rights. Unless there is societal responsibility, women will continue to be discriminated against," said the renowned feminist and academician Prof. Nivedita Menon, Professor of Political Thought, Jawaharlal Nehru University, Delhi.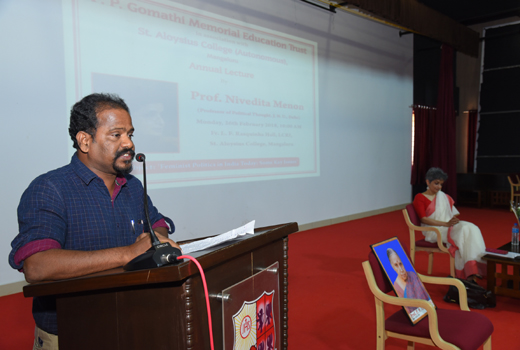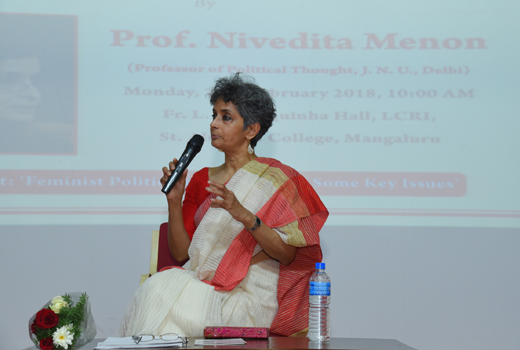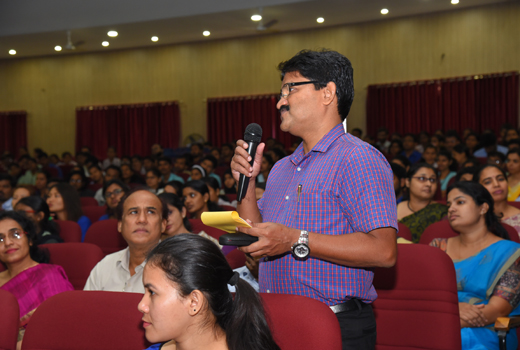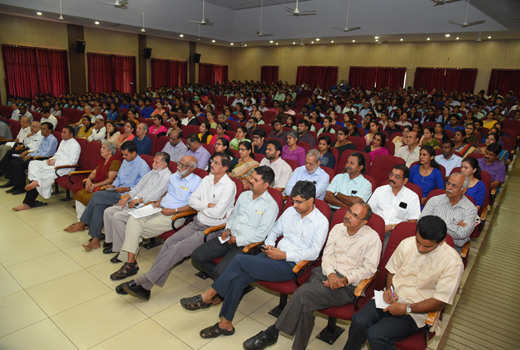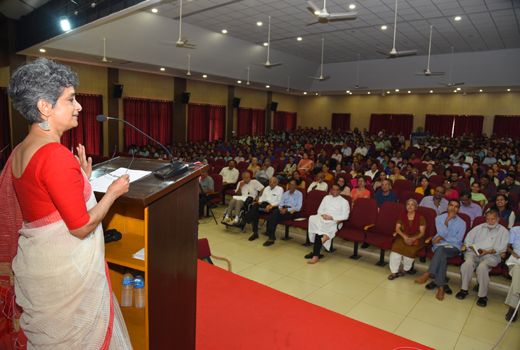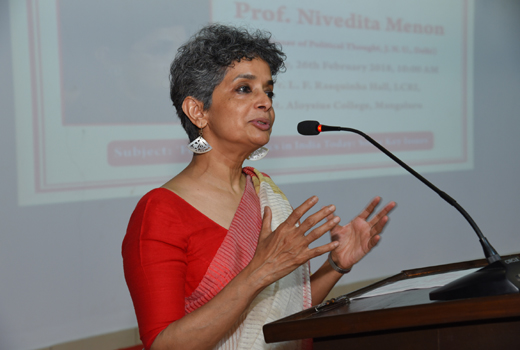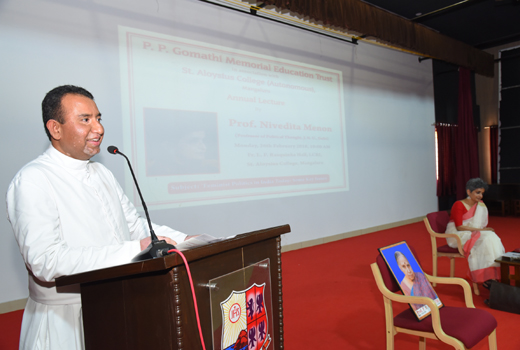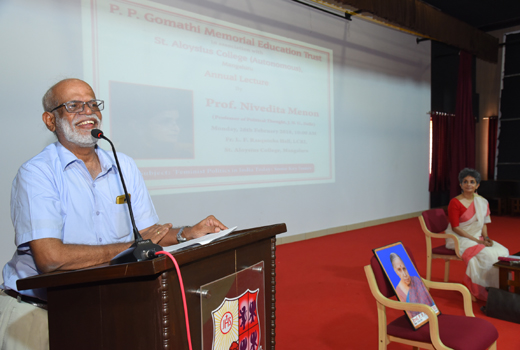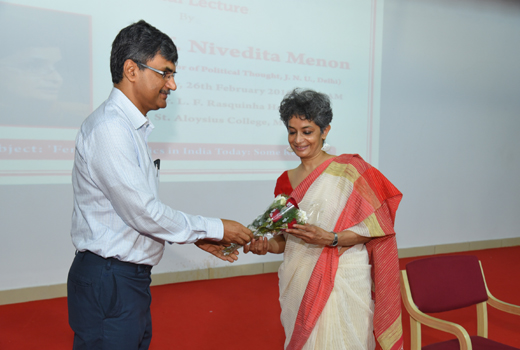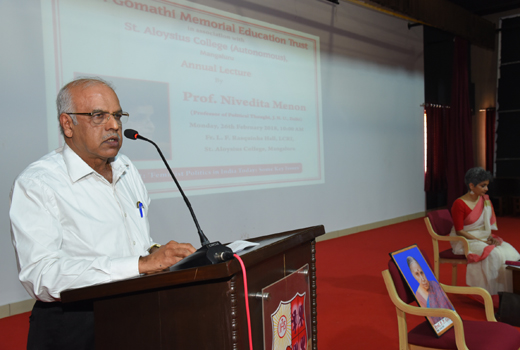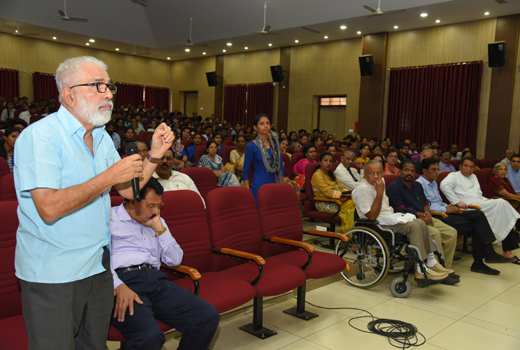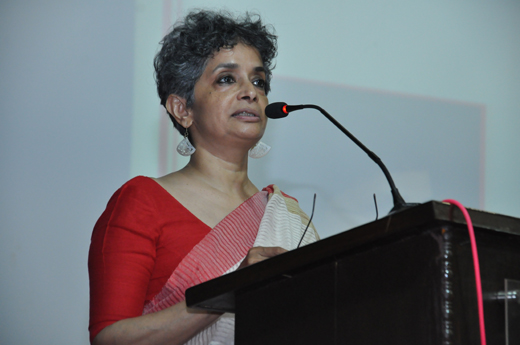 Delivering the second edition of the Annual Lecture hosted by P. P. Gomathi Memorial Education Trust on the subject "Feminist Politics in India Today: Some Key Issues" at St Aloysius College in the city on Monday, 26 February, 2018 Prof. Nivedita Menon analyzed the concept of feminism and the way it manifests in the political space.

Clarifying on the stance of feminism, Prof Menon said: "Feminism is not anti men. Feminism is about recognizing the structural ways in which our society favours men. The structure of patriarchy produces men and women in a certain way which perpetuates the system. Feminism also recognizes that gender is only one of the axis of power in society, along with others like caste and class. Feminism is also not exactly a western import as India has a very old feminist movement going back to the colonial period."

She asserted that feminists find no cause to rejoice over recent political initiatives like the abolition of Triple Talaq and the idea of having a Uniform Civil Code for India. "These are very complicated issues. First of all the personal law of almost religions discriminate against women. Then there is also the fact that these are talked about as national integration issues and not as women's right issues," she said.

Analyzing the political scenario, she said in 1980s, in the aftermath of the Shah Bano case, the Congress Party started on a path of Muslim pleasing, basically the pleasing of the communal elements within the community. This gave the BJP a trigger for Hindu mobilization. Today even Bangladesh has managed to reform Muslim laws, but here such moves generate controversy. For the right politics to be put in place, the community should be confident to being self critical, she said.

Elaborating further on Uniform Civil Code, she said, "Women's movement since 90s no longer believes uniformity will bring about justice. We don't not even consider it to be a viable option because of the futility of standardizing uniformity. It is now recognized that legal pluralism is more democratic than uniform laws as it is impossible to bring about one law that is good for everyone. It is in fact better to work within personal law and make it better. Our focus now is on gender just laws. Hindus are the most homogenous community in India and we find diversity in practices all across India. But the Hindu Right wants only a certain strand of north Indian standard to stand in for uniformity."

Dwelling on the mass outrage seen during the Nirbhaya Rape Case in 2013, she said it was for the first time that we could see a popular uprising against an atrocity committed on a women which cut across all barriers like politics, religion, gender, age or region.

P. P. Gomathi Memorial Education Trust has been established by her family and former associates to perpetuate the ideals cherished by the Late P. P. Gomathi, a renowned educationist who had served as the Principal of Besant Women's College and later as the Secretary of Women's National Education Society until her death in 2014.

P. P. Sudhakaran, brother of P. P. Gomathi and Prof. P.A. Gopinath, nephew of P. P. Gomathi were present on the occasion.

Senior advocate K. P. Vasudeva Rao welcomed the gathering. Dr. Keshavan Veluthat, historian and former professor, Delhi University introduced the Guest Speaker. Rev. Dr. Pravin Martis, Principal of St. Aloysius College gave a felicitation speech. Gopalkrishna Shetty, Secretary of P. P. Gomathi Memorial Education Trust gave a vote of thanks. Mischelle D'souza, post graduate student St. Aloysius College was the master of ceremonies.


Write Comment
|

E-Mail
|
Facebook
|

Twitter
|

Print