Smoke in public places, pay Rs.1000 fine: Union Health Ministry
mangaloretoday.com/ IT
New Delhi, Jan 13: Brushing aside opposition, the government on Tuesday moved to amend the anti-smoking law and proposed radical changes, including ban on sale of loose cigarettes and raising the minimum age of a person buying tobacco products to 21 years from existing 18.

It has also proposed raising of fine to Rs.1000 from Rs.200 on smoking in public places as well as recommending removal of designated smoking zones in hotels and restaurants.

These are some of the major recommendations in the Cigarettes and Other Tobacco Products (Prohibition of Advertisement and Regulation of Trade and Commerce, Production, Supply and Distribution) (Amendment) Bill 2015, which were put out by the Health Ministry on Tuesday to seek suggestions from the public reported PTI.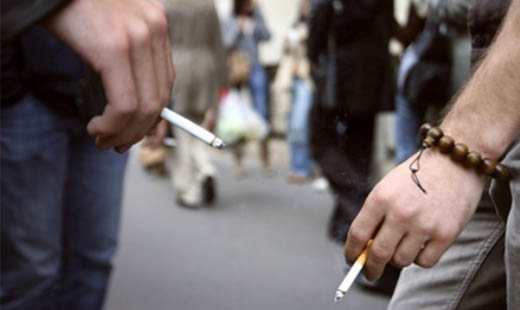 The bill puts to rest speculation about the fate of a panel's recommendations, which had covered most of these issues, as there were reports that the Health Ministry had developed cold feet following outcry from lobbies representing farmers and tobacco industry.

Health Minister J P Nadda had told Rajya Sabha during the Winter Session that his Ministry had accepted the recommendations of the committee formed to review the existing Act, and a draft note for the Cabinet was circulated for inter-ministerial consultation.

Seeking to make violation of the proposed law much more stringent than the existing Act, the draft bill increases the maximum fine to Rs.1 lakh from the existing Rs.10,000.

"No person shall sell, offer for sale, or permit sale of, cigarettes or any other tobacco products loose or in single sticks to any person who is under 21 years of age; employ, engage or use any person who is under 18 years of age in cultivation, processing, sale of tobacco or tobacco products," according to the proposed bill.

While increasing the minimum legal age for sale of tobacco products to 21 years, the bill also proposes to increase it later to 23 years and then to 25 in two phases after studying impact of the new provisions. "It will ensure protection of the future generation from the hazards of tobacco products."

The bill also proposes special session courts for the trial of offences under it. It will increase reporting of violation, filing of complaints, expedite trial of offences and ensure effective implementation of the law, it says.

"The said amendment bill along with the notes on clauses is placed in public domain as part of pre-legislative consultations with a view to eliciting the comments/views of the stakeholders, including the general public," the Ministry said.

Doing away with designated smoking places in hotels and restaurants, the amendment bill says these "undermined the very objective of the Act", which is to protect non-smoker from involuntary smoke.

Citing the "mushrooming of hookah bars across the country, which attracts the urban youth and led to commercialisation of hookah tobacco which was earlier a cultural practice limited to rural areas", it says the earlier safeguards failed to have a deterrent effect while proposing to ban the practice altogether.

The bill, though, allows smoking at designated places in international airports.

It also calls for setting up of an autonomous National Tobacco Control Organisation to implement and monitor its provisions.

Cracking down on any form of surrogate advertisement for tobacco products, it says the existing Act was "vague" on it, "resulting in widespread surrogate advertisement".

"Therefore with changing times it is imperative that new mediums of communications such as mobile and internet are covered under the ban of tobacco advertisement.

"There is also a need to plug the reality of potential misuse of the Corporate Social Responsibility activities by tobacco companies to indirectly promote or advertise tobacco products," it says.

The new bill also proposes ban on spitting of tobacco products in public, saying it is one of the biggest causes of spread of infectious diseases like TB, pneumonia, swine flu and avian flu.

Cartoon Courtesy: Jubhani

Write Comment
|

E-Mail
|
Facebook
|

Twitter
|

Print