Sea-based reservoirs be a solution for water woes affecting coastal city: Prof T G Sitharam
Mangalore Today News Network
Mangaluru, Feb 07, 2017 : Addressing the gathering at Hotel Foodland today, February 07, Tuesday Prof T G Sitharam, senior professor, department of civil engineering, Indian Institute of Science, Bengaluru said annually more than 120 tmcft of flood water joins the Arabian Sea.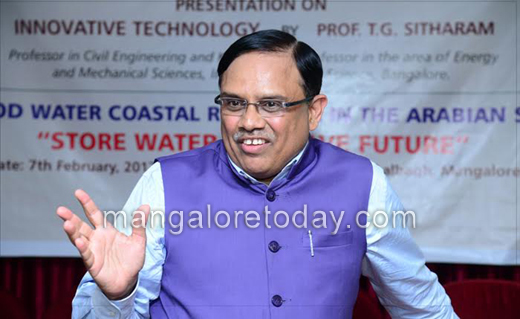 Based on UN standards of 150 litres of water per day per person, the total water requirement for entire Karnataka's population of six crore is about 90 tmcft. "Nethravathi river alone is enough to supply drinking water to every single household in Karnataka. But the irony is that Mangaluru is facing drinking water shortage during summer,'' said the professor, adding that the new innovative technology - sea-based reservoir- which can impound this flood water as storage in the coastal area within the sea itself can mitigate water problems of the growing coastal city.

Though Sitharam highlighted the positive aspects, at a meeting , he had an encounter with his fellow IISc-mate Prof SG Mayya, a critical opponent of Yettinahole project, who said not only the innovative solution is prohibitively expensive, it did not take the aspects of siltation (like in ground level reservoirs) and replenishment of ground level water in a lateritic region where both horizontal and vertical run off was very high.

Sitharam claimed that the sea-based reservoirs capture flood water, which flows to the sea, which is otherwise wasted, without any damage to the environment and no diversion of the river course and nil submergence issues.


Sitharam says this reservoir, which can cost around Rs 1,000 crore, can be built near the river mouth which joins the sea with a provision to capture only the required amount of flood water. The excess flood water will flow into the ocean carrying the silts without any hindrance or obstacles. During off season or summer months, the sea water will flow up and down easily with high and low tides. By this construction there will not be any disturbance to the natural course of river or damages done to the environment or marine life.


But Mayya argued that the land based constructions are more economical and offer ground water recharge and the environmental damage of sea-based reservoirs was not yet quantified due to siltation and other factors.


However, Sitharam's innovative technology has found the backing of NRI entrepreneur BR Shetty, through his BRS Recreations venture. Kushal Shetty, general manager of BR Recreations said: Shetty has liked the idea and is backing it up. A part of the innovative idea - Sagarmala Reservoir Project - a sea-based reservoir initiative all along the Indian coast to mitigate water problem, has been submitted to Prime Minister Narendra Modi. The Mangaluru sea-based project has also been presented to the state government for favourable consideration.

Write Comment
|

E-Mail
|
Facebook
|

Twitter
|

Print