Sand issues, others to find solution soon : Dr Jayamala
Mangalore Today News Network
Mangaluru, Mar 08, 2019: In a matter of days, the Udupi DC will take action to tackle sand issues in the district as the election model code of conduct will come into effect after the announcement of the upcoming Lok Sabha elections, informed in-charge minister Dr Jayamala. After the quarterly KDF meeting.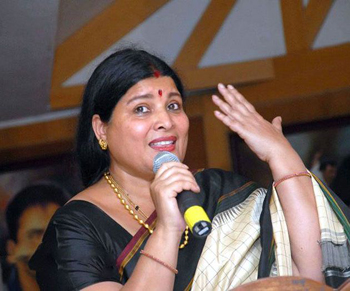 Speaking at the media meet, the minister said, "8 sand blocks under CRZ have received approval for mining. The decision will be taken at the district committee meeting. Of the 30 sand blocks in the non-CRZ areas, 7 will be used for government projects. 23 sand blocks are undergoing auctioning. The sand must be emptied before the monsoons. Information regarding the sand inventory and prices must be provided to the public. Discussions have taken place regarding the provision of sand to the eligible," said the minister.

"We will call a meeting regarding sand mining in CRZ areas. We will conduct live bidding for sand mining at non-CRZ areas," informed Hephsiba Rani Korlapati, deputy commissioner.

Kole Roga : "Compensation has been provided to 6,253 farmers whose areca nut farms were affected by Kole roga. We have already notified to conduct the task force meeting immediately in connection to take care of the drinking water problem that may arise due to the summer season. 19 vented dams have been completed by the Small Irrigation Department. 8 are in progress. We have directed the repair of the broken down dialysis machine at Kundapur hospital, "she said.

Land reserved for theme park : "It has been decided to reserve 50 acres of land in Karkala for Koti Chennaya theme park. Earlier, there was 110 acres of land belonging to the Horticulture Department here. Now, it has been reduced after being provided to various departments. We have informed to set aside 15 acres of land there for the implementation of the kids toy train plan. The Book Park and Sound and Light facility will be set up here. Food Court, restrooms and other basic infrastructure will be provided here thereby taking action to make it tourism attractive," she informed.


"Joint meetings will be held in Kasaragod, Uttara Kannada, Udupi and Dakshina Kannada regarding the Endosulfan problem. It has been decided to conduct another analysis through scientists. It is our aim to fine the erring companies," informed the minister.

"Rehabilitation cells for women have been opened in all the 30 districts of the state and Rs 11.5 crore has been released for this. This is the first of its kind programme in India. There are around 1 lakh oppressed women in the state. Skill development centres will be conducted for such victims in the district," she said. Other matters too were indicated at the meet.


Write Comment
|

E-Mail
|
Facebook
|

Twitter
|

Print