Sadhvi Lectures on Cows in Kasargod, Malayalis Send Her Beef Recipes
Mangalore Today News Network
Kasargod, May 01, 2018 : Sadhvi Saraswati, the president of the Sanatan Dharma Prachar Seva Samiti, has found herself in the soup, the flavour of which she is unlikely to appreciate. On Friday, 27 April, she thundered at the Virat Hindu Convention, "'Gau Mata' (cows) was killed and beef party organised in Kerala, though she is respected the world-over. Such slaughterers have no right to live in India!".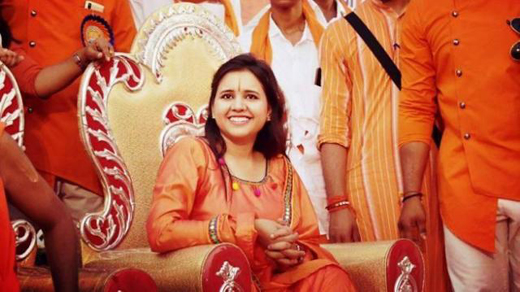 Sadhvi seemed to have forgotten that she was speaking at Badiadka in Kasargod district of Kerala. A state where beef fry is an emotion and beef is a staple in many homes and restaurants. A state where people have vehemently asserted their right to eat what they want.

As her speech went viral, hundreds of helpful Malayalis then decided to give the Sadhvi a crash course on beef and beef dishes.

Sadhvi Saraswati's Facebook page is currently inundated by messages from Malayalis about beef and their love for the meat. In fact, one of her posts has 15,000 comments on it, almost all of them by indignant Malayalis.

Hundreds of Facebook users also posted pictures of their favorite beef dishes, including Kerala beef fry and curry. If that wasn't enough, there were also GIFs of slow cooking beef and beef biryanis to whet the appetite.

Many were kind enough to post their recipes. One Facebook user wrote, "Add 2 tbsp of water to beef and Crush dried red chili, and pressure cook till the beef is cooked. If there is excess water, cook till the water has almost dried up. Heat oil in a pan and fry coconut pieces until it becomes golden brown color. Heat oil in a pan and add lots of curry leaves and fry it."

Another person said the Sadhvi would move to Kerala if she knew just how yummy beef dishes were: "Have yummy beef roast and Kerala Parrotta. You will relocate to Kerala."

Many users told the Sadhvi not to spread communal hate in Kerala. One such message said, "Don't spread hatred among people we lives in a one country with one emotion. We all have #gomatha in ourselves in different forms.... you have its dung in your head and we have its meat on our stomach. You drink its urine, we drink its milk (sic)."

That's not all. Calling out the hypocrisy of the Right wing, many also posted pictures of Kerala state Bharatiya Janata Party (BJP) leaders gorging on beef (though they have denied this each time). One user decided to convey his message in Hindi and said, "Behan ji, hamaara party (BJP) secretary eating beef curry ji. Woh bola ki woh beef curry nahi onion curry hai. Uske baadh yahaan ki laal-jihaadi lokom usko 'Onion Sura' bulaatha hai ji. Kuch karo ji."

There were also the non-Malayalis who joined the bandwagon. One wrote, "Beef fry was the best thing during graduation days. You should also try some."

Has the Sadhvi's impassioned speech on "Gau Mata" managed to have any impact on Keralites?


courtesy: Yahoo

Write Comment
|

E-Mail
|
Facebook
|

Twitter
|

Print