Sadhus, sants for Ram temple, removal of untouchability
Mangalore Today News Network
Magaluru, Nov 25, 2017: Champath Rai, international general secretary of the Vishwa Hindu Parishad (VHP), said on Nov 24, Friday that during the discussion on Ram temple issue on the first day of the Dharma Sansad in Udupi, sants and sadhus were clear that the temple should be built at only Ayodhya.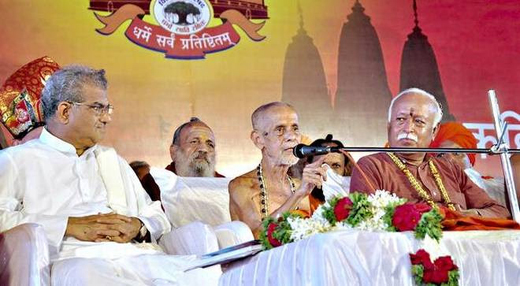 Addressing media, Rai said while anybody, including Sri Sri Ravishankar, can mediate on the issue of Ayodhya, sants and sadhus do not want to bargain. Bargaining means 'no' to another mosque or tower or cultural centre at the Ramjanmabhoomi and also a 'no' to any mosque in the name of Babar in the country. The sants and sadhus want only a Ram temple to come up at the Ramjanmabhoomi, he said.

He said the mediation talks by Sri Sri Ravishankar were not being prompted or encouraged by anyone at the event, but were being done on his own. "Sri Sri Ravishankar is an eminent holy leader and we respect him. He is expected to participate in the final day of Dharma Sansad, Sunday.

Asked if Sri Sri Ravishankar's proposal was acceptable if it had no bargaining, Rai said in that case, it would have to be submitted to the Supreme Court or the government as it was a dispute between two communities. "We are not for any bargaining. Only a temple will be built there," he said.

When asked how the Pejawar seer was confident that the Ram temple construction would start in a year, Rai said the issue was "in the final stages". It is the seer's intuition, he said.

He said sadhus and sants were also not in favour of government control of Hindu mutts and temples. A case in point being that of the Parthasarathy Temple in Guruvayoor in Kerala. The offerings made in the temples are offerings of devotees to god, not to the government, Rai said.

On the Lingayat-Veerashaiva controversy in Karnataka, Rai said: "These are internal matters, which will be discussed among ourselves."

Surendrakumar Jain, joint general secretary of the VHP, was present.

Remove untouchability : Social activist Lolaksha complimented Udupi Paryaya Pejavar Mutt seer Sri Vishweshatheertha Swami and other seers for taking up the issue of untouchability as one of the topics of discussion at the Dharma Samsad in Udupi. He urged the Samsad to pass a resolution towards the elimination of untouchability.

He said that despite many efforts by social reformers, untouchability has not been eliminated from Indian society. The seers at Dharma Samsad should come up with a solution for the same, he said.

He sought to know from the Pejavar seer whether instituting Dalits to Vaishnava tradition or visiting Dalit colonies had any effect on the removal of untouchability. The Dharma Samsad should pass a resolution to urge the Central government to frame laws towards ensuring the allocation of resources as per the population of SC/ST communities. He said a law should be passed by the parliament to ensure political representation to the Dalit community.

Write Comment
|

E-Mail
|
Facebook
|

Twitter
|

Print