Sadananda Gowda proposes (Kudla), Suresh Prabhu disposes (Gomateshwara)
Mangalore Today News Network
Mangaluru, May 5,2017: Does a train name involve one railway minister naming it and his successor renaming the same? This is the fate of train 16575/576 Yesvantpur-Mangaluru junction-Yesvantpur tri-weekly express. Announced by then railway minister DVS - D V Sadananda Gowda in the only railway budget that he presented, he christened it Kudla Express when the minister came lay foundation stone for a road under bridge in lieu of a level crossing on August 16, 2014.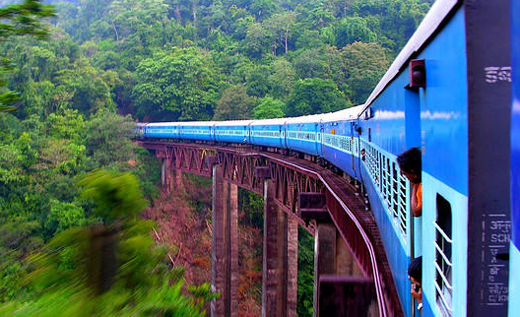 An official notification renaming Kudla Express as Gomateshwara Express came on May 3 much to the chagrin of the locals. Already peeved that the train initially scheduled to run up to Mangaluru Central is being terminated at Mangaluru Junction, the latest move has agitated them further. This was manifested in a protest that Tulunada Rakshana Vedike staged on Thursday. The vedike termed the latest decision as an attempt by Indian Railways to attack local sentiments.


Averring that the Vedike is not against the Jain saint Gomateshwara and naming the train after him, Yogish Shetty Jeppu, president of the vedike said, "Railways may name any other train as Gomateshwara Express. Changing name of a train for political considerations is an unpardonable act," he said, adding the name has been changed on request from former PM H D Deve Gowda at the newly commissioned Bengaluru-Hassan line at Yesvantpur on March 26.


What makes this renaming exercise all the more curious is an admission by South Western Railway (SWR) officials that it was done at the insistence of railway minister Suresh Prabhu. SWR was aware that Sadananda Gowda had named it Kudla Express as the city is referred to in Tulu. The zonal railway was also not oblivious to the fact that the locals referred to the train as Kudla Express even before its introduction on April 9 and its formal run from the following day.


This is also against the normal practice of Indian Railways to name trains by their originating place and or local personalities. Incidentally, Deve Gowda at the March 26 function had urged Suresh Prabhu to name Mangaluru Express as Gomateshwara Express and Hassan Intercity Express as Kalabhairava Express, a suggestion that Suresh Prabhu accepted on the spot. A bewildered Sadananda Gowda said "I need to get the facts from Suresh Prabhu before reacting further".

Write Comment
|

E-Mail
|
Facebook
|

Twitter
|

Print