River Hemavati could better serve parched districts
Mangalore Today News Network
Udupi, Sep 29, 2015 : Speaking at a seminar on 'Critical analysis of the Yettinahole project', organised by the HRPF - Human Rights Protection Foundation Sept 28, Ravindranath Shanbhag, president of the HRPF said that supplying water from the Hemavati was the best alternative to the "ecologically disastrous" and "costly" Yettinahole project. The project aims to provide drinking water to the six parched districts of South Karnataka.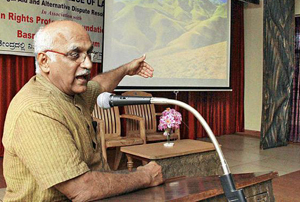 Dr. Shanbhag said that the Hemavati was an important tributary of the Cauvery, which took its birth in the Western Ghats at an elevation of about 1,219 metres near Ballalarayana durga in Chikkamagaluru district. It flowed through Chikkamagaluru, Hassan and Mysuru district before joining the Cauvery.
The river was approximately 245-km long. A large reservoir against the river had been built on the river at Gorur in Hassan district. The water from this river could be supplied to the parched districts at a much lesser cost and without much environmental damage.

The main problem was that river Hemavati was polluted as effluents from industries and sewage from the local bodies were let into it. It was easier to clean the 245-km long Hemavati. The local bodies and the industries could be directed to install effluent treatment plants to make the Hemavati clean and its water could be supplied to the parched districts.

The government is lethargic about cleaning the polluted Hemavati, HRPF have approached some farmers' groups and college students in towns and villages along the route of the river and encouraged them to clean it. They have responded well.

Dr. Shanbhag said that the government had avoided an environmental impact assessment for the project under the pretext that it was meant for supplying drinking water. But the water from it would be supplied not only to agriculture but also to industries. He alleged that most of the figures provided by the government had been taken from convenient sources to support the project. For instance, the rainfall figures were compiled from the information given by private plantation owners.

The water flow had been taken at its highest point in Bantwal. Huge dams proposed to be constructed for the project in dense jungles of the Western Ghats would lead to incalculable damage to the flora and fauna there. The government had not conducted any study to check if the plates below could bear the weight of water in such huge dams. Even a minor earthquake in the area could lead to a catastrophe and submerge large areas, Dr. Shanbhag added. The presentation proved a big attraction to local people and experts.

Write Comment
|

E-Mail
|
Facebook
|

Twitter
|

Print