Review meet discusses on requisition to PWD for Rangamandira land, Abbakka Utsav details
Mangalore Today News Network
Mangalore, Oct 18, 2014: At the review meeting recently, DK District in-charge Minister B Ramanath Rai has directed the department of Kannada and Culture to submit a formal requisition to the Public Works Department to hand over the land after demolishing two government quarters buildings at the proposed site.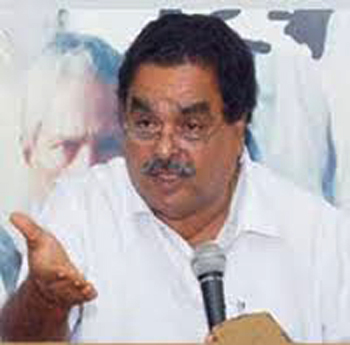 Minister Rai reviewed the proposed plan of the Rangamandira to come up in Bondel in Mangalore and said that a meeting will be held with Kannada and Culture department Director and other higher level officials in Bangalore in the last week of this month, towards the construction of District Rangamandira.

Department of Kannada and Culture Assistant Director Chandrahas Rai said that the total budget of the Rangamandira is Rs 24 crore, out of which Rs 9.6 cr is the state government's share and Rs 14.4 crore is that of the Central government. The central government fund is sought under Tagore Cultural Complex Scheme, he said and added that the state government has released Rs 3.2 crore.

The proposed land of 3.35 acre in Bondel, has been marked for the Rangamandira. In a total area of 74,747 sq feet, a7,500 sq feet art gallery, office of dept of Kannada and culture, guest rooms, offices of academies, 2 lecture halls, main auditorium with a capacity of 1500 audience, book exhibition hall, amphitheatre with a capacity of 250 audiences and a parking area accommodating max 150 cars would come up, Chandrahas Rai said.

Abbakka Utsava : DK District in-charge minister B Ramanath Rai suggested to conduct Abbakka Utsav tentatively scheduled on January 24 and 25, soon after the concluding of Karavali Utsava which is to be held in the last week of coming November. The minister said that by conducting Abbakka Utsava soon after Karavali Utsava, a festive spirit will be intact throughout. However, final decision on the date and venue is yet to be taken.

Department of Kannada and Culture Assistant Director Chandrahas Rai said that the government has released a fund of Rs 40 lakh towards Abbakka Utsava. The Abbakka Utsava may be held at Moideen Hazi PU College Thumbe or St Sebastian PU College in Permannur. A sports and cultural fest will be held one week earlier of the Abbakka Utsava, he said and added that a seminar, poets' symposium and cultural programme will also be held in Bangalore. The DC meanwhile told Chandrahas Rai to carry out an auditing of the expenses towards previous year's Abbakka Utsava.


Write Comment
|

E-Mail
|
Facebook
|

Twitter
|

Print