Residents worried over African Giant Snail menace
Mangalore Today News Network
Mangaluru, Aug 07, 2018: Residents of Pandeshwara New Road and the surrounding areas in the city are complaining about African Giant Snail (Achatina fulica) attacks on vegetation.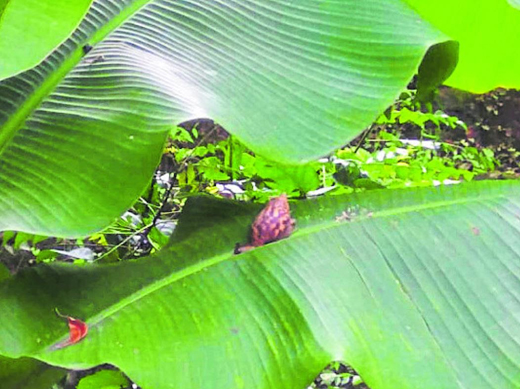 The snails were initially spotted in small numbers. However, they multipled rapidly following heavy rainfall, and have gained entry into the courtyards and the kitchen gardens of the area.

In day light, the snails hide in the hollows of the trees or inside the bushes and come out in the dark. They are spotted on the stairecases and the walls of the houses. Households with kitchen garden are the worst affected. Many have been using salt to control them, but the problem continues to persist, say the residents of New Road.

According to knowledgeable people, the African Giant Snails were first noticed a month ago. "We do not know how to get rid of them. Since the snails are not visible during the daytime. We do not know when and where to sprinkle salt to check the menace. As darkness falls, the snails start crawling in unexpected places, " it is said.

Kavitha Bharath Kumar said: "The African Giant Snails have been spotted in at least 20 houses. The snails are spotted all over the coconut trees. We can't even kill them."

"The African Giant Snail menace was severe in Ullal and the surrounding areas last year. Metaldehyde pesticide can be used to kill the snails. The pesticide should be mixed in water and husk to make a ball. When the snails consume these balls, they die instantly," said H R Nayak, deputy director of the Horticulture department.

Salt and lime : Sprinkling of salt and lime (chunam) also helps control the menace. When the snails crawl past the salt, the water level in their body reduces and they die of dehydration. If the menace in the plantations is severe, then the department provides subsidy for the purchase of pesticides.

Last year, the African Giant Snail menace had affected the farmers of Alankaru, Markanja, Sampaje, Panja, Bellare and Charmadi areas, in addition to the farmlands located along the banks of River Netravathi and River Kumaradhara. The snail mainly affects vegetables, banana plantations and to some extent, arecanut trees.

Write Comment
|

E-Mail
|
Facebook
|

Twitter
|

Print