Residents organisations protest against polluting MRPL units
Mangalore Today News Network
Mangalore, Oct 11, 2014: The Nagarika Horata Samithi, Jokatte and DYFI members protested vehemently against the pollution and disturbance caused by Sulphur and Coke units at the Mangalore Refinery and Petrochemical Limited (MRPL), in front of DK DC's office in Mangalore on October 10.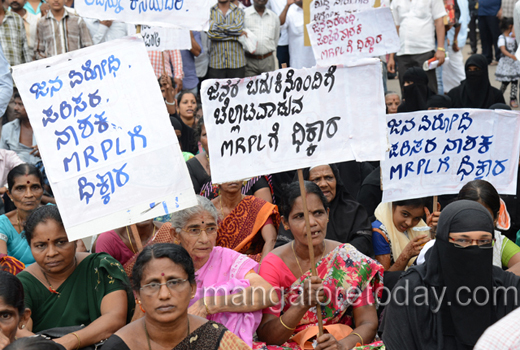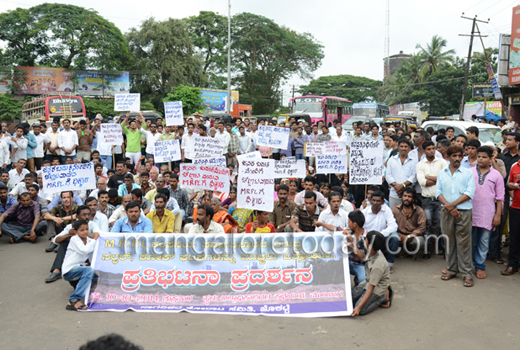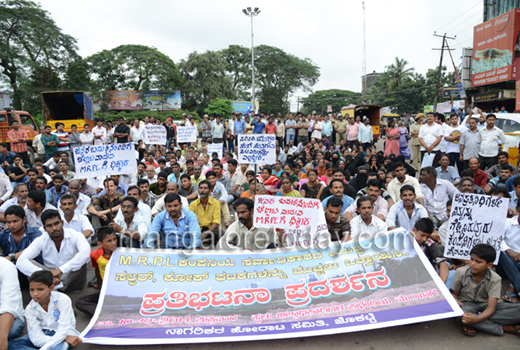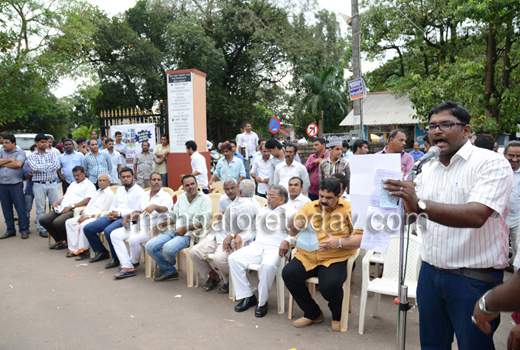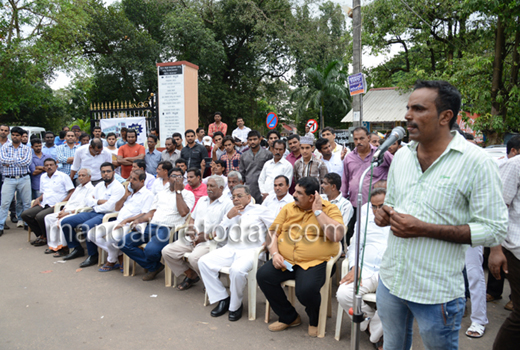 Speaking to the protesters, DYFI leader Muneer Katipalla said that residents of Jokatte, Kenjar, Maravoor, Kavalara, Thokur villages complain of the pollution from Sulphur and Coke units at the MRPL Phase III plant. The plant has polluted water bodies and has been causing noise and air pollution unbearable to local residents.

" In the past residents of Jokatte and surrounding villages were cultivating crops on this fertile land. However, the land has become waste due to chemicals and pollution. The wells are polluted due to the chemical activity. Apart from water pollution, the residents complain that they have to deal with constant noise, dust and smoke constantly. There is a visible rise in skin and related ailments. The children of anganwadi in and around Jokatte are suffering from chronic resperatory problem," he said.

"The residents had given up their fertile land anticipating development of the region as well as employment to locals when the proposal on MRPL was initiated two decades ago. However, the residents were kept in the dark while setting up the Coke and Sulphur units," he alleged.

"The MRPL should have set up such plants after developing greenery in 35 per cent of land. As a public sector company, the MRPL should support public concerns. The DK DC failed to initiate action against MRPL, inspite of understanding the problem after visiting the villages? he asked.

" Can the MRPL give an unqualified legal assurance, that not one bit of sulphur or coke will spill over the land while transporting it. Why are Forest Minister Ramanath Rai and Health Minister U T Khader are silent over the issue? he questioned.

CPM leader Yadav Shetty said that the protest will be intensified if the district administration fails to convene a meeting of all stake holders at the earliest and solve the problem satisfactorily. If the problem continues to persist, then the residents will picket MRPL and will stage an indefinite protest too.

MRPL's Stand : In a press release, MRPL has reiterated its commitment to work in harmony with nature. An ISO 140001 and ISO 50001 certified company, MRPL is now under tremendous pressure from villagers of nearby Jokatte village alleging noise, water and dust pollution who suspect it to be causing ill health to the residents.

The MRPL has been responding repeatedly by clarifying that there is no room for such concern and all possible pollution control measures have been taken by the company as stipulated by MoEF and KSPCB. In a sincere effort to reassure the people, a group of nine villagers including an engineer nominated by the Panchayat was taken by MRPL to Indian Oil Corporation Ltd's Guwahati Refinery to make an on-the-spot inspection of the coke yard at that Refinery in Guwahati.

"At MRPL, 24x7 air and sound monitoring is being done and drinking wells water is being checked every quarter. All reports indicate that there is no cause for concern for the people of Jokatte or around the Refinery. Following the complaints, Minister for Environment and Forest Ramanath Rai has appointed an expert Technical advisory committee (TAC) for site inspection and recommendation of mitigating measures, if required. This Committee has visited MRPL and their report is awaited. The MRPL is committed to implement further to implement suitable recommendations if any, in addition to what has already been implemented," said the release.

Write Comment
|

E-Mail
|
Facebook
|

Twitter
|

Print