Real Voting Data Shows Declining Trends in Modi's Popularity
Mangalore Today News Network
The unthinkable is now being predicted. Prime Minister Modi could be on a treacherous wicket in 2019. The Lokniti-CSDS-ABP Mood of the Nation Survey, published a fortnight back, threw up a few topline findings, which are quite contrarian: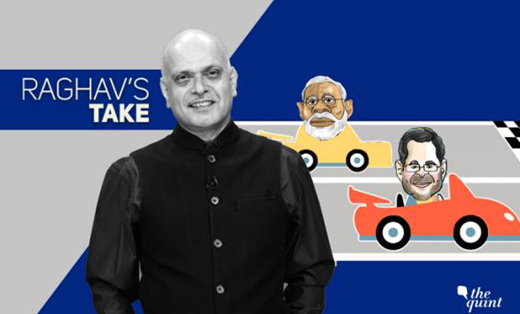 Modi's government is about as unpopular right now as the UPA was in July 2013, nine months before its electoral debacle in 2014 – "nearly half (47 percent) of the total 15,859 respondents are of the opinion that the Modi government does not merit another opportunity."
While minorities like Muslims, Christians and Sikhs are overwhelmingly against the government, the majority Hindu community is virtually split down the middle over its support/opposition.
Over the last 12 months, "BJP's popularity is down seven percentage points and if this declining trend continues then the ruling party may well dip below the 30 percent mark in the next few months."
Congress could "net about one in four votes (25 percent) nationally"; and the erstwhile UPA would secure 31 percent of the votes across the country.
Remember, this does not include the Congress's newfound allies, viz Mayawati's Bahujan Samaj Party (BSP), Akhilesh Yadav's Samajwadi Party (SP) and HD Deve Gowda's Janata Dal (Secular), which could add another 11 percentage points to the "new UPA's" tally.

Having read the survey report, I kept asking myself: Is there any way we could get an authentic empirical validation, based on real, not polled, data?

Then a brainwave hit me.

Since January this year, there have been a large number of bye-elections scattered all over the country. What if I compared this treasure trove of actual voting data with what CSDS's poll captured?

Remember, after the Gujarat Assembly Elections in December 2017, we've had 10 parliamentary and 21 assembly bye-elections, spread over 15 states, in which over 1.25 cr people have actually cast their votes for nearly 19 political parties.

True Data Is Stranger Than "Sampled Fiction"!

There is a perfect overlap between the bye-elections' real voting data and CSDS's survey percentages. It's almost spooky:

BJP+allies got 37 percent of the votes in the survey; they've got 36 percent of the actual votes cast (normalised) in the bye-elections since Gujarat Assembly Polls.
Congress+allies got 31 percent in the survey, and 32 percent of the real votes.
And while BSP+allies got 10 percent in the CSDS survey, they notched up 13.3 percent of the actual votes polled in the bye-elections.

I daresay that this "cent-percent validation" has given me much more confidence to go back and read some of the granular and unexpected predictions again:

Modi is now only marginally ahead of Rahul in voter support; his 17 percentage-point lead has fallen to only 10 percentage points
An equal 43 percent like both Modi and Rahul; and since fewer people dislike Rahul, his "net likeability" is actually better than Modi's
Rahul has also managed to convince nearly 30 percent of his "naysayers" into becoming "supporters"; conversely, Modi has converted 35 percent of his earlier supporters into opponents
Rahul's biggest gains have come among middle-aged and elderly voters (those with a higher propensity to go out and vote); Modi's fall is sharpest among middle- and lower-class voters
Shockingly, over 60 percent feel that Modi's government is corrupt; over 50 percent have heard about Nirav Modi's scam, and two-thirds of them are dissatisfied with the actions taken, or not taken
Farmers are deserting Modi at an alarming rate – a fall of 12 percentage points over one year – and the bulk of these gains are accruing to the non-Congress regional parties.
The Goods and Services Tax (GST), is becoming an albatross around Modi's neck, its unpopularity getting worse, from 24 percent to 40 percent (January to May)
And this one is impossible to fathom: there isn't a single issue on which the Modi government is rated positively now!

Net net, the 2019 Race is Wide Open!

Courtesy: The Quint

Write Comment
|

E-Mail
|
Facebook
|

Twitter
|

Print