Rare spider discovered in India
Mangalore Today News Network
Photos: Indranil Banerjee
Mangaluru, May 22, 2018: An ultra rare spider genus, Neobrettus, has been discovered in India for the first time by a team of researchers based in Mumbai, and a wildlife photographer based in West Bengal. One of the researchers involved in the study, Dr. Krishna Mohan, is a naturalist and surgeon based in Moodabidri.

Previously only known from parts of South and South East Asia, these tiny jumping spiders are egg thieves, often stealing and feeding on the eggs of other jumping spiders, including their own kind. These spiders are largely overlooked in their natural environment, most likely as a result of their small size (body length 2.5-3.5 mm) and dull coloration. Hence the natural history of these spiders, their behaviour and distribution, has received little study.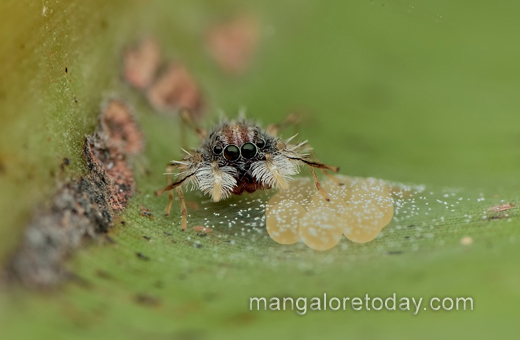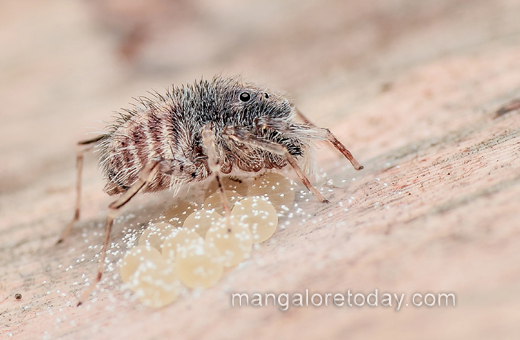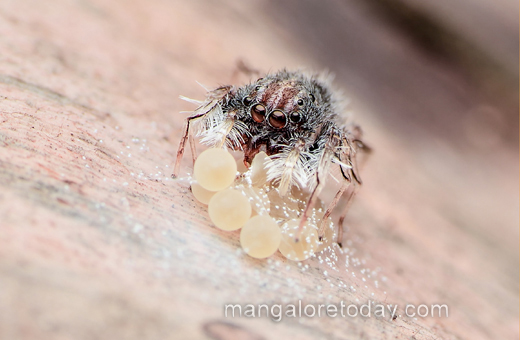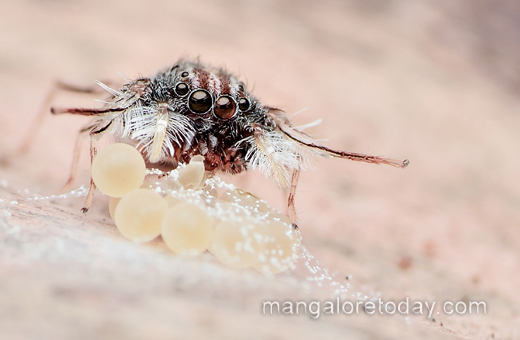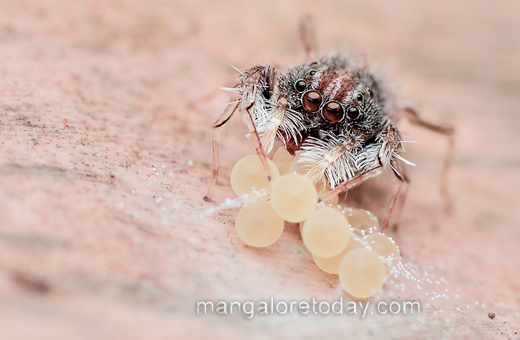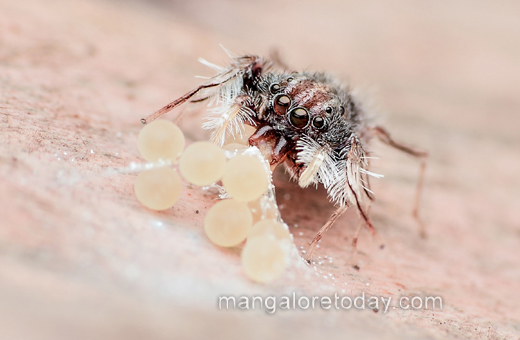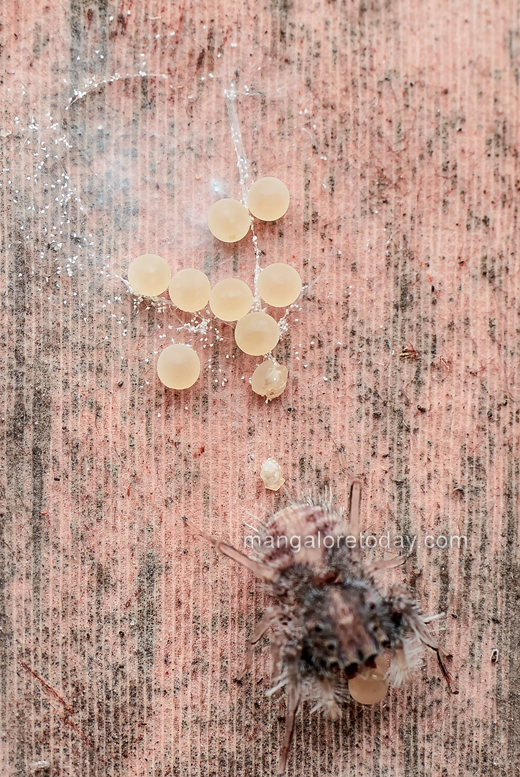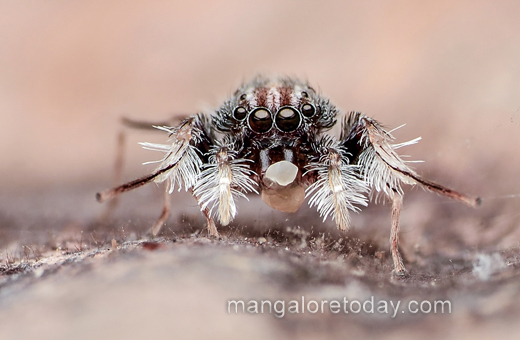 The discovery is published in 'Peckhamia', a globally renowned, peer-acclaimed scientific journal dedicated to the study of jumping spiders. The study was collaborated with Dr. David E. Hill, a world authority on jumping spiders and Dr. Richard J. Pearce, a leading British spider expert. It was led by principal author and lead researcher Javed Ahmed, along with co-researchers Rajashree Khalap and Dr. Krishna Mohan. The discovery was reported by wildlife photographer Indranil Banerjee who first came upon these spiders in a fruit orchard in West Bengal, where they were found to inhabit dried banana leaves.

Neobrettus belongs to sub-tribe Spartaeina, a group of unique jumping spiders which also includes the spiders Portia albimanus and Brettus cingulatus. Both were previously reported from Maharashtra and throughout India respectively, for the first time by the same core team: Javed Ahmed, Rajashree Khalap and Krishna Mohan.

On significance of the discovery, Javed Ahmed, the lead researcher says: "India's species richness, coupled with a lack of proper research on many groups of invertebrates in the region, means there are several species of spiders waiting to be discovered, or rediscovered. And that's just what our team is doing, discovering Indian spiders one species at a time."

Field Observations
Field observations for this study began on 8 February, 2017, and lasted about one year. The identification was based on their unique appearance. Consistent with other published descriptions and illustrations these small spiders were compact with a squat and distinctly fuzzy appearance and a stiff ventral fringe of hair on the tibia of the first leg. Males were darker, ranging from dark brown to black, covered with small yellow to pale white spots on the back. Females sported a lighter shade of brown with contrasting pale white bands. About one male was observed for every twenty females sighted.

Adult Neobrettus were observed preying on small insects, including whiteflies, plant hoppers and male mosquitoes that gathered to feed on plant juices. The species probably mates during late winter until late May, just before the onset of the monsoon season. Each female produced a cluster of 12-17 eggs which were laid on a thin layer of silk spun on the surface of a leaf. Brooding females were not observed to leave their egg sac or to pursue prey during the several weeks that it took for their eggs to hatch.


Write Comment
|

E-Mail
|
Facebook
|

Twitter
|

Print