Ramakrishna Mission to observe Mark 125th Anniversary of Swami Vivekananda's Speech
Mangalore Today News Network
Mangaluru, Sept 10, 2018: Ramakrishna Ashram at Mangaladevi are set to observe 125 th Anniversary of this momentous occasion and to observe the same in befitting manner and to bring home to the young minds the significance of Swamiji's life and works in the process of National rejuvenation. The Ashrama is planning to organise several programmes in about 125 colleges till September 2019.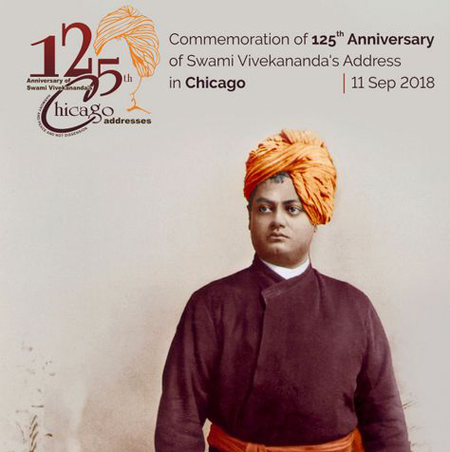 To commemorate the historic occasion, the Ashram has organised a special programme at the Ashrama tomorrow September 11, 2018 - Tuesday. The programme will be inaugurated at 9.30 am in Swami Vivekananda Auditorium by Dr B R Ravikanthe Gowda, IPS, SP of Dakshina Kannada District in the august presence of Swami Jitakamanandaji, Adhyaksha, Ramakrishna Math, Mangalore. Captain Ganesh Karnik, Former MLC will be special guest. Inaugural session will be followed by scholarship distribution and interactive sessions by eminent resource persons like Prof. Vijay Menon of Kochi, Prof. Raghothama Rao of Bangalore and Sri Srikrishna Upadhyaya of Sulia. About 600 Engineering students have already enrolled for this programme.

Back ground :
"I am proud to belong to a religion which has taught the world both tolerance and universal acceptance. We believe not only in universal toleration, but we accept all religions as true" With these words the universal nature and catholicity of the great Sanatna Dharma were introduced on the world platform for the first time by Swami Vivekananda in Chicago at the World Parliament of Religions on 11 September 1893. With his tremendous impact in the Parliament and in lectures that followed, he removed all the superstitions and wrong preconceived notions that the world had about Hinduism and instilled a sense of deep respect and awe among the westerners about India. With this he was also successful in in awakening a sense of nationalism and pride about our ancient legacy in the Indians. His message of peace & brotherhood is very much needed for the present strife torn world and to commemorate the great occasion, September 11 is observed as Universal Brotherhood Day all over.

Write Comment
|

E-Mail
|
Facebook
|

Twitter
|

Print