Ram Mandir a basic right of Hindus says Pejawar seer
Mangalore Today News Network
Udupi, July 9, 2017: Speaking to media persons here on July 8, Saturday, Pejawar Mutt seer Sri Vishwesha Theertha Swami said that Sri Rama Janmabhoomi is the right of Hindus and it is impossible to give away the land to construct a mosque. The seer said progressive thinkers have failed to understand his approach and mindset.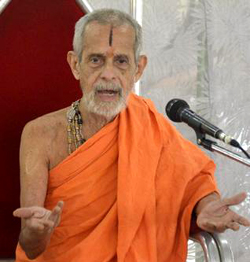 He said that Ram Mandir will be built at Sri Rama Janmabhoomi site as there are inscriptions that prove the presence of temple in the area. But consensus in the issue cannot be achieved through violence, he said adding that the problem has a solution.

The seer said he cannot dissociate himself from Sri Ram Janmabhoomi Committee as he has been a part of the committee since the time of its origin.

"At the same time, I also feel that the land should be the home for a Ram Mandir. Harmony cannot be maintained unless justice is done," he said.

Lamenting that the progressive thinkers insist on achieving harmony at the cost of right, the seer said, "Then, is it possible to give away Kashmir to Pakistan for peace and prevent violence? Let the progressive thinkers reconsider their opinion by working out possibilities. Kashmir is India's right. Similarly, Ram Mandir is the right of Hindus. The privilege of secularism should have limitations."

On his idea over the Hindu country, the seer said that he has no aspirations to envisage the country as purely the land of Hindus.

Secularism : "India is a conglomeration of many sects and religions. There is no sense in claiming the country as a Hindu country as done by the Sangh Parivar. The country is known for its secular harmony since ages. But the tradition should be taken forward," he said.

The seer said there should be equality for both minorities and majorities and the government should treat both impartially. "The government should not provide greater privileges for minorities for the sake of numbers. At the same time, the migrated people from Bangladesh and Pakistan should not be entertained. The civil rights are for all who are in the country since independence. Migration of people should be stopped. Democracy is indeed the base of the country," he added.

Replying to a query on the violence taking place at Kalladka in Bantwal, the seer said that there is a need for an urgent peace meeting.

"The political leaders should forget their differences and join hands to maintain peace in the region. I oppose violence. The guilty should be punished. The government should take all necessary measures to maintain peace, he reiterated.

Write Comment
|

E-Mail
|
Facebook
|

Twitter
|

Print