Rain water harvesting and Town hall repairs to be initiated by MCC
Mangalore Today News Network
Mangalore, Aug 30, 2014: Work on rain water harvesting is in progress at Town Hall and MCC sub office at Kadri Shivabagh. Aiming to increase the ground water-level and also to create awareness, the Mangalore City Corporation has taken up rain water harvesting (RWH) at Town Hall, MCC building at Lalbagh, sub office at Kadri Shivabagh and so on.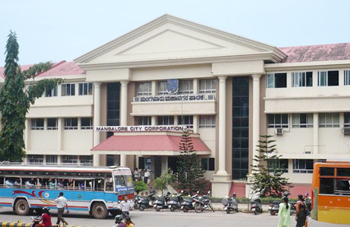 Assistant Executive Engineer is of the view that the estimated cost of the project is Rs 25 lakh. The rain water from the roof of the Town hall and sub office is being channelised through pipes to the filter tank. After filtering the water, it will enter a sump. The excess sump water, then will pass through a pipeline to the percolation pits near borewell. This will in turn increase the water-level in the borewell. The water from the sump will be used for watering the garden and so on.

The rain water harvesting and percolation of water near the borewell was initiated last year, work commenced in the month of July and will be completed soon. Ground water-level can be increased to some extent. This will also help in increasing the ground water level in and around surrounding areas.

MCC will also take up the work on renovation of Town Hall in Mangalore which will complete 50 years in December 2014. The hall was inaugurated on December 29, 1964. The town hall will remain closed for renovation from September 15 to December 31. The renovation will be carried out over the next three months, it will be reopened for public use. The MCC which maintains the hall in the recent years had been flooded with complaints of broken seats, bad sound and light system and leaking roof.

The roof of the Town Hall will be repaired. However, the external look will remain intact. The final decision on what works will be taken up will be decided by Mayor Mahabala Marla. The total estimated cost of the project is being worked out said the official. In 2013-14, a total of 317 programmes have been held in the town hall. The The MCC has earned Rs 12.36 lakh income. The Town Hall was last repaired in 1997. There are several aspects like safety and security to be addressed too.

Write Comment
|

E-Mail
|
Facebook
|

Twitter
|

Print