RTI Activist murder: Naresh Shenoy's bail application adjourned to the 30th May!
Mangalore Today / Narendra Nayak
Mangaluru, May 24: Naresh Shenoy –the lion's bail application has been adjourned to the 30th May! The business of adjournment of the bail application again and again must be quite profitable to some. Each time the case get posted to somewhere to the end and is almost never heard! For lawyers who charge per adjournment appearance it must be quite remunerative!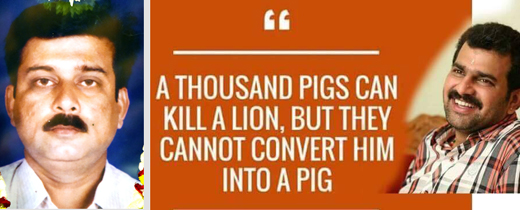 First it was for anticipatory bail at the Sessions court at Mangalore, which as expected was refused! Then it was to the High court where an application for anticipatory bail was made which was filed before a vacation judge and it got adjourned. Then again it got posted to the 2nd June. In another desperate attempt it was advanced and an IA was filed for interim bail. The same got adjourned and one more attempt was made. Now, it is posted again to 30th of May.

The tragedy is that the Mangalore Police have not been able to arrest him despite his absconding since two months! In fact today the 24th May is exactly two months since he chose to do the disappearing act! Who is protecting him - the ruling party at the center or the one at the state? Or is it both? Because as we have seen in the past, the politicians of different hues cling together when it comes to protecting one of their own! As a wag remarked when I was in UP saab, hamam men sab nange hai! ( In the bathhouse all are naked!) . So is it a message to the 'aam admi' that don't get murdered by someone in politics- they will never get the murderer! So, beware all- never tangle with any one in politics be it the ruling or the opposition you may get murdered and the perpetrator will never be brought to book!


Write Comment
|

E-Mail
|
Facebook
|

Twitter
|

Print