RTI Activist Murder: "Vishwanath Bhat was merely 'questioned', not detained" say his friends
Mangalore Today News Network
Mangaluru, May 08: A news report circulating since yesterday that a person called Vishwanath Bhat had been picked by the police investigating RTI activist Vinayak Baliga murder case has led to confusion and evoked outrage among some sections of Gauda Saraswat Brahmin (GSB) community.

It was initially reported on Saturday in news channels 'Suvarna News' and 'V4 media' and subsequently in this website too that Vishwanath Bhat had been taken into police custody.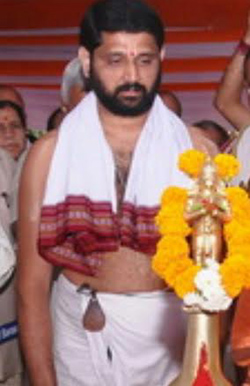 He was identified as an intimate friend and relative of Naresh Shenoy, a main accused in the murder who has been absconding for over a month now. Vishwanath Bhat was also identified as a close aide of a Swami Samyamindra Thirtha, the pontiff of Shree Kashi Math Samsthan, who is a spiritual leader of GSB community.

The news found mention in today's dailies like Udayavani, Vijaya Karnataka, Kannada Prabha and made to the front page of evening papers like 'Karavali Ale' and 'Jaya Kirana'.

Other news outlets like Vartha Bharathi too put up speculative reports that the fugitive Naresh Shenoy was being sheltered by an unnamed swami.

Though all these reports were based on unconfirmed newsfeeds, it raised many eyebrows and caused some degree of outrage among GSB community members. The reaction was mainly due to the reference to the spiritual leader, whom they hold in high esteem.

While many of the community members hastened to dub these reports as 'fake news', it is now reliably learned that Vishwanath Bhat had indeed been summoned by the police for questioning along with many others. However he was not in formal police custody or under arrest.

Cops have been routinely calling up people having links with Naresh Shenoy for questioning in order to gain leads on his whereabouts.

It is also learnt that this morning Vishwanath Bhat had personally posted a brief message in a WhatsApp group greeting his friends and stating that he was safe and presently located at Kashi Math, Karkala.

Vishwanath Bhat, who hails from Kochi in Kerala, has been operating two IDs on Facebook. One of these is accessible only to his FB friends and other has been inactive since April 16.

RTI activist Vinayak Baliga was brutally murdered close to his residence at Kodialbail in Mangaluru during the early hours of March 21. Police have declared this to be a case of contract killing and have arrested three persons in connection with the case, including the two alleged 'supari' killers.

Since the beginning of the investigation it has been surmised that the motive for the murder could focus around the financial affairs of Shree Venkatramana Temple, Car Street (a GSB community temple) and Shree Kashi Math Samsthan, which the late RTI activist had challenged in court.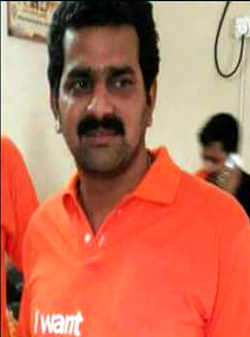 Incidentally the fugitive Naresh Shenoy was an active member of the volunteer corps of both temple and math.

Despite these serious allegations doing the rounds, the community had largely chosen to remain silent on the issue, not only betraying lack of sympathy for the murder victim but also failing to issue a formal statement regarding the allegations.

Further complicating the issue is the history of strife relating to Shree Kashi Math Samsthan. A small breakaway faction of the math led by Swami Raghavendra Thirtha, a disowned former disciple of the Math's late guru Swami Sudhindra Thirtha has been making repeated attempts to regain legitimacy within the community.

It is alleged that the present murder case is being taken advantage of by this faction to push its agenda and discredit Swami Samyamindra Thirtha, the present head of Shree Kashi Math.

Even in the present Vishwnath Bhat episode, the samsthan's followers suspect that the media has been manipulated by the renegade group in order to twist the facts and blow it out of proportion.

Now the repeated imputations regarding Shree Kashi Math and dragging of Swami's name into the case has pushed the community into crisis mode and prodded some community members to make desperate attempts at damage control.

It is learned that a meeting has been convened under the auspices of GSB Temples Association at Shree Mahalasa Temple, Konchady at 5:00 p.m. on Monday, 9th May to find a way forward.

The sensational murder case has generated much heat and many organizations have staged protests demanding the arrest of all the culprits.

ACP Tilakchandra is heading the investigation team, comprising Shantharam and Ravish, Inspectors in Bunder and Urwa police stations respectively and functioning under the directions of city police commissioner M. Chandra Sekhar.


Write Comment
|

E-Mail
|
Facebook
|

Twitter
|

Print