RK Mission to launch mega 'Swacch Abhiyan' from November 3
Mangalore Today News Network
Mangaluru, Oct 26, 2017: A well oriented media meet was held at RK Ashram Mangaladevi on Oct 25. Swami Jitakamananda, Secretary, Ramakrishna Mission addressing the strong contingent of the media, to start with pointed out several plans. In response to the call given to the nation by the honorable Prime Minister and also special request from Govt. of India, Mangalore Ramakrishna Mission initiated "Swacch Mangaluru Abhiyan" two and a half years ago. Tremendous positive response came from the people for this initiative since its inception, indicating the fact that this movement is by the people and for the people and hence is successfully stepping into the 4 th phase. Forth phase of this Abhiyan will be inaugurated on November 3 rd , 4 th & 5 th, next week. As a continuation of the previous 3 drives, the 4 th phase is more comprehensive and involves more sectors. Preceding the media meet on Oct 25, a comprehensive seminar was held with ZP and Gram Panchayat representatives to reinforce the 4 th Phase of Swacch Mangaluru Abhiyan. The special extension of the abhiyan to at least 110 rural areas in Mangaluru and Bantwal will be a new focus and see the key people of Panchayats participating as "Swacch Dakshina Kannada". The overview of 4th phase briefly .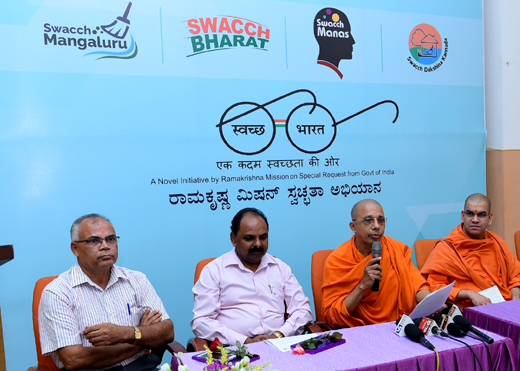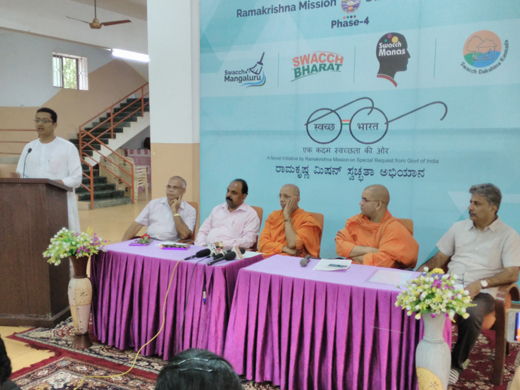 1. Swacch Gram: Swacch Dakshina Kannada: the 4th phase will embrace expanded rural ares to include about 100 villages in Dakshina Kannada dist. This will be carried out in association with Zilla Panchayat and other interested public in the respective village. About 1000 cleanliness drives and awareness campaigns will be conducted in 100 villages in the next 10 months. About 100 Volunteers each villages under a coordinator will be selected. They will be given cleanliness equipments, T- shirts, gloves and other materials supportiveof the cause. Each village will see 10 such drives on anyone Sunday in a month.

2. Swach Mangaluru – Daily Abhiyan: Will see 60 groups of awakened citizens visiting 50000 households in 10 months with the message of awareness - door-to- door campaign from 5 to 7 pm in different areas of Mangalore every evening. They will distribute handbills on awareness, train the households about segregation of garbage, solid waste management, involving public in different localities in Swacchata Abhiyan and community development.

3. Swacch Bharath – Shramadan: Groups of dedicated volunteers numbering from 100 to 200 will take up cleanliness drives every Sunday for the next 40 weeks in different parts of Mangalore city from 7 am to 10 am or more. Along with
cleaning roads and public places, they will also clean drains, distribute awareness handbills, clean public toilets, erect sign boards, repair and renovation of bus shelters, auto shelters and removing illegal flex banners and hoardings and other works benefiting the common public.

4. Swacch Manas – Student Training Programme: To train the present students/children into responsible citizens of the future, Ashram will undertake Swacch Manas training and orientation programmes in about 100 schools in and around Mangalore city.
About 500 programmes will be organzised in one year. The students will be trained in cleanliness, hygiene etc. About 5 students will be selected from each school as Agents of Change and they will be given special training through seminars and workshops to involve them in the nation building process. A dedicated band of trainers will work on this project. This will also include swacchata Abhiyans in the premises of the respective schools.

Preparations are going in full swing to launch the programme and with very good response from the public as well. Launching of 4 th Phase of Abhiyan

I. 3 rd November 2017, Friday will see the launching of Swacch Dakshina Kannada at 10 am. Sri Ramesh Jigajinagi, Union Minister for State for Drinking Water & Sanitation will be the Chief Guest and will flag off Swacch Dakshina Kannada in a special programme in Ashrama auditorium. Sri D R Patil, Former MLA, Gadag will be special guest. Dr M R Ravi, CEO, D K Zilla Panchayat will deliver the keynote address and Swami Jitakamanandaji will be delivering the benedictory address. Each village will be represented by scores of representatives in the programme on that day.

II. 4 th November 2017, Saturday at 9.30 am: Swacch Manas Programme will be launched by Swami Muktidanandaji, Trustee, Ramakrishna Math & Mission and President of Advaita Ashrama, Kolkata will flag off the Programme. Swami Sarvasthanandaji, President, Ramakrishna Ashrama, Rajkot and Prof. Raghothama Rao of Bangalore will be the resource persons. Swami Jitakamanandaji will be
delivering the key note address. About 600 Engineering students will participate in the Swacch Manas Programem on that day.

III. 5 th November 2017, Sunday at 9 am: Sri Ananth Kumar Hegde, Honorable Union Minister of State for Skill Development will flag off the Swacch Mangaluru Abhiyan on that day in the presence of Sri Nalin Kumar Kateel, Hon MP of Dakshina Kannada. Swami Muktidanandaji, Trustee of Ramakrishna Math & Mission, Sri Kumar H, MD of MRPL and Dr N Vinay Hegde, Hon Chancellor of Nitte University
will be Special Invitees. Captain Ganesh Karnik, Mentor of the Abhiyan will be present. The 3 above programmes, will be held in RK Mission Auditorium, Mangaladevi, in the city.

Abhiyan Convenor Swami Ekagamyananda, Zilla Panchayat Deputy Secretary N.R. Umesh, Mangaluru International Airport former director M.R. Vasudeva, and others were present.

Note : Please contact Swami Ekagamyanandaji for more details at 9448353162

Write Comment
|

E-Mail
|
Facebook
|

Twitter
|

Print