Punarprathistapana and Brahmakalashotsava held at Sri Guru Raghavendra Matha
Mangalore Today News Network
Mangaluru, May 27 2019: Punarprathistapana of Shri Krishna, Mukyaprana and New Vrindavana of Sri Raghavendra Swamy were consecrated by Sri Vishvapriyatheertha Swamiji, Sri Admaru Matha Udupi and Sri Ishapriyatheertha Swamiji, Jr. of Sri Admaru Matha, Udupi on May 26, 2019. Brahmakalashotsava also held at the renovated Sri Guru Raghavendra Matha, Kavoor. Ffollowed by Kalashabhisheka, Prasanna Pooja, Naga Shilaa Prathiste were done.
After various other rituals mass Anna Samarpane was also held. In the evening Ashlesha Bali, Mahasudarshana Homa were performed. Prior to the Punarprathistapana, Devotees in procession brought Horakanika to the Math and dedicated to the Deities.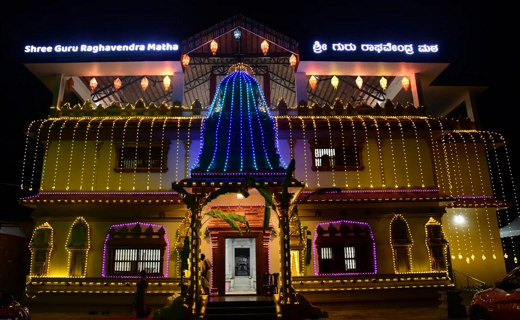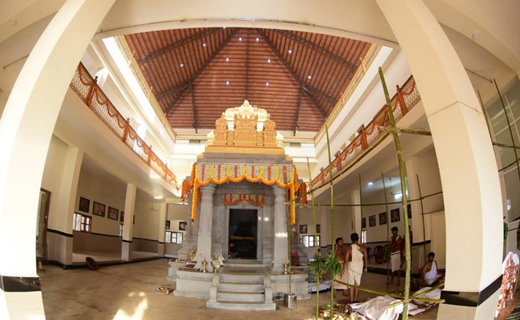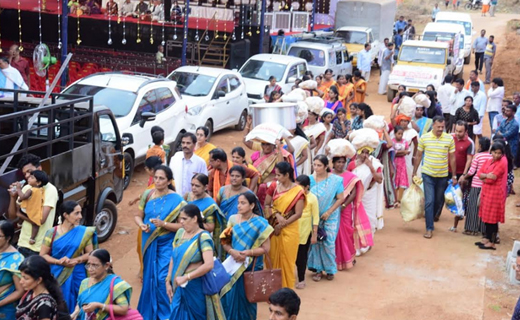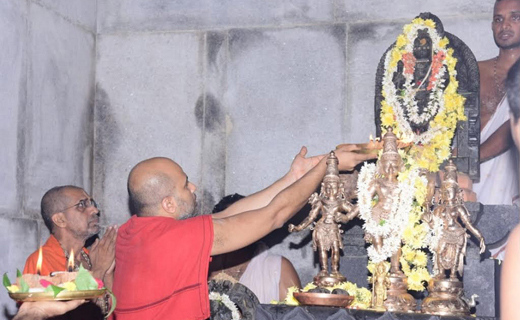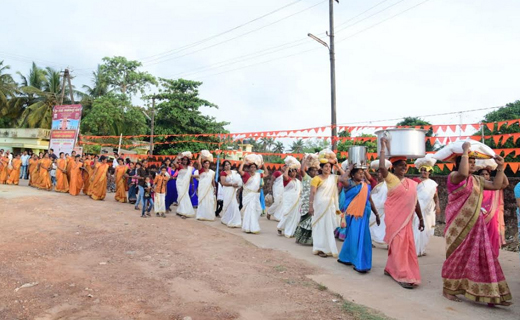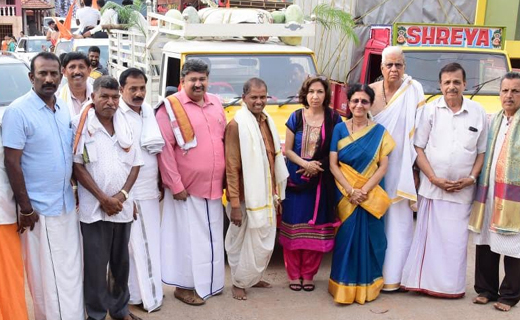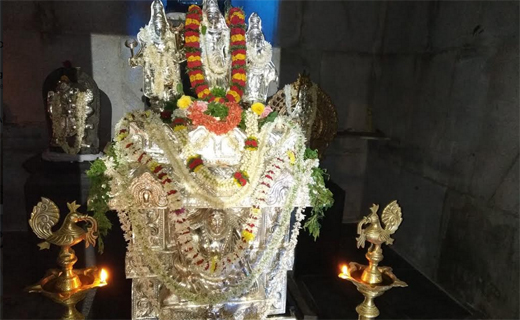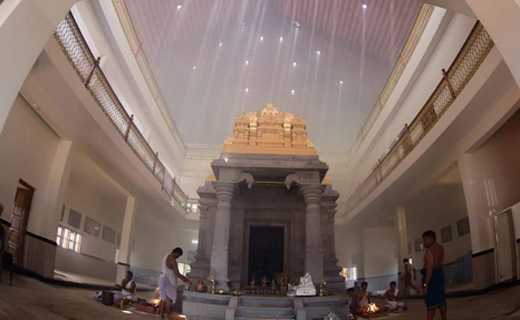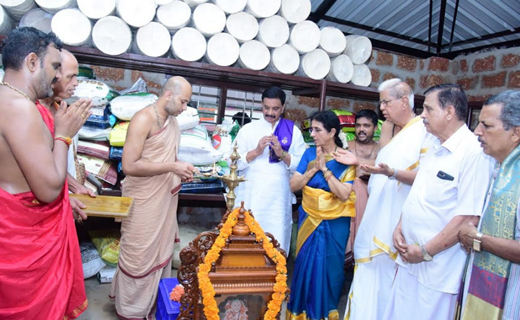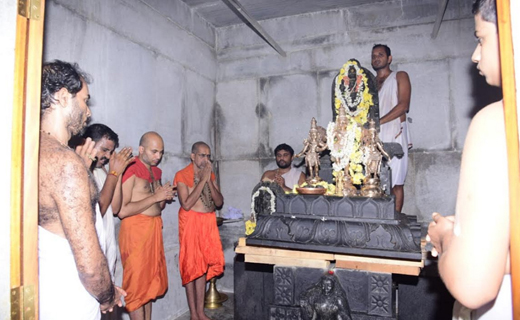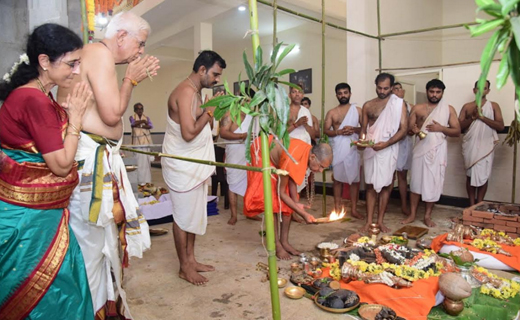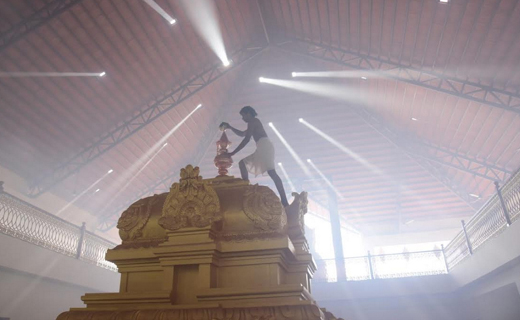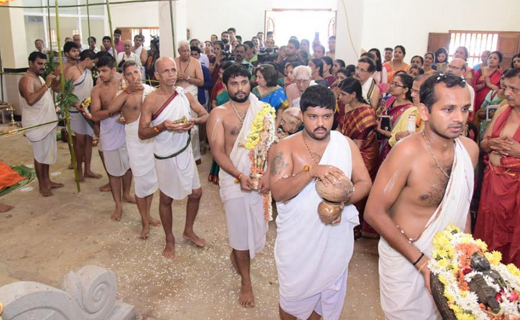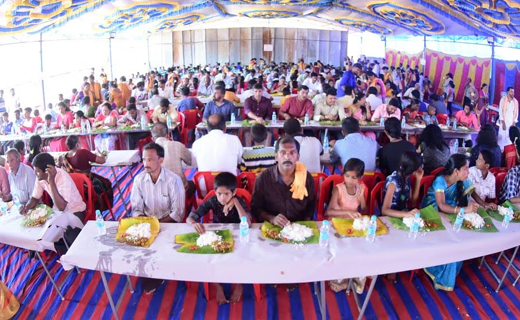 On May 24, Prayers by Priests and Purohits were held marking preparations for the consecration of Idols and Vrindavana. On May 25, Ganapathi Homa, Krishna Mantra Homa, Bimba Shuddhi, Bimbhadhivasa, Nagashiladhivasa, Adhivasa Pooja, Ankura Pooja were held.

The Math is located at Ambika Nagar, Panjimugaru, Kulur-Kavoor Road, Mangalore 575015

Speaking to media, Prof. Puranik said that the renovated Raghavendra Math has long history and enduring dedication of a devotee. Back in early 1990's, the land which is now the Holy Abode of Sri Raghavendra Swami was just another plot in Kulur-Kavoor road. No one would have imagined it will one day bear the sacred Vrindavanam, except Sri Guru Raya himself and his ardent devotee Smt. Rohini Sadashiva Rao or Rohini Amma as she was lovingly called whom Sri Guru chose to build this shrine in order to bless the devotees near and far.

On the request of Rohini Amma, Mrs. Indira and Dr. Ravichandran of Diya Soft, both staunch followers of Sri Guru Raghavendra agreed to fill her dream. Dr. Ravinchadran with reverence approached Shri Vidhyadheesha Theertha Swamiji, the present Paryaya of Sri Palimaru Mutt to take over the math who agreed to his wish. Dr. Ravichandran and his wife decided to build a new Vrindavana and Math for Sri. Guru Raghavendra at the existing location. They were able to acquire additional land from Rohini Amma's brothers for this purpose. Rest is history. The new Math complex was built with a cost of over three Crores.

Programs to follow:

Monday, 27th May 2019

Morning 7:00 a.m. : Thila – Kushmanda – Pavamana yaaga's Rama Mantra Homa, Vishnugayathri Homa
Evening 5:00 p.m. : Durganamaskara Pooja

Tuesday, 28th May 2019

Morning 7:00 a.m.: Narasimha Mantra Homa, Viraja Mantra Homa, Vayu Sthuthi Homa and so on.
Evening 5:00 pm. : Brahma Kalasha Mandala Rachane, Prasanna Pooja

Wednesday, 29th May 2019

Morning 10:15 a.m. : Astabhanda Brahmakalashotsava to Shri Krishna, Mukyapraana & New Vrindavana of Sri Raghavendra Swamy by His Holiness Sri Sri Sri Vishveshatheertha Swamiji, Sri Adhokshaja Pejavara Matha Udupi
His Holiness Sri Sri Sri Vishvaprasannatheertha Swamiji, Jr. Samiji of Sri Adhokshaja Pejavara Matha Udupi.

Afternoon 12:00 p.m.: Mahaapooja
1:00 p.m.: Maha Anna Santharpane, Mahaa Mantrakshate, Phala Mantrakshate
4:00 p.m.: Sudharma Sabhe
Evening 7:30 p.m.: Thottilu Seve by His Holiness Sri Sri Sri Vidyavallabhatheertha Swamiji, Sri Kaniyoor Matha, Udupi


Write Comment
|

E-Mail
|
Facebook
|

Twitter
|

Print