Pulwama terror attack: 44 CRPF men killed, Rajnath Singh assures 'strong reply'
Mangaloretoday News Network
Kashmir, Feb 14, 2019: At least 44 jawans of the Central Reserve Police Force (CRPF) were killed in a dastardly terror attack in Jammu and Kashmir's Pulwama. The well-planned attack used a vehicle-borne improvised explosive device (known as VBIED) to target a CRPF bus that was part of a 78-vehicle convoy.

The convoy was on the Srinagar-Jammu highway and was on its way to Pulwama when a suicide bomber belonging to the terrorist organisation Jaish-e-Mohammad drove an explosive-laden SUV into the bus. The SUV -- a Tata Sumo -- was carrying explosives weighing nearly 300 kgs and the bus had 39 jawans on board.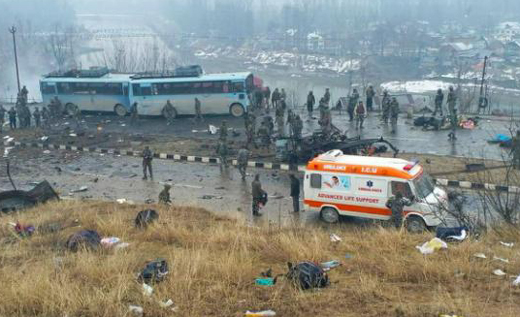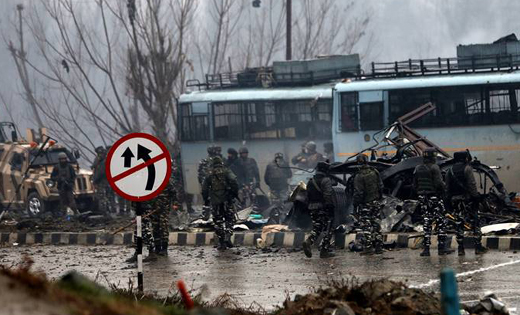 At least 44 jawans who were part of the convoy were killed in the resulting explosion. Two of the jawans who were killed were part of the road-opening party, which travels a short distance away from the main convoy.

The bus targetted by the suicide bomber, who the Jaish-e-Mohammad identified as Adil Ahmad Dar, was completely destroyed in the attack. The site of the Pulwama attack resembled a war zone with body parts and vehicle debris strewn about.

Home Minister Rajnath Singh condemned the death of at least 44 CRPF jawans in a terrorist attack in J&K's Pulwama and said that a "strong reply" will be given to "Pakistan backed Jaish-e-Mohammad" that has claimed responsibility for the attack.

PM Narendra Modi condemned the attack and said that their sacrifices won't go in vain. He also spoke to home Minister Rajnath Singh about the incident. Singh will be visiting Pulwama on Friday.

The Pulwama attack is the biggest in Jammu and Kashmir's history.

The attack took place when the convoy was passing through the Gundipoora section of the Srinagar-Jammu highway in Lethipora near Awantipora.

The convoy was made up of buses, trucks and SUVs. Each bus/truck was carrying 35-40 jawans of the CRPF.

Terrorist organisation Jaish-e-Mohammad claimed responsibility for the deadly attack. A spokesperson of the banned terrorist organisation said "dozens of forces' vehicles were destroyed in the attack".

The Jaish-e-Mohammed has claimed responsibility for the attack. The Police has identified the terrorist as Adil Ahmad from Kakapora in Pulwama.

Jaish-e-Mohammad identified the suicide bomber as Adil Ahmad Dar and even released a video of him. In the video, Adil Dar can be seen brandishing rifles and standing in front of Jaish-e-Mohammad banners.

As of now, the CRPF has not confirmed the number of casualties. The jawans were returning from a holiday and were supposed to reach Srinagar before sunset. The convoy started from Jammu around 3 am in the morning.

Police identified the terrorist as Adil Ahmad from Kakapora in Pulwama. Several people were injured in the IED blast, which reduced the bus under attack to a mangled heap of iron The vehicles were blown up on the Srinagar-Jammu highway in Awantipora area of the district

Meanwhile, MHA is rushing teams of NIA and Forensic experts to carry out investigation into the dastardly attack.

Arrangements are also being made to airlift the mortal remains of the brave soldiers who made the supreme sacrifice." the statement read. Strong Reply Will Be Given: Rajnath Singh

Write Comment
|

E-Mail
|
Facebook
|

Twitter
|

Print