Prof. Narendra Nayak interviews Raghavendra Thirtha
Mangalore Today News Network
Mangaluru, October 16, 2017: After of being on the run for several years Raghavendra Thirtha finally came out into the open few months back after gaining bail in the multitudes of court cases that are trailing him. The estranged former disciple of Swami Sudhindra Thirtha, the late Matadhipathi of Kashi Math Samsthan had gone out of bounds after failing to comply with court directives to surrender religious paraphernalia belonging to Kashi Math. Subsequently the courts had tasked the CBI to track him and recover the sacred objects.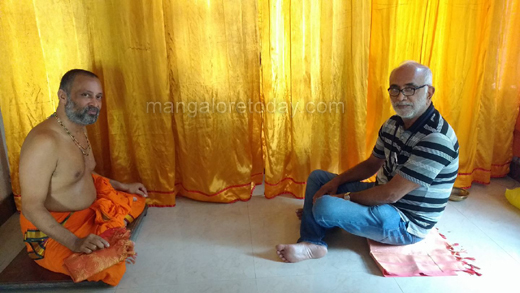 On March 6th this year, police had detained him near Kurnool on the Karnataka-Andhra border after identifying him from a CBI lookout notice. In an earlier instance Raghavendra Thirtha, whose birth name is Shivanand Pai, had been arrested on October 30th, 2011 at Kadapa in Andhra Pradesh. Many of the items including the holy idol of Vyasa Raghupathi had been recovered from him at that time.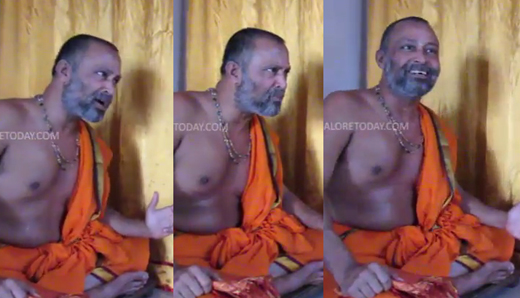 Raghavendra Thirtha is supported by a minuscule group of followers who are being subjected to an unofficial social boycott by the larger GSB community. In the course of this dispute Raghavendra Thirtha has often projected himself as a victim of manipulation by a hidden coterie among the Kashi Math followers.

Kashi Math presently identifies Sudhindra Thirtha's second disciple Samyamindra Thirtha as his successor and the Math's 21st Matadhipathi. The senior pontiff had also earlier formally disowned Raghavendra Thirtha.

With the shadow of Vinayak Baliga murder looming over this 20-year old conflict concerning Kashi Math, rationalist leader Prof. Narendra Nayak decided to interview Raghavendra Thirtha during his recent trip to Kochi on Sunday, 15th October 2017. Prof. Nayak, who is a staunch atheist, has been reluctant to engage in dialogue with religious leaders as it calls for unequal posturing before the religious heads. After launching a citizens' campaign 'Justice for Vinayak Baliga', he had been actively pursuing the Kashi Math dispute as part of his investigation to understand the circumstances that led to Vinayak Baliga murder.

PRECONDITIONS:
For the purpose of conducting this interview, Prof. Narendra Nayak had laid down stiff conditions. "I had made it clear that I would not prostrate or touch his feet or pay tribute of any kind and also will not accept an unequal seating arrangement such as him sitting on a throne and me on an ordinary chair. He agreed to my terms and we proceeded with the interview squatting on the floor, on low wooden stools. After the interview they offered me a shawl which also I refused," said Prof. Narendra Nayak.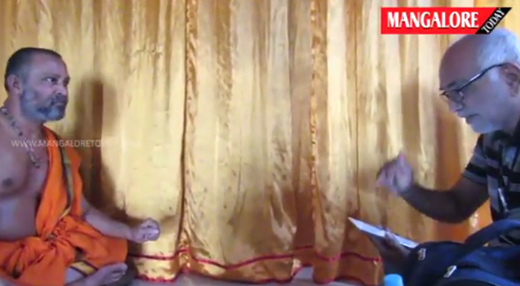 Explaining his motive to seek the interview Prof. Narendra Nayak said he would not have normally bothered with religious institutions but the Vinayak Baliga murder had forced him to examine the functioning of the activities which might have directly or indirectly instigated the crime. "I was also outraged by the way in which followers of Raghavendra Thirtha had been dehumanized in the process of this conflict with social boycott and isolation. Hence I was curious to get his side of the story and whether he and his followers deserved such a raw deal from the mainstream GSB community."

The interview which took place in a scene reminiscent of Nakkeeran Gopal's famous interviews with Veerapan to secure the release of Kannada matinee idol Rajkumar gives the viewer a glimpse of the words and conduct of the man known to the world as Raghavendra Thirtha.

We are uploading a video of his interview (which was conducted in Konkani language) for readers to view and decide on the merits of its contents. It is hoped that this will provide clues to people on both sides of the divide to find an early resolution to this conflict which has painfully torn the GSB community apart for over two decades.

Watch video:

These Questions and some more have been recorded in this video.

1. How did your fallout with Sudhindra Thirtha come about? What was the initial trigger?

2. Is there anything you regret which you did or did not do, which could have averted escalation of the acrimony?

3. Why did you not engage in discussion with Sudhindra Thirtha directly to bring an end to your differences?

4. What do you say to allegations of immoral conduct on your part which would render you unsuitable to continue in your position?

5. Why did you defy court order and not surrender the religious items which were in your custody?

6. Doesn't your fight contradict your position as a swami who should have no worldly attachments and no expression of ego?

7. Why did you abscond for so many years? Where were you hiding?

8. What sort of solution would you look forward to for a happy ending for all parties?

9. The community has experienced enough traumas on both sides. Would you be agreeable to a negotiated compromise solution? What would be your conditions?

10. According to Guru-Shishya system which rules swami tradition you should have blindly obeyed your guru. Have you not violated this tradition by revolting against your Guru?

11. If majority of the community do not want you, why should you force yourself upon them?

12. You first abdicated your position then recanted it. So what moral authority do you have after this flip flop. Your supporters' argument is that Guru's adoption of you as Shishya is irreversible. Doesn't that principle apply to your decision to abdicate too?

13. Do you think Guru Math system is relevant today? It is associated with vulgar amounts of contribution of cash, gold, building assets and wealth, which in turn leads to corruption by coterie which controls this wealth. Don't you think return to simplicity is important if the institution has to retain credibility?

14. Do you think the larger community will ever accept you again?

15. Since it's unlikely that this fight will continue beyond your lifetime, the other side can solve the problem by simply not responding to you for long enough. How will you respond to such a strategy?



Write Comment
|

E-Mail
|
Facebook
|

Twitter
|

Print