Poor response from MLAs to e-governance initiatives
www.mangaloretoday.com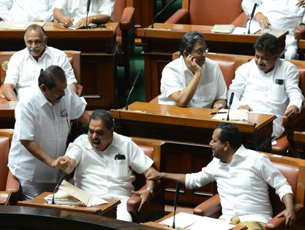 Bengaluru, Feb 5, 2017: Karnataka's lawmakers have a long way to go in catching up with e-governance initiatives by the Assembly secretariat. For the first time, the secretariat has allowed the MLAs to either WhatsApp or e-mail their questions. This facility is introduced for the session starting February 6.

Of the 224 MLAs, just one MLA has WhatsApped his questions, while another MLA has emailed as well as WhatsApped the questions.

The secretariat, on January 4, issued a notification, saying that members may WhatsApp the questions they intend to raise during the Question Hour, which forms the prime official business of the House.

Queries could pertain to any department or work in a Assembly constituency or performance/decisions of the government. Two cellphone numbers are provided to which they can message the questions. They are also allowed to e-mail questions.

In addition, like in the past, they are allowed to fax the questions or drop written questions in the prescribed format in a box kept in Vidhana Soudha.

In the conventional method, questions have to be submitted physically to the secretariat 15 days prior to the commencement of the session. But there is no such restriction for submission via WhatsApp or e-mail. They can be sent whenever the members feel like, except that they should reach two weeks in advance. In a day, a member is allowed to raise a maximum of five questions.

The two MLAs who have made use of the new method of sending questions in a cost-effective way are U B Banakar, BJP member from Hirekerur, and M Krishna Reddy, JD(S) member from Chintamani.

While Banakar has e-mailed eight questions, Reddy has both e-mailed as well as WhatsApped 20 queries. And, the majority are sending their queries through their office assistants.

The MLAs, including those from Bengaluru, seem to have not bothered to find out e-governance measures taken by the secretariat. This, despite the fact that the secretariat foots the phone bills of the members. A majority of the MLAs over a period have received free iPads, laptops and desktop computers from the secretariat.

Surprisingly, while creating the WhatsApp facility, the secretariat has neither provided cellphone nor SIM cards to the officers who have been assigned to receive messages.

They have been asked to use personal handsets. This has not gone down well with the officers. Instead of the members, the public has begun airing questions to the officers. Officers are insisting that a better system should be put in place, where questions are sent

from MLAs only. With no digital security, it is not possible to check the authenticity of the source. The secretariat is in the process of developing a new online format where MLAs can communicate through e-mails. This is being done under the Digital India programme. Officials say e-communication will help save lakhs of rupees on stationery.

Write Comment
|

E-Mail
|
Facebook
|

Twitter
|

Print