Poor condition of Mangaluru roads makes life miserable
Mangalore Today News Network
By Abhijith Kolpe
Mangaluru, Oct 29, 2016: While driver errors such as speeding, distracted driving and drunk driving are among the leading causes of automobile accidents in Mangaluru, dangerous road conditions are also a significant contributor.

Dangerous road conditions may be the result of natural causes, such as tropical rains and flooding that make driving unsafe. Dangerous conditions can also arise from the poor physical condition of a road and its surroundings. This time around rain is rare in Mangaluru. Even a slight drizzle can throw traffic out of gear and force pedestrians to wade through sludge and sewage.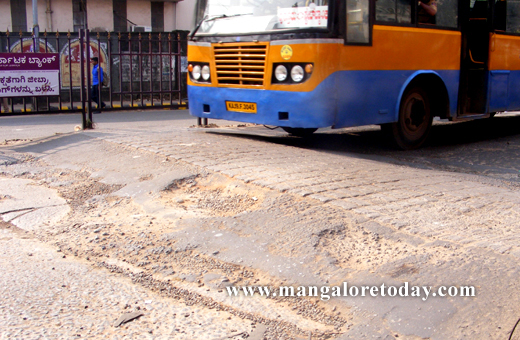 Hampankatta Main Road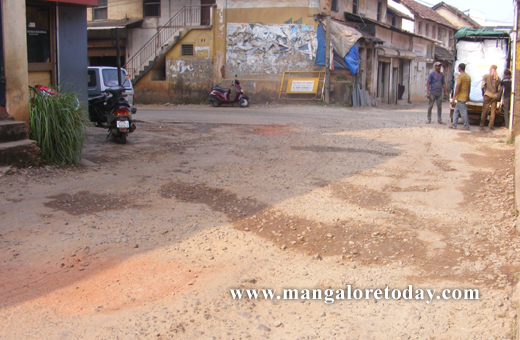 at Lower Car Street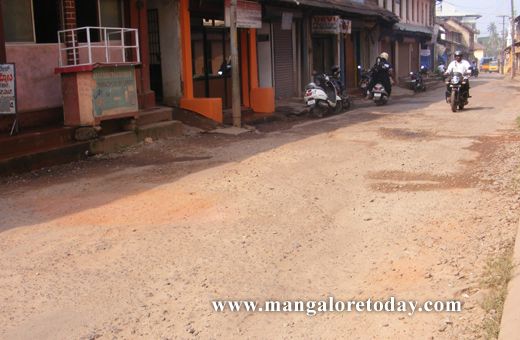 at Lower Car Street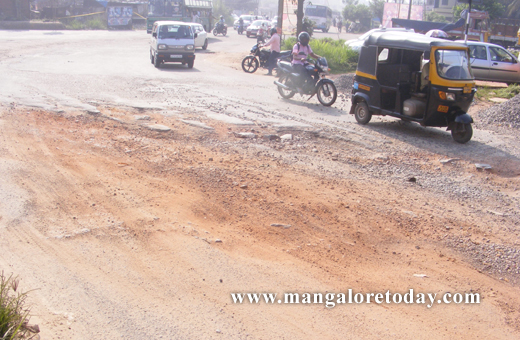 at Mahaveera Circle, Pumpwell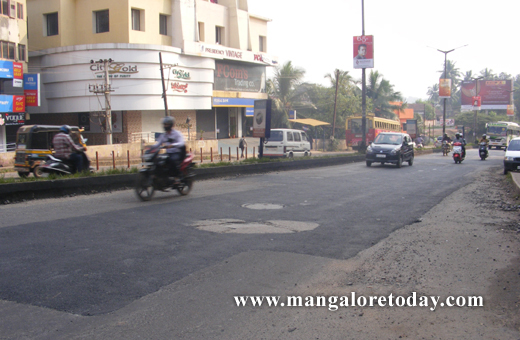 at Pumpwell-Bendoorwell stretch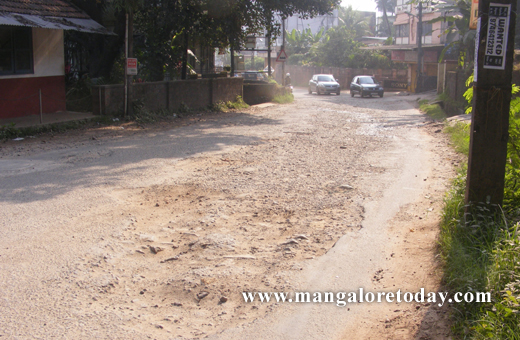 at Pumpwell-Fr Muller Hospital Road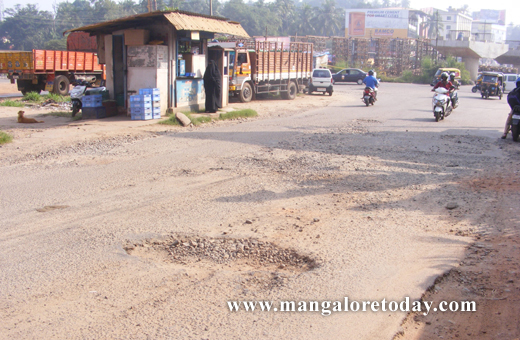 at Kankanady by-pass road near Mahaveera Circle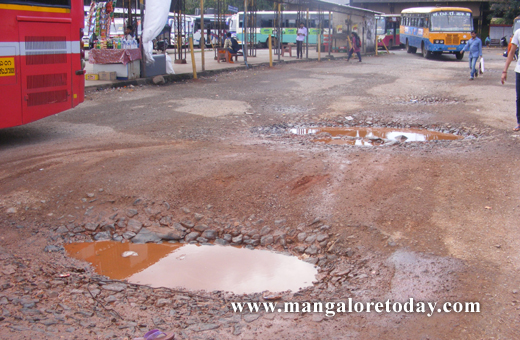 Main Bus Stand, State Bank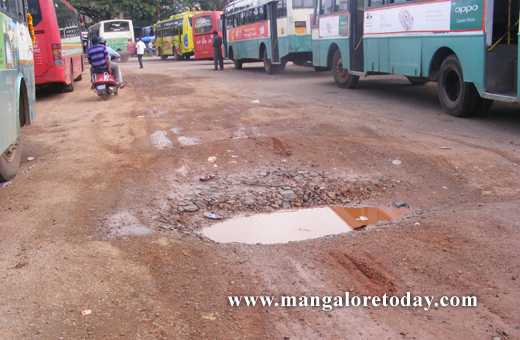 Main Bus Stand, State Bank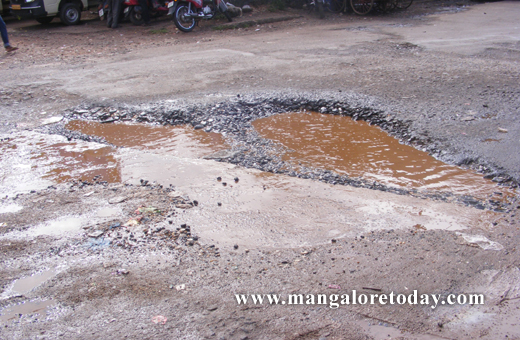 Near Main Bus Stand, State Bank
The State Bank bus terminus of Mangaluru is frequented by hundreds of people to board buses to different places in and around Mangaluru. But the condition of the bus stand is miserable as the entire bus stand is filled with crater like potholes at entry and exit points and these turn into sea of muck during monsoon.

One of the shop keepers in State Bank area alleged that the crater like potholes has been in existence for over a year, but none of the officials showed their concern to repair the potholes in the bus stand. The result is that the underneath part of the low floored KSRTC buses suffer severe damage whenever they pass through potholes.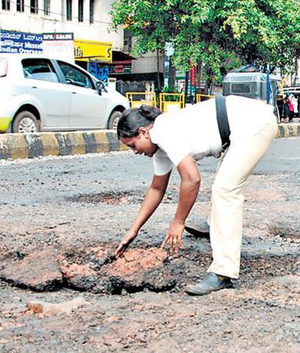 Recently two examples were set by Mangaluru traffic police when they filled pothole on the Mangaluru- Udupi stretch of the NH 66 with the help of concrete mixer, though it was the duty of NHAI officials to fill the potholes and ensure the smooth drive. In another example, enraged by the increasing potholes, traffic police women along with rickshaw drivers and a few localites were motivated to do good deeds by filling the potholes located near Bendorewell. While appreciating the social concern of these people, the apathy of NHAI officials needs to be deplored.

The depth of the potholes is considerable, and the stretch is horrible when it rains and motorists cannot even avoid the unevenness of the road.

There is good news for the people that the road that puts the moon to shame is going to be repaired and the bad news is crores of money spent for a badly damaged Pumpwell-Bendorewell stretch is barely enough for patchwork that might not survive the next spell of rain .

If you take a round in Mangaluru city you can definitely notice vanished Zebra Crosses at Hampankatta, Jyothi, Kankanady and other places. In this region it is impossible for the pedestrian to even cross the roads and drivers of private buses or the other vehicles do not show any concern towards pedestrians to allow them to cross roads. The condition of speed breakers at KS Rao Road and Hampankatta region are worse where tar just came off from the speed breaker.

From past three months local MPs and MLAs have inaugurated or laid foundation for several concretized roads in Mangaluru for which crores of money has been spent. When the main road can put motorist into nightmares, interior road in Mangaluru that are dilapidated which are connected to the main road remain unnoticed by the officials. Officials mostly prefer concretization of roads rather than bitumenisation of roads as the maintenance cost for concretized road is heavier than Tar road.

The extension and concretization of Carstreet via Mannagudda stretch was completed just two days before Dasara Festival commenced at Kudroli. Similarly the lower Car Street road which connects to Bunder is completely damaged for half kilometer. Even the Sharavu temple road opposite Srinivas College is under poor condition. It is nightmarish for riders as well as creates traffic chaos.

"It has been 13 years even since I have set up my shop. This road was laid nearly nine years ago. Today the road is completely ruined and a cloud of dust emanates whenever a vehicle passes through. Due to the heavy dust particles the health condition of the shopkeepers residing here is badly affected. There will be no maintenance as in the name of repairing roads loads of stones will be dumped in order to patch work the dilapidated roads which might not survive for next four months or so", says Harsha, owner of Kudla Wines, Lower Car Street.

Write Comment
|

E-Mail
|
Facebook
|

Twitter
|

Print