Pioneer Child Specialist Dr. P. N. Krishnamurthy Passes Away
mangaloretoday.com
Mangalore, 3rd March 2015: Pioneering pediatrician and legendary medical educator Dr. P.N. Krishnamurthy passed away on Monday, 2nd March 2015 at 11:30 p.m. due to prolonged illness. He was aged 84 years. The end came at his residence located at Kadri Kambla in the city, though few days back he had been briefly admitted to KMC Hospital at Ambedkar Circle, Mangalore. It is learnt that the doctor had been suffering from lung damage for the last five years.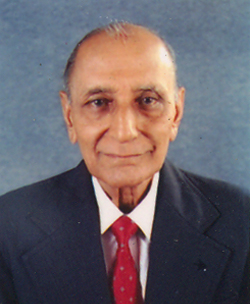 Funeral was held this morning at his native village of Ashrathpura near Moodabidri. He is survived by his wife, two sons and a daughter, Dr. Meera Rao, who followed in her father's footsteps to become a pediatrician. Dr. P.N. Krishnamurthy is a pioneer in the field of pediatrics who is credited with having popularized and nurtured the growth of pediatrics as an independent discipline in this region.

He was the first doctor to be qualified with an MRCP degree in Pediatrics and he along with the late Dr. Rama Rao had established the Department of Pediatrics at Kasturba Medical College, Mangalore. This department which was established on the 20th of December, 1954 was the first such specialized department dedicated to child care in Karnataka State. He served as Professor and Head of the Department from 1979 to 1990. After his retirement, he was conferred with the title of 'Professor Emeritus', a lifetime position, in recognition of his pioneering role in founding the department.

He was actively involved in professional advancement and had served as the president of Indian Academy of Pediatrics (IAP), Karnataka State Branch during 1987. He was also known to be a keen sportsman and loved to play tennis every morning during the active years of his life. Department of Pediatrics at Kasturba Medical College, Mangalore paid rich tributes to Dr. P. N. Krishnamurthy during a condolence meeting held this afternoon.

IAP DK District Branch has arranged a condolence meeting to mourn the demise of Dr. P.N. Krishnamurthy during the 'Dr. M. R. Shenoy Memorial Oration', a state level convention of pediatricians scheduled for Sunday, 15th March 2015 at AJ Institute of Medical Science, Mangalore.

Condolences Messages:
• "PNK was a teacher of teachers and a noble soul at heart. He was respected by every pediatrician all over the country and revered by his students. He will be immortal in the hearts of his students and patients," said Dr. Santosh T. Soans, current President of IAP, Karnataka State Branch and former National Vice President, IAP.

• "Dr. P.N. Krishnamurthy was regarded as a father figure in pediatrics in our district and his demise is a huge loss for the state," said Dr. P. N. Subba Rao, pediatrician and Former President, Indian Academy of Pediatrics, Karnataka State Branch.

• "Dr. P.N. Krishnamurthy was a doctor par excellence and a teacher extraordinaire. He was known as the teacher of teachers and professor of professors and above all a fine human being. He has left behind a legendary legacy in the form of pediatricians across the country serving millions of children. His demise is a great loss to the medical fraternity and the society at large," said Dr. B. Shantharam Baliga, Professor & Head of the Department of Pediatrics at Kasturba Medical College, Mangalore and President, National Neonatology Forum, Karnataka.

• "IAP DK Branch deeply mourns the sad demise of Dr. P.N. Krishnamurthy, who was a pioneer in this field and a great source of inspiration to us," said Dr. Chandrashekar G.S., President IAP DK Branch.


Write Comment
|

E-Mail
|
Facebook
|

Twitter
|

Print