Palimar Mutt performs 'Bhatta Muhurta' in Udupi
Mangalore Today News Network
Udupi, Dec 08, 2017: Palimar Mutt performed "Bhatta Muhurta", the last of the four major preliminaries for the Paryaya festival, in Udupi on Dec 7, Thursday. It also performed the "Chappara Muhurta". Vidyadheesha Tirtha Swami of Pejawar Mutt will ascend the "Paryaya Peetha", also called the "Sarvajna Peetha", at the 800-year-old Sri Krishna Math/Temple here on January 18, 2018, for a second time.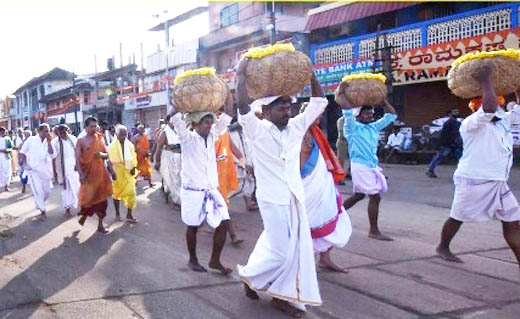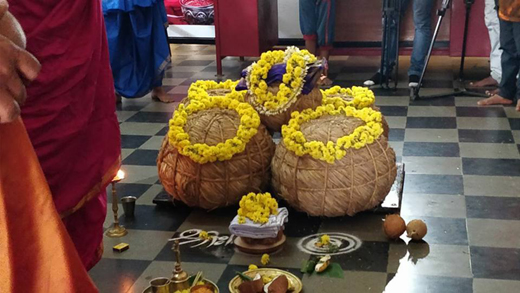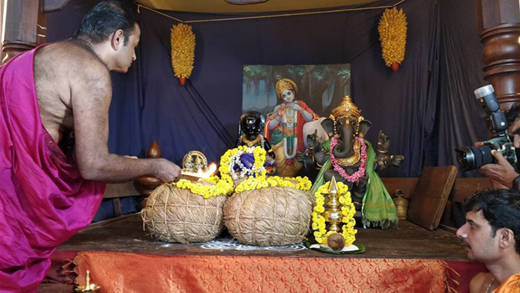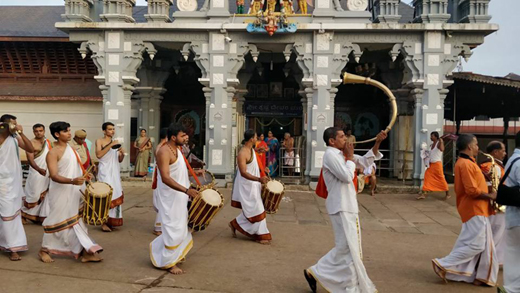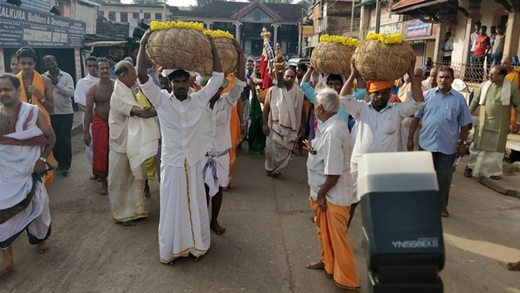 Elaborate rituals marked the Bhatta Muhurta. After offering the Navagraha puja and chanting of Vishnu Sahasranama, prayers were offered to the presiding deity Hanumath Lakshmana Sita with Sri Ramachandra at Palimar Mutt.

Then a procession of priests, scholars, mutt officials, and devotees, began from the mutt. The procession was accompanied by the insignia holders of the mutt and drum beaters.

They visited the Sri Chandramouleshwara and Sri Ananteshwara temples and offered prayers there. Then they entered the Sri Krishna Mutt/Temple, where they offered prayers to Lord Krishna and Lord Mukhyaprana (Hanuman).

They also offered prayers at Lord Subrahmanya's shrine and the Vrindavana on the premises of the temple and returned to the entrance of the Palimar Mutt. Then the procession began again from the Palimar Mutt. Four persons held a basket or "murra" of paddy on their heads walked in the procession followed by a golden palanquin containing a small "murra" of paddy, along with devotees and traditional drum beaters. One "murra" roughly equals to 40 kg, while the small "murra" weighs about 20 kg. The procession went around the Car Street. Then all the five "murras" of paddy were taken to the "Badagu Malige", the storehouse for the Paryaya festival at the Sri Krishna Mutt/Temple. Elaborate rituals marked the "Bhatta Muhurta" at the Badagu Malige at 8.55 a.m.

Later, a decorated dome or "shikara" was placed on the firewood chariot near the Madhwa Sarovara pond on the occasion. Afterwards, a tall arecanut pole was installed amid chanting of mantras in front of the Gita Mandira here marking the Chappara Muhurta.

Raghavendra Acharya, president of Paryaya Reception Committee, said that the objective of the four major preliminaries such as "Bale Muhurta", "Kattige Muhurta", "Akki Muhurta", and "Bhatta Muhurta" was to ensure abundant supply of foodgrains to feed the large number of devotees who visited the Sri Krishna Mutt.

These four muhurtas were being followed for centuries. "The idea behind the Bhatta Muhurta is to get fresh paddy harvested after Deepavali for the Krishna Temple so that there was a buffer stock available all the time," he said.

Write Comment
|

E-Mail
|
Facebook
|

Twitter
|

Print