PV Mohan demands immediate withdrawal of surge pricing in rail tickets
www.mangaloretoday.com
Mangaluru, September 9, 2016: P.V. Mohan, member of AICC and convenor of Mangalore Railway Development Action Committee has urged the Railway minister to withdraw the introduction of surge pricing of journey tickets for Rajdhani, Shatabdi and Duranto trains, which are likely to make passenger costlier by 30 to 40% , which is anti-poor, anti-middle class. He said this decision is a step further towards privatization of the railways. The hidden agenda is very clear that the ambani's and adaani'sare the ultimate beneficiary of this decision. The decision was totally anti-people.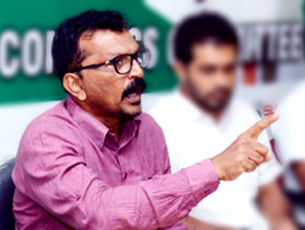 There were no fare hikes for almost 10 years during the previous UPA government's rule. With this announcement, the current NDA government has hiked train fares twice. The NDA government led by PM Narendra Modi only makes false promises and sheds crocodile tears for the poor and deprived. The railways is mostly used by people from lower and middle-income groups and, as such, the surge pricing system will hit the common man most, and also this system is on the lines of the system prevailing in airlines will badly hit the State, he said.

The people of this country are already battling with the rising price of essential commodities and food inflation, the decision by the Modi government to impose 'surge pricing' is a rude shock for them. Byburning pockets of honest middle class families that still see the railways as the only cost effective option of long distance travel, the government is hurting the middle class heavily.

"It is interesting to note that though the railways were introduced to facilitate the commercial interest of the British at that time, later after independence it played an important role as a self-propelled social welfare system in unifying the country and become the darling of masses as it helped the economic life of the common people.but It has gone back to the British –era now. instead of British east India Company, we have the central India company head quartered at Nagpur which is dictating the terms" he added.

Write Comment
|

E-Mail
|
Facebook
|

Twitter
|

Print