Over 190 doctors reportedly send resignation in DK, Udupi
Mangalore Today News Network
Mangalore/ Udupi,Oct 28, 2014 : As per available reports, more than hundred and ninety government medical officers and programme officers in Dakshina Kannada and Udupi districts have submitted resignation on Octobe 27,Monday protesting against the government's failure to meet their legitemate demands.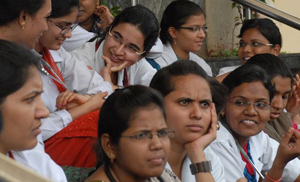 In Dakshina Kannada district near 90 doctors have sent their quarter sheet. However, it is learnt that the resignations of the doctors did not affect the patients in District Wenlock and Lady Goschen Hospitals. The patients were attended by duty doctors and specialists in both the hospitals.

Speaking to media , Karnataka Government Medical Officers Association DK district unit President and district Surveillance Officer Dr Rajesh said that the doctors have decided to work for further one month . As they do not want to inconvenience the public. If the government fails to fulfill demand after 30 days, we will remain absent to the work. The medical officers at Primary Health Centres and Community Health Centres were on duty as usual and patients did not suffer he stated.

A delegation of 35 government doctors from Dakshina Kannada, headed by Dr Rajesh met Director of Health and Family Welfare in Bangalore on Oct 27, Monday and submitted the resignations.

The demands : Doctors in district hospitals should come under the purview of the Department of Health and Family Welfare, as other wise even super-specialists and specialists will be confined to taluk hospitals or health centres all their life with no scope of working in district hospitals. The government should rectify pay disparity between the government doctors working under the Department of Health and Family Welfare and doctors appointed in hospitals attached to medical colleges. Fearing transfer and work pressure, many doctors are not showing interest in joining service under the health department.

At Udupi : Some of the patients at PHCs - Public Health Centres and taluk hospitals faced inconvience as doctors had gone to Bangalore to tender resignation, the situation in district hospital Udupi was different. Out of 20 doctors, three were on leave. The remaining 17 doctors had attended the duty. Seven doctors from district hospital who had tendered resignation had sought one-day leave from District Surgeon Anand Nayak. As the leave was not sanctioned, they were present. The call to submit resignations given by Karnataka Government Medical Officers Association, caused at least a 100 doctors had resign from Udupi.

Dr Nikin Shetty, Prsident, Karnataka Government Medical Officers Association Udupi unit stated that the association has 112 members. Most of these doctors had submitted their resignation and are participating in the protest in Bangalore. DHO and District Surgeon are yet to tender their resignation. Out of 104 doctors, 74 doctors were in Bangalore participating in the protest. All the Doctors would return to duty on October 27, Tuesday. By availing one day leave, a few doctors have joined their counterparts in Bangalore. Even after resignation, the doctors will work for one month and ensure that the sick public will not suffer. If the doctors refuse or abstain from work, then it will affect the functioning of the hospitals and public will suffer. DHO Dr Ramachandra Bairy said that there was no inconveniences in the government hospitals to the sick or the public.

Write Comment
|

E-Mail
|
Facebook
|

Twitter
|

Print