Official International Senior Citizens' Day celebrations
Mangalore Today News Network
Mangalore, Oct 02, 2014: Founder Principal and Social activist Olinda Pereira, an octogenarian said that the government should provide better need based facilities to senior citizens. She was speaking after inaugurating the international day for senior citizen observed by DK Zilla Panchayat, department of women and child welfare, department of specially abled and senior citizens empowerment and other organisations in Zilla Panchayat, Mangalore on Oct 1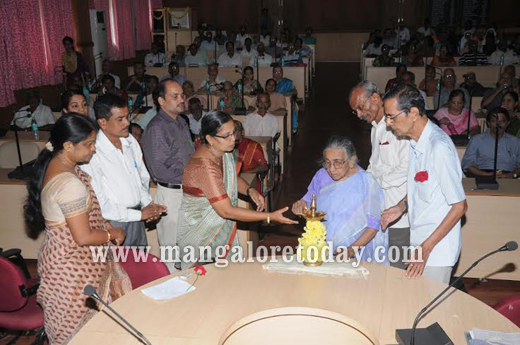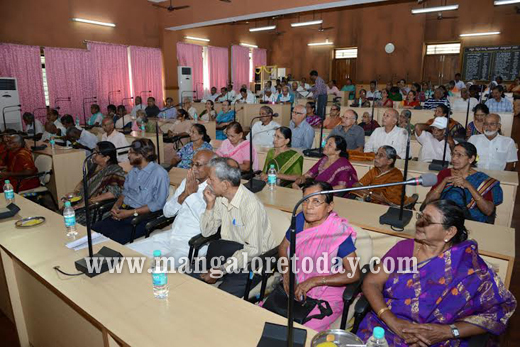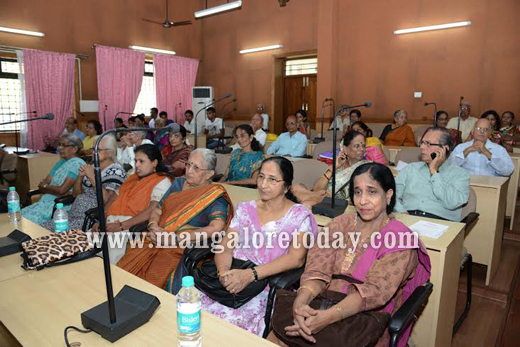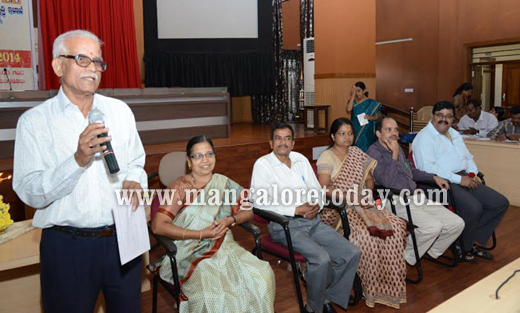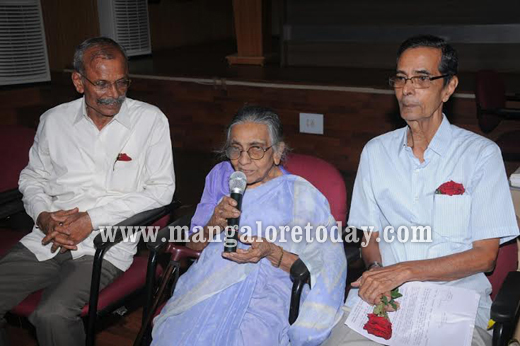 The government needs to put in place a mechanism to record and handle woes of senior citizens at different levels and should resolve them. Meets should be held at fixed intervals to bring into the open the legitimate hardships and abuse faced by elders. She added that the senior citizens should utilise various facilities meant for them and the NGOs should create awareness among senior citizens on these.

Mangalore senior Citizens Association Secretary Ramesh Rao said that from 2007, the association has distributed 21,000 senior citizen identity cards in the district.

A memorandum was submitted by him, on behalf of senior citizens, to the government requesting to provide various facilities to senior citizens. The demands included strictly following the reservation of seats in buses, 25 per cent discount to senior citizens in KSRTC Volvo and sleeper buses, hiking the old age pension under Sandhya Suraksha to Rs 2,000 etc. Women and Child Welfare Department Deputy Director Gertrude Veigas said that it is the duty of everyone to respect senior citizens. If the children don't look after their old parents, they are liable for punishment under the law, she said and added that the non government organizations are joining hands with the government in the welfare of senior citizens. She said that 30,700 identity cards have been distributed by various NGOs in the district.

Among various opinions that were tossed about on this special day for 'Senior Citizens' it was declared that the Govt should set up a Ministry for the welfare of senior citizens exclusively for better results. On the local level, a monitoring and grievance solving body should be set up to take up difficulties of senior citizens and particularly old age homes which are run without rules and regulations charging high fees.

Midwife Mutthu Madivalthi, retired teacher Somappa D Palan and writer Prof B M Ichlangod were felicitated on the occasion.

Senior Citizen Association President P Jagadish Rao, Department of Women and Child Welfare Nodal Officer Sundar Poojary, CDPO Shyamala, State Women's Development Corporation district officer Chandrika Rao, retired ASP Mitra Heraje and others were present.

UDUPI, : Speaking after inaugurating the World Senior Citizens' Day organised by the district Women and Child Welfare department, District and Sessions Judge Shivashankar Amarannanvar said that youth should take care of senior citizens and ensure them peace and happy life. The judge said that the youth should also follow the advice and guidance ensured by the seniors.

Deputy Commissioner Pattanna Shetty inaugurated the help line number (1090). The helpline assures solution to the problems faced by senior citizens, besides offering police help and protection, rehabilitation facilities, medical and legal services.Senior citizens Chandrasekhar Navada, Udupi, Valerian Desa, Shirva, Govind Prabhu Karkala and K GJanardhan Kundapur were felicitated on the occasion. Several awareness and celebration meets took place in the Udupi district.

Write Comment
|

E-Mail
|
Facebook
|

Twitter
|

Print