New fishing boat license in DK on hold feasibility reports awaited
Mangalore Today News Network
Mangalore, Aug 30, 2014: A well founded fear of marine resource depletion , has caused the Department of Fisheries to put on hold not less than 150 applications for new fishing boats in the past two years in Dakshina Kannada.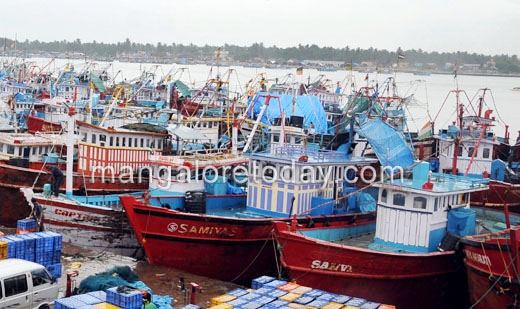 With a feasibility report on the state of marine life population in the region expected at the end of the year, the long wait is a difficult one for many. "In mid-2012, we received a directive to allow only boats after a feasibility report is conducted. Since then, more than 150 applications have come from Dakshina Kannada and there are 300 applications in Udupi," said M.D. Prasad, Deputy Director (Fisheries).

All of the applications pertain to construction of big boats — that are 65 ft long and with 350 hp engines, said Assistant Director P. Parshwanath.The feasibility report will give an idea of the probable area of operation, recorded catch, and the profitability of operating such boats. Asst Dir. said, the construction cost of a new boat is around Rs. 80 lakh, while annual operations, including diesel, manpower and maintenance, can cost the owner up to Rs. 60 lakh additionally.

"This implies that each boat must obtain catch worth more than Rs. 1.2 crore annually to profit. And with the catch in the oceans stagnating in the past five years, it would be difficult to sustain such a business. It is a risk-oriented business and we can't afford to increase the risk," he said. Apart from endangering the livelihood of smaller boat owners and traditional boats, additional boats would lead to congestion of the docks. "A 500-m jetty can hold only up to 200 65-ft trawl boats. Even the Old Port Phase II expansion cannot handle the traffic," said an official.

The Union Government has asked the Central Marine Fisheries Research Institute to conduct the feasibility report nationally and Dinesh Babu A.P., scientist, regional centre of the institute here, said that the report will be submitted to the State government by the end of this December.

"The Mangalore centre is doing the resource assessment for the entire coast in the State and looking at the population of every species. There are concerns and we would not suggest piling more pressure on the marine ecosystem. Instead, we will look to ensure that resources remain stable and fishing remains sustainable," he said and added that greater regulation of boats was needed. the congestion of fishing boats in the fishing jetties are unbelievable. Regulation is over due.

Write Comment
|

E-Mail
|
Facebook
|

Twitter
|

Print